We service West Newbury (MA) with Stamped Concrete, Epoxy Floor Coatings, Epoxy Garage Floors, Contractors Services. We have a large selection of colors and patterns! Give us a call for your next concrete project. We provide Free Estimates. 
We Offer a large selection of Decorative Concrete Installation Service types:
Regular Concrete
Stamped Concrete
Polished Concrete
Acid Staining
Epoxy Garage Flooring
Epoxy Floor Coatings
Concrete Overlays
Micro Toppings
Grinding and Resurfacing
Custom Concrete Designs
Concrete Slabs of All types
Sandblasting Stenciled Designs
Stencil Concrete
Self Leveling
Patching
Epoxy Chip Coatings
Metallic Epoxy Coatings
Solid Color Epoxy Coatings
Self Leveling Epoxy Coatings
Mortar Epoxy Coatings
Epoxy Terrazzo Floor Coatings
Vapor Barrier Epoxy Coatings
100% Solids Epoxy
Water-Based Epoxy Floor Coating
Solvent-Based Epoxy Floor Coating
Stamped Concrete Patios
Stamped Concrete Walkways
Stamped Concrete Pool Decks
Stamped Concrete Driveways
Stamped Concrete West Newbury Massachusetts (MA)
A poured concrete patio can be an attractive addition to any backyard. The material is cheap and can be poured in any location in your yard. Whether it's an empty space or an awkward area, concrete can transform it into a beautiful, inviting space. Here are some ideas to make your new patio look great and stay within your budget. Adding plants and garden beds to your concrete patio will also help keep it looking natural.
During the curing process, you can add textures to the slab. Use a stiff broom to create patterns and to create visual interest. Using a sharp edged hammer, make long, sweeping strokes in each direction. This will prevent the concrete from being slippery when it gets wet. Once your patio is finished, you can add other elements such as artificial grass and a pergola for shade.
You can also use multiple pads and place them several inches apart. This will help you maintain the levelness of the slab, making it perfect for seating. You can also put a sculptural vase in the center of the patio to create a focal point. You can also use bamboo for accents. If you want to add lighting, you can choose recessed lighting that will cast a subtle yet enticing glow at night. Another great way to light up your concrete patio is to install a mirror patio door.
If you'd prefer a patio with a different look, you can choose a different size or shape. A larger patio can be a focal point for the home. For a small space, it's easy to add additional features such as benches and a fireplace. You can also place a gazebo or a small arbor. You can also include a fountain or pond to create a water feature. Depending on your needs, you can incorporate a fountain, pond, or even fragrant plantings in this area. You can even install a fire pit.
One way to create a poured concrete patio is to use concrete slabs or pads. You can choose to have a raised patio with a waterfall or a water feature. You can also build a multi-level poured-concrete deck with multiple levels and create a multi-level area. Some poured-concrete patio designs will feature a water feature. A stamped concrete patio can be a great alternative to a traditional wooden deck.
A poured concrete patio can be customized to meet your specific needs. If you're looking for a unique, decorative look, you can buy a mold and pour the mold over the top of the fresh concrete. If you're building a patio in an urban area, use a concrete paver that is not too thick. If you're using a mold, make sure the mold is large enough. This will make the patio look more unique.
Using different concrete colors, you can create a more unique look. You can choose from a variety of stains to add a splash of color. In some cases, you can even paint the concrete surface to make it look more stylish. While poured-concrete is durable, you should consider local building codes before you use it. In order to prevent structural damage, it is best to ensure that you are following the building code for your area.
If you want to add color to your concrete patio, you can use a concrete stain. These stains are water-based and can be applied over worn out concrete. They will get darker where there are impurities. However, you must make sure that you check the local building codes for your area and choose the best stain for your poured-concrete patio. A poured-concrete patio can make your backyard look great.
A concrete patio can be attractive and functional. It will last for years and require minimal maintenance. Putting a poured concrete patio will give your backyard a modern look. If you have a patio, you can add a fountain or pond to it. If you aren't too handy with tools, pavers can be an attractive solution for your tired and outdated concrete. It doesn't take much effort and will give you a beautiful, inviting space.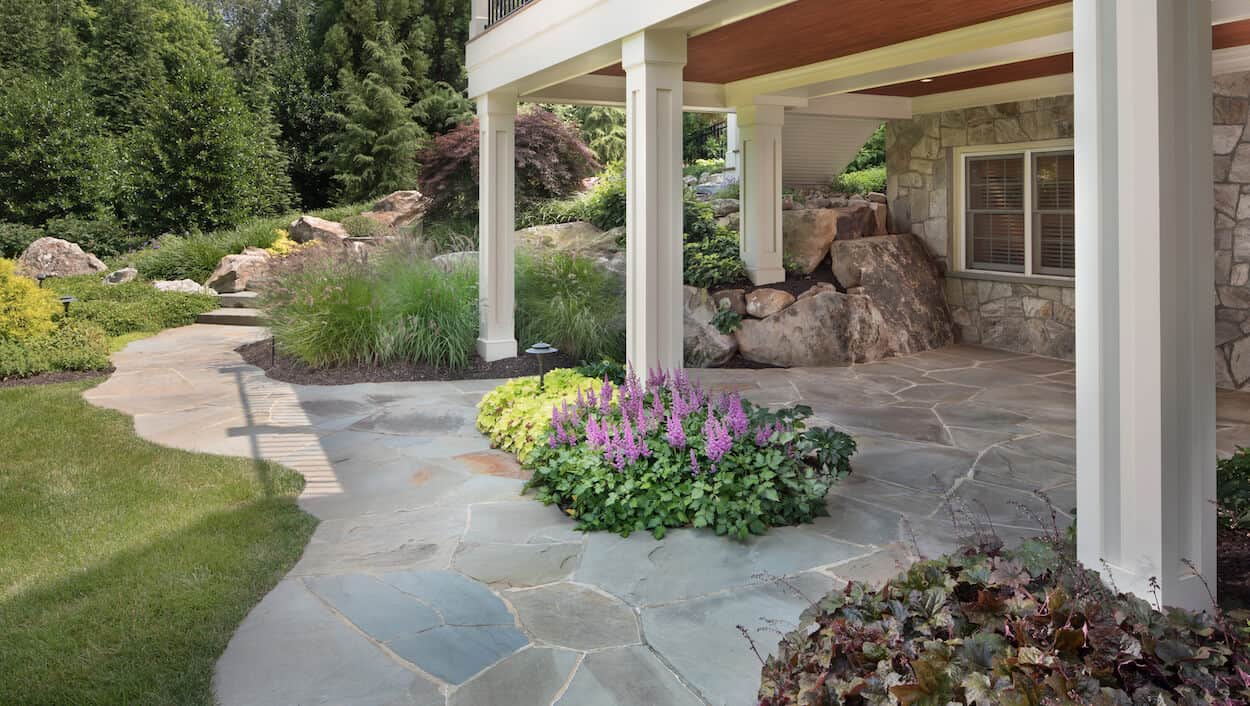 Our Locations:
Nashua, NH
North Hampton, NH
Concord, NH