We service Manchester (NH) with Stamped Concrete, Epoxy Floor Coatings, Epoxy Garage Floors, Contractors Services. We have a large selection of colors and patterns! Give us a call for your next concrete project. We provide Free Estimates. 
We Offer a large selection of Decorative Concrete Installation Service types:
Regular Concrete
Stamped Concrete
Polished Concrete
Acid Staining
Epoxy Garage Flooring
Epoxy Floor Coatings
Concrete Overlays
Micro Toppings
Grinding and Resurfacing
Custom Concrete Designs
Concrete Slabs of All types
Sandblasting Stenciled Designs
Stencil Concrete
Self Leveling
Patching
Epoxy Chip Coatings
Metallic Epoxy Coatings
Solid Color Epoxy Coatings
Self Leveling Epoxy Coatings
Mortar Epoxy Coatings
Epoxy Terrazzo Floor Coatings
Vapor Barrier Epoxy Coatings
100% Solids Epoxy
Water-Based Epoxy Floor Coating
Solvent-Based Epoxy Floor Coating
Stamped Concrete Patios
Stamped Concrete Walkways
Stamped Concrete Pool Decks
Stamped Concrete Driveways
Stamped Concrete Manchester New Hampshire (NH)
Beautiful Colored Concrete presents a unique opportunity for contractors and building owners to add beauty to their existing concrete structures. When color is added to the mix, the potential for decorative or specialized effect is almost endless. This type of concrete is the hottest on the construction scene, due largely in part to its stunning color choices. While the color choices do have some limitations, like darker colors tend to show up ultraviolet radiation, this is not a factor in most applications. The beauty of this type of concrete is also found in the flexibility of the various shades and hues that can be introduced into the mix.
While the primary colors are usually tints of red, blue, or green, the range of colors available is so great, that nearly any other color can be used. Additionally, concrete can also be sealed to give the concrete a gloss or satin finish. Once these basic color choices are made, it becomes fairly easy to find custom colors that will coordinate with many existing designs and colors in the existing concrete structure.
Choosing a beautiful colored concrete paint that will match existing colors in the structure is not all that difficult, but does require a little bit of creativity and planning. A concrete resurfacing project may require the use of a different tint of stain than what is typically used on newly poured concrete. For newly poured concrete, a tester should be run to ensure the color is consistent throughout the entire project. A professional concrete staining company can make this test a simple procedure, or a more detailed process.
Another factor in the color selection process is matching the desired shade of stain to the concrete itself. There are several methods for doing this, including trial and error. It is important to test the colors on a small area of concrete first, in order to determine if the shade will bleed into the surrounding surface, or if the stain will simply sit on top of the existing color. Most experienced singers can suggest good color selections based on the needs of any given project. Testing colors with stains is much easier when using larger areas, such as driveways.
Once the tester is conclusive that a particular color combination is a winner, a planner can make a coloring plan for each different colored area of the driveway. It is important to remember that a planner is only a guide, and that the finished product cannot be exactly duplicated. Stained concrete will naturally vary from area to area, so it is very important to take this into account when making a color selection. The most effective coloring for a newly stained concrete will be a neutral tone. This allows the concrete to blend in naturally with the surrounding landscaping, while still creating an attractive feature.
Another factor in the color selection process is matching the right stain for the right job. Different concrete finishes, such as oil rub-on, latex, or vinyl are going to require different stains. This is why it is important to bring samples of the finish chosen to the stained concrete project, so that the right stain can be selected. Consulting a stained concrete contractor is one of the best ways to learn about this process before beginning any project.
With so many options for stamped concrete, it can be difficult to make a final color selection. Once the project has been launched, a visit to a local concrete supply company can help. A professional in the business can evaluate the needs of the project and recommend the best colors and shades. Because concrete is not a naturally occurring material, it is important to remember that no two projects are exactly alike. Depending on the nature of the space being finished, there are several different ways to use different color palettes, as well as different stains.
Choosing beautiful colored concrete can be a challenge but it can be rewarding once completed. Stained concrete is a practical and attractive way to give a home the look of a brand new floor. Because of the range of choices available, homeowners will be able to create a truly unique space that will last for years. By consulting with a skilled staining professional, they will be able to suggest the perfect color for their floor. From there, they can provide the needed guidance on how to prepare the area, how to maintain the finish, and how to keep the area looking its best.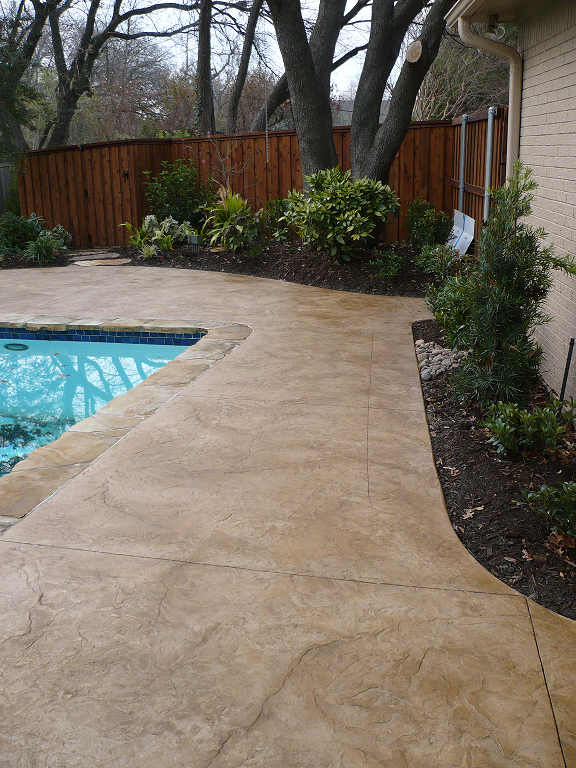 Our Locations:
Nashua, NH
North Hampton, NH
Concord, NH