We service Gilmanton (NH) with Stamped Concrete, Epoxy Floor Coatings, Epoxy Garage Floors, Contractors Services. We have a large selection of colors and patterns! Give us a call for your next concrete project. We provide Free Estimates. 
We Offer a large selection of Decorative Concrete Installation Service types:
Regular Concrete
Stamped Concrete
Polished Concrete
Acid Staining
Epoxy Garage Flooring
Epoxy Floor Coatings
Concrete Overlays
Micro Toppings
Grinding and Resurfacing
Custom Concrete Designs
Concrete Slabs of All types
Sandblasting Stenciled Designs
Stencil Concrete
Self Leveling
Patching
Epoxy Chip Coatings
Metallic Epoxy Coatings
Solid Color Epoxy Coatings
Self Leveling Epoxy Coatings
Mortar Epoxy Coatings
Epoxy Terrazzo Floor Coatings
Vapor Barrier Epoxy Coatings
100% Solids Epoxy
Water-Based Epoxy Floor Coating
Solvent-Based Epoxy Floor Coating
Stamped Concrete Patios
Stamped Concrete Walkways
Stamped Concrete Pool Decks
Stamped Concrete Driveways
Stamped Concrete Gilmanton New Hampshire (NH)
Colored stamped concrete is a popular option to create the look of various surfaces. It can imitate stone, tile, and wood, and is ideal for use in home and business landscaping. The process begins with a clear liquid release for the concrete, followed by stamping tools that press into the surface. After the stamping process is complete, the colored release agent is embedded into the textured surface. Because the color is a secondary tone of the base color, it is important to choose a pigment-based release agent that compliments the base color. Generally, a darker release agent will work over a lighter base color.
Colored concrete can be achieved in many ways. The base color is usually achieved through the dry-shake method. Accent colors are typically dyes or stains applied to the concrete surface. The latter two methods are often used to achieve the variegated look of rough-textured materials. However, the latter option is more popular and is ideal for achieving dramatic effects. For a muted color, a stamping mat can be used.
In addition to the base color, colored concrete can be easily customized with a variety of secondary colors. These colors can be achieved by adding a pigmented release powder or tinted liquid. A variety of products are available in the market that can achieve desired effects. They are easy to apply and can be matched to any base color. For more complex designs, a tinted liquid release can also be applied. If you want the appearance of stone or wood, consider a different type of stamping.
Another type of colored concrete is the stamped overlay. These overlays are used to add highlights to the concrete. Unlike the stamped concrete, these overlays are made with a special mixture of powdered Antique Release and Liquid Antique-It. To make these concrete finishes more durable, you can also use water-based stains and staining materials. Once the color hardener has set, you can apply the colored stamping material.
The installation process is easy, but cracking is a major concern. Once installed properly, stamped concrete is extremely resistant to cracking and is a durable option. When done well, however, it can be difficult to convince clients to choose a new color combination. A basic procedure includes cleaning and chemical stripping to remove the remaining secondary color. If the base color is not visible, you can reapply a coat of stains before resealing to avoid this problem.
The most popular choice is to use a surface color hardener, which allows you to choose a color-infused concrete in any way you wish. This method will have more realistic looking colors, but is more expensive. It is recommended to use both methods for the best results. The best method is to mix both techniques. You can even make a DIY version of colored stamped concrete. It is a durable, versatile option for a home's exterior.
You can choose a pattern that matches your home's style. For example, you can choose a brick-patterned border to echo your home's exterior bricks. If you have a concrete driveway, you can install a brick-patterned border on the side of your house. For a more traditional look, consider a brick-patterned border. For an exterior patio, a brick-patterned pattern can echo the design of the house.
You can choose from a variety of colors for stamped concrete. The three most common colors are brown, red, and green. Whether you are looking to add a decorative accent, or simply want to give your home a unique look, there is a solution for you. It is a better choice than paving stone, and can last longer than paved stone. And, unlike paving stones, colored concrete can add value to your property.
The classic fresh colored concrete design combines the look of a paver with the durability of concrete. A concrete patio will stand out in the neighborhood. The size of this design is 37″ by 50″. It comes in Redwood, Travertine, and Rustic Brown, and has a decorative pattern. The European Fan is an elegant design that will accent any patio or fire pit. The color of this color is the largest of these three.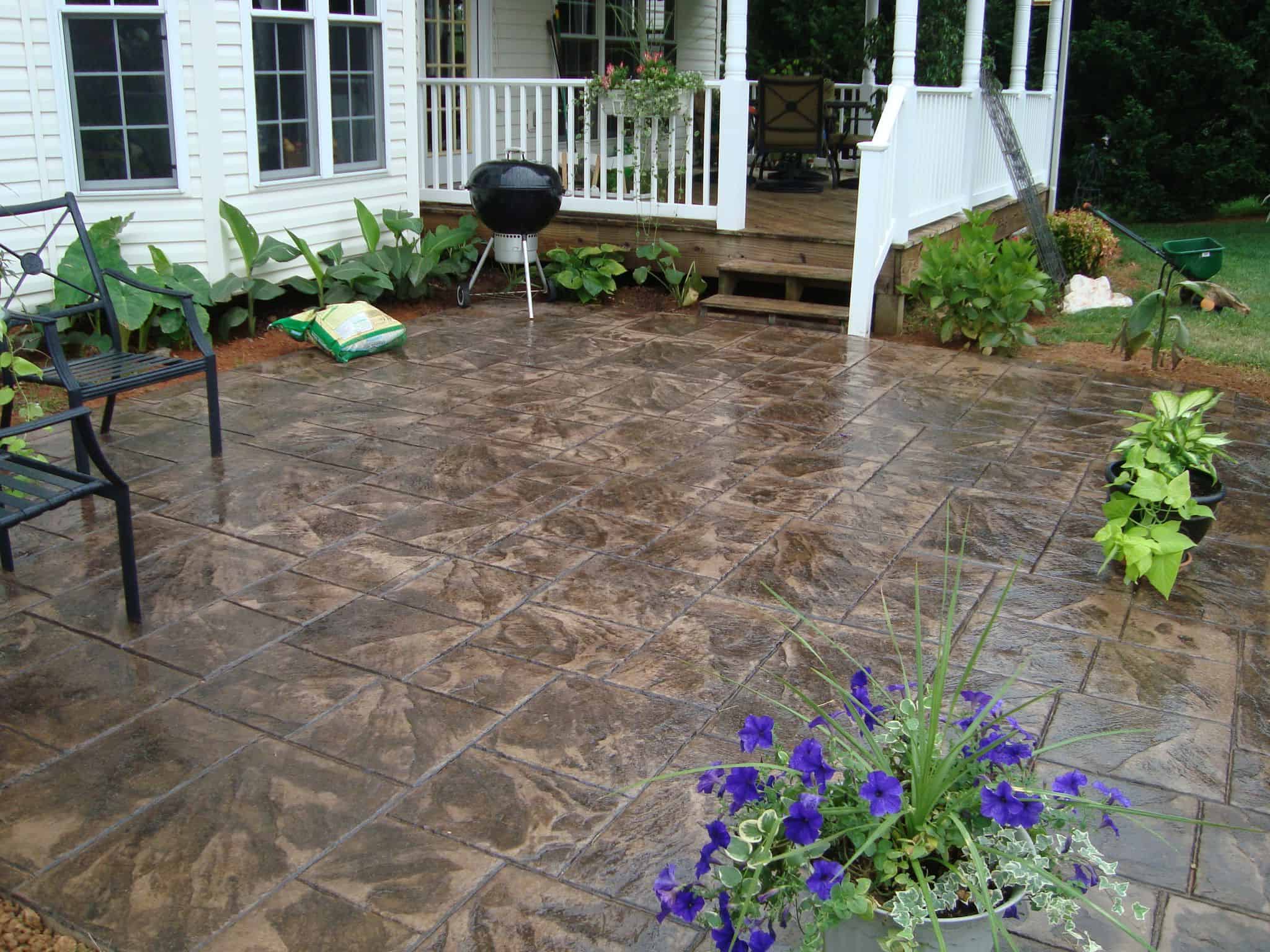 Our Locations:
Nashua, NH
North Hampton, NH
Concord, NH