We service Merrimac (MA) with Stamped Concrete, Epoxy Floor Coatings, Epoxy Garage Floors, Contractors Services. We have a large selection of colors and patterns! Give us a call for your next concrete project. We provide Free Estimates. 
We Offer a large selection of Decorative Concrete Installation Service types:
Regular Concrete
Stamped Concrete
Polished Concrete
Acid Staining
Epoxy Garage Flooring
Epoxy Floor Coatings
Concrete Overlays
Micro Toppings
Grinding and Resurfacing
Custom Concrete Designs
Concrete Slabs of All types
Sandblasting Stenciled Designs
Stencil Concrete
Self Leveling
Patching
Epoxy Chip Coatings
Metallic Epoxy Coatings
Solid Color Epoxy Coatings
Self Leveling Epoxy Coatings
Mortar Epoxy Coatings
Epoxy Terrazzo Floor Coatings
Vapor Barrier Epoxy Coatings
100% Solids Epoxy
Water-Based Epoxy Floor Coating
Solvent-Based Epoxy Floor Coating
Stamped Concrete Patios
Stamped Concrete Walkways
Stamped Concrete Pool Decks
Stamped Concrete Driveways
Stamped Concrete Merrimac Massachusetts (MA)
How much should your backyard concrete patio cost? There are many factors to consider when determining the overall budget for this project. One of the most important considerations is the type of location where the patio will be placed. For example, if you live in an urban area, it can be difficult to bring in a concrete truck and the workers who carry the equipment must carry it over long distances. Additionally, the costs of materials and labor are more likely to be higher if the patio is located in a remote or urban area.
Before a concrete patio is installed, the site should be prepared for the project. If it is located in a low spot, you will need to build up. To ensure a level surface, you may need to remove existing structures, such as fences. In some cases, it will be necessary to remove natural barriers to the patio. Removing a dog house or a tree can cost as little as $100. However, removing roots from a tree could cost thousands.
In addition to preparing the ground, a concrete patio will need to be sealed. Sealing the concrete is not necessary, but it is recommended if you plan to eat on the patio, because stains can be difficult to remove from a stained surface. Using an acrylic spray-on cure-and-seal can prevent your patio from turning yellow in the sunlight, unlike epoxies. The price for an acrylic spray-on cure-and-resealing will be $0.53 per square foot. This includes two applications of a non-metallic color and a concrete hardener.
The cost of a concrete patio varies greatly throughout the U.S. The actual cost to pour a concrete patio will depend on the size and type of the patio, where the patio is located, and what type of cement is used. For instance, a patio measuring eight feet by twelve feet will require approximately 1.77 cubic yards of concrete. The cost for a four-inch-deep slab is slightly higher, but will vary depending on the size and weight of the patio.
Before pouring the concrete, it is important to install expansion joints. The expansion joints will allow the slab to expand and contract without causing damage to the foundation of the patio. These joints can be protected by a sealant, which will help keep weeds and other materials from growing in the space. This additional cost can range from size per square foot. When it comes to the cost of a concrete patio, it is essential to consider your budget first.
The cost of a concrete patio can vary depending on the type of concrete and the size. The price of a concrete patio varies from per cubic yard and may include the cost of rebar or wire mesh. Some patios are reinforced with brick or flagstone. The final price will depend on the type of reinforcement you choose. The purpose of your backyard concrete patio will determine the total cost. If you want to lay a regular slab, the price will be lower.
When you want to pour concrete, you need to ensure that the soil is properly compacted. If the soil is too loose, the concrete will not hold up to weight and will be unstable. If you want a patio to last for a long time, it is important to prepare the area before pouring the concrete. A few simple steps will ensure the proper mix. It will take about a day to pour a 12-square-foot patio.
Painting or coating concrete is another option to add color to your backyard patio. A paint job can cost anywhere from $2 to $6 per square foot. It can be done by a professional contractor or you can do it yourself. Remember that the amount will be based on the shape of the patio and its features. The more complex the design, the higher the price will be. A well-designed concrete patio can be the best investment you'll make.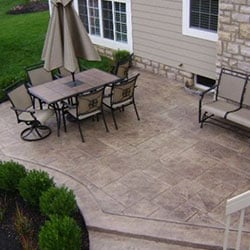 Our Locations:
Nashua, NH
North Hampton, NH
Concord, NH