We service Loudon (NH) with Stamped Concrete, Epoxy Floor Coatings, Epoxy Garage Floors, Contractors Services. We have a large selection of colors and patterns! Give us a call for your next concrete project. We provide Free Estimates. 
We Offer a large selection of Decorative Concrete Installation Service types:
Regular Concrete
Stamped Concrete
Polished Concrete
Acid Staining
Epoxy Garage Flooring
Epoxy Floor Coatings
Concrete Overlays
Micro Toppings
Grinding and Resurfacing
Custom Concrete Designs
Concrete Slabs of All types
Sandblasting Stenciled Designs
Stencil Concrete
Self Leveling
Patching
Epoxy Chip Coatings
Metallic Epoxy Coatings
Solid Color Epoxy Coatings
Self Leveling Epoxy Coatings
Mortar Epoxy Coatings
Epoxy Terrazzo Floor Coatings
Vapor Barrier Epoxy Coatings
100% Solids Epoxy
Water-Based Epoxy Floor Coating
Solvent-Based Epoxy Floor Coating
Stamped Concrete Patios
Stamped Concrete Walkways
Stamped Concrete Pool Decks
Stamped Concrete Driveways
Stamped Concrete Loudon New Hampshire (NH)
There are many benefits to using flagstone stamped concrete for your driveway and patio. This material is a great choice if you want a durable surface that will withstand heavy traffic, but can't afford the high cost of natural flagstone. This type of material also looks better than real flagstone, which can be damaged by de-icing salts. Although it is not a replacement for real stone, it can mimic the appearance of natural stone and is more affordable than real flagstone.
The biggest advantage of using flagstone stamped concrete is the cost. The concrete costs about half the price of real flagstone. While it isn't quite as realistic, it's still a great option if you want a unique look that complements your home's natural beauty. It can even be installed more easily because it doesn't need any special skills or tools. Unlike real flagstone, stamped concrete requires less maintenance.
Flagstone has been popular for centuries, but today, it is still a popular choice for homeowners. This style of stamped concrete was used to lay the interior flooring of castles. The process of creating flagstone stamped concrete is very simple, and each stone is individually hand-engraved to give each space a unique, custom look. Besides flooring, flagstone is also used as an accent on walls. It is a beautiful way to enhance a home's curb appeal and create a more inviting environment. The best part is that it's a low-cost option, which makes it a perfect alternative to stone.
In addition to being relatively inexpensive, flagstone stamps are a good choice for a patio or walkway. It can mimic the appearance of real flagstone and will only cost half the price. The labor involved in creating a stone pattern is comparatively low compared to the labor involved in laying natural flagstone, so you can rest assured of a long-lasting patio or walkway. You can even use a stone mason to lay every piece by hand.
Flagstone stamped concrete is a great option for your driveway and patio. The look of flagstone is authentic and durable, and it can be customized with different patterns and colors. Whether you want a natural look or a more modern, contemporary look, you'll find a patio that complements your home. Just make sure that the contractor you hire has experience in laying and stamping flagstone. If you're not sure which color to choose, then you should contact a professional.
Unlike natural stone, stamped concrete offers more flexibility than brick and flagstone. In addition to brick and flagstone, it can also mimic wood, slate, and other common building materials. The only difference is the cost. Despite the high cost, this material is far more affordable than other types of flagstone. It can be used for driveways, sidewalks, and floors. If you want to have a beautiful patio, the cost of installing a concrete surface is about half of a brick patio.
In addition to flagstone, stamped concrete is also a great option for patios. These types of concrete surfaces can be made to look like slate, brick, flagstone, and tile, and can even look like flagstone pavers. The best way to install a patio or walkway is to hire a qualified contractor. With a bit of effort, you can have a beautiful patio or walkway that is both attractive and functional.
For a more affordable alternative, you can also choose an overlay for your concrete. Overlays of stamped concrete are ideal for indoor and outdoor projects. These are also durable and can be used for outdoor projects, such as patios. By choosing the right color, you can create a beautiful and unique patio or walkway for your home. You can choose a color that matches the exterior of your home or complements the surrounding landscape. This option is perfect for those who don't want to spend a lot of money on their new addition.
In the long run, this type of concrete is more durable and will last longer than real flagstone. The only disadvantage is that it will not be as realistic as a real flagstone, but it will look similar. Another benefit of using this material for a patio is that it can be used on patios. Moreover, if you want a patio with a flagstone look, you can have the same look of a gazebo that replicates the appearance of a natural flagstone.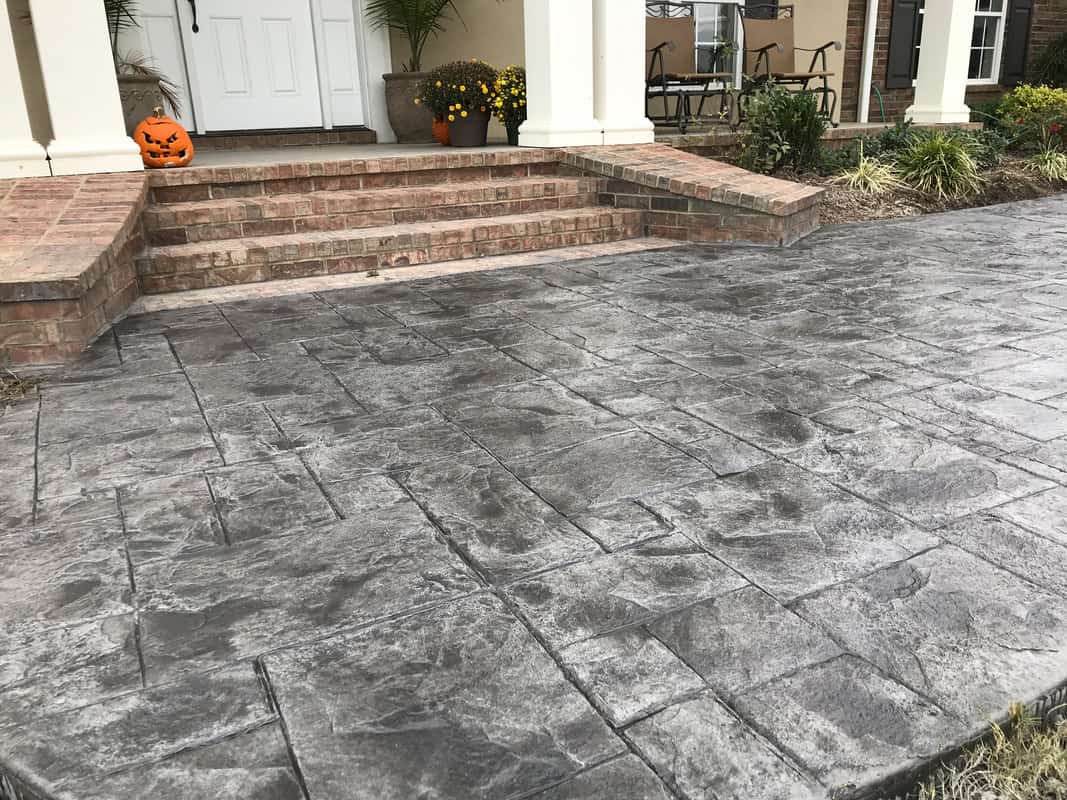 Our Locations:
Nashua, NH
North Hampton, NH
Concord, NH