We service Newbury (MA) with Stamped Concrete, Epoxy Floor Coatings, Epoxy Garage Floors, Contractors Services. We have a large selection of colors and patterns! Give us a call for your next concrete project. We provide Free Estimates.

We Offer a large selection of Decorative Concrete Installation Service types:
Regular Concrete
Stamped Concrete
Polished Concrete
Acid Staining
Epoxy Garage Flooring
Epoxy Floor Coatings
Concrete Overlays
Micro Toppings
Grinding and Resurfacing
Custom Concrete Designs
Concrete Slabs of All types
Sandblasting Stenciled Designs
Stencil Concrete
Self Leveling
Patching
Epoxy Chip Coatings
Metallic Epoxy Coatings
Solid Color Epoxy Coatings
Self Leveling Epoxy Coatings
Mortar Epoxy Coatings
Epoxy Terrazzo Floor Coatings
Vapor Barrier Epoxy Coatings
100% Solids Epoxy
Water-Based Epoxy Floor Coating
Solvent-Based Epoxy Floor Coating
Stamped Concrete Patios
Stamped Concrete Walkways
Stamped Concrete Pool Decks
Stamped Concrete Driveways
Stamped Concrete Newbury Massachusetts (MA)
Concrete patios come in many different styles and colors. Some look like tiles, while others are more similar to a traditional patio. Regardless of your style preference, there are many options for a concrete patio. Here are a few tips to help you get started. First, consider what you want your patio to be used for. Is it going to be used for al fresco dining? If so, be sure to choose a large enough area to fit a table and chairs. If you're going to be using it for lounging, consider whether you'll want a fire pit or a chaise lounge.
For the most inexpensive option, buy concrete pre-mixed in a bag or truck. If you'd like to have an even smoother surface, rent a concrete truck. Both of these options are good choices. If you want a smooth, durable surface, mix your own concrete. It's much cheaper to mix your own concrete, but it requires a little more work. Once it's mixed, you can place the slab on your patio.
Stamped concrete is the most expensive option, but it is the most durable. It won't break under the elements and will look as good 10 years from now as it did when it was installed. Another great benefit of stamped concrete is that it is very low-maintenance. All you need to do is to seal the concrete to prevent it from absorbing water. After that, you're done. The only thing you'll need to do is to clean it regularly.
If you're planning to add patterns to your concrete patio, you can use garden beds and plants to liven up the area. The environment created by a green space is relaxing and calming. A beautiful patio can be a great place to read a book or enjoy a cup of coffee. And because concrete is easy to mix and pour, it is an adaptable material that can be cut into any shape. You can also mix it yourself if you're in a pinch.
There are several different concrete patio options. You can buy premixed bag of ready-made concrete, or you can mix your own concrete. If you're going for a rustic, country-style look, you can buy a garden center and plant flowers. A decorative concrete patio will look great and will last for decades. And you'll be able to keep it looking beautiful for a long time with proper maintenance.
You can also make a concrete patio look like a tiled floor. There are a few different ways to do this. The first way is to buy a pre-mixed bag of concrete. You can hire a contractor to mix the concrete for you. The second option is to mix your own. This is the cheapest option, but it requires more labor. A tiled floor is the simplest and cheapest option.
Another option is to buy a pre-mixed bag of concrete and have it mixed for you. There are several options for this. The cheaper option is premixed bag. The more expensive alternative is a concrete truck. This is the easiest way to buy a pre-mixed concrete. The second option is to mix your own. This is the most expensive but also the least time-consuming option.
One of the most affordable concrete patio options is a pergola. This is an inexpensive option that is easily done by a contractor or can be added to your existing patio by yourself. A pergola should be level or slightly raised on one side. The other side should be level. A trellis makes a pergola look better. A pergola will be the most expensive option, but it is not the only option. It should match your home.
A concrete patio can be customized in many ways. You can purchase premixed bags or hire a concrete truck. While this is the cheapest option, you will need to spend more money to get the same results. You can also use stencils and etchings to create patterns and designs on the concrete. For the ultimate in customization, you can get a custom-made design for your concrete patio. It is possible to have a tiled patio or a brick-lookalike floor.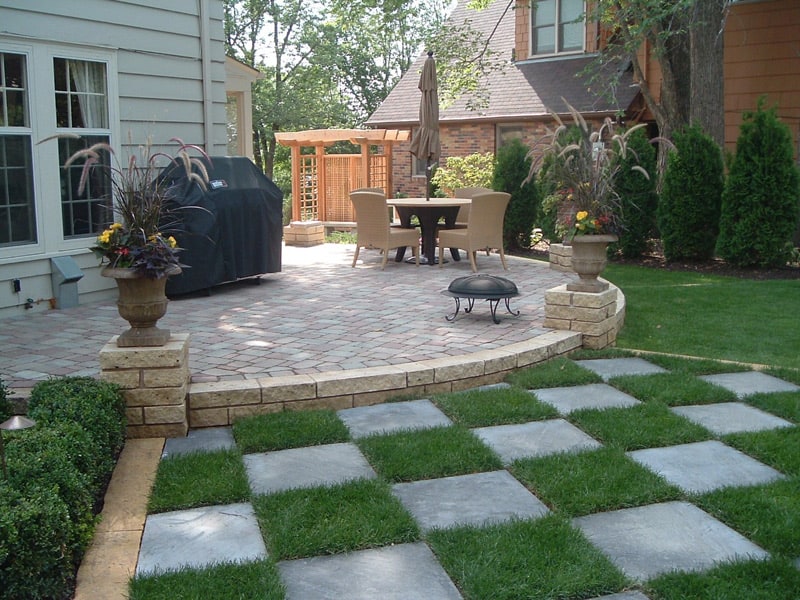 Our Locations:
Nashua, NH
North Hampton, NH
Concord, NH