We service all of New Hampshire (NH) Massachusetts (MA) Maine (ME) with Decorative Concrete Contractors Services. We have a large selection of Colors, Patterns, and Textures. We have been servicing the New England area with Stamped Concrete Patio services for over thirty years. We provide Free Estimates! Give Us a call for your next concrete project!
Things you should consider before hiring a Stamped Concrete Contractor:
Decorative concrete has become a very popular home material in recent years. With the use of many different colors and shapes, it's impossible to not see concrete everywhere you go. One of the reasons for this is that it's easy to maintain and clean.
Northeast Decorative Concrete LLC is experts when it comes to stamping concrete, however, we do have experience when it comes to sealing the concrete. We will be able to help you with basic concrete stamping, or sealant applications as well as some more advanced installation procedures.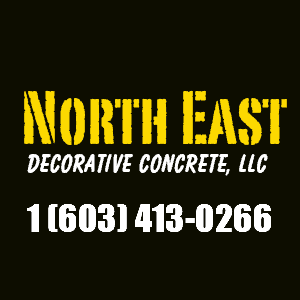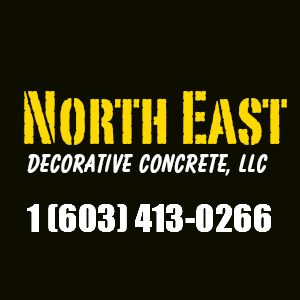 When looking for contractors offering decorative concrete services, be sure to ask them about their background and their experience. It is always best to choose those contractors who have good references and examples of past work. Any company that doesn't have good references will not be your best choice.
Before hiring any contractors offering decorative concrete services, you should always check out their credentials and references. If you hire a contractor that offers services for exterior stamped concrete, you will want to check their credentials and ask them to provide references for you to see.
In addition, you will want to ask the contractor for examples of previous jobs and check their references for these references. If you are hiring a contractor who specializes in interior stamped concrete, ask them for samples of previous work. You can tell a lot about a contractor just by looking at the job samples they provide you with.
We Have Over 35 yrs Experience!
While looking for contractors offering decorative concrete services, make sure to ask if they have experience with areas other than the particular project you are considering. It may be worth the time to ask about additional projects that they may be able to complete.
Another thing you will want to look for is experience with specific materials. In many cases, a contractor that offers decorative concrete services will have experience in many different types of concrete materials. For example, if you are building a pool, you may want to hire a contractor who specializes in that material.
Experience Is Everything:
Keep in mind that an experienced contractor will know when it is necessary to add additional coatings to a coating on a decorative concrete service. Sometimes the texture of the concrete will be such that a coating might not cover it properly. This is a fairly easy problem to correct with a few coats of the new coating.
Small problems can often be fixed without too much trouble. However, the damage done by a large problem is often irreparable. There are some contractors that won't make any big changes unless you specifically ask for them to do so.
We Have Been In Business:  Through 3 Recessions and 2 Booms!
The final factor you should consider when choosing a contractor is the contractor's customer service. Ask the contractor if they are happy to answer any questions you may have before they agree to work with you. Not only will this give you peace of mind, but it will save you money as well.
We Offer a large selection of  Residential and Commercial Decorative Stamped Concrete Installation Services for:
Stamped Concrete Patios
Stamped Concrete Walkways
Stamped Concrete Pool Decks
Stamped Concrete Driveways
Garage Floors
Residential House Slabs
Commercial Footing Slabs
Hotel Flooring
Restaurant Flooring
Retail Mall Strips Flooring
Retail Shop Flooring
Hospital Flooring
Grocery Store Flooring
Airport Flooring
Auto Car Dealership Flooring
We Offer a large selection of Decorative Concrete Installation Service types:
Concrete Floors
Concrete Slabs
Concrete Hot Tub Pads
Concrete Basements
Concrete Garage Floors
Concrete Coatings
Colored Concrete
Decorative Concrete
Stamped Concrete
Polished Concrete
Acid Stained Concrete Floors
Concrete Overlays
Micro Toppings
Grinding and Resurfacing
Custom Concrete Designs
Concrete Slabs of All types
Sandblasting Stenciled Designs
Stencil Concrete
Concrete Self Leveling
Concrete Patching
Epoxy Flooring
Garage Flooring
Epoxy Chip Coatings
Metallic Epoxy Floor Coatings
Metallic Epoxy Garage Floor Coatings
Metallic Epoxy Basement Floor Coatings
Solid Color Epoxy Coatings
Self Leveling Epoxy Coatings
Mortar Epoxy Coatings
Epoxy Terrazzo Floor Coatings
Epoxy Garage Floor Coatings
Epoxy Floor Coatings
Vapor Barrier Epoxy Coatings
100% Solids Epoxy
Water-Based Epoxy Floor Coating
Solvent-Based Epoxy Floor Coating
Stamped Concrete Sealing
Stamped Concrete Hot Tub Pads
Stamped Concrete Patio Installation
Stamped Concrete Walkways
Stamped Concrete Pool Decks
Stamped Concrete Driveways
Stamped Concrete Floors
Resealing Stamped Concrete
Concrete Hot Tub Pads
These hot tub pads are placed under the hot tub base to level the tub. These pads are placed directly onto the ground and are covered in a concrete mixture to support the hot tub. Are the most popular option for concrete decks and patios. These heavy-duty hot tub pads are constructed using galvanized steel and a high-quality hot tub pad material.
Concrete Flooring
Concrete flooring is a great option for those who want to make a big impact on their garage or basement slab. It is a durable and decorative option when it comes to flooring. Concrete flooring is a great way to make a garage feel more like a showroom. There are so many colors, textures, and finishes to choose from to make sure you get the exact look you want. Concrete flooring is a great option for any basement, garage, or recreation room.
Concrete Coatings
Color and texture can be added to concrete surfaces to create the desired look. Other methods of coloring concrete include the use of dyes, pigments, and coatings. Dyes are used to adding color to concrete. Pigments are usually used to create decorative effects. A coating, such as a high-performance waterborne polyurethane, can be applied to the surface of the concrete to protect and improve the appearance of the concrete, as well as to provide a decorative finish.
Epoxy Floor Coatings
Installation of epoxy floor coatings can transform a plain concrete floor into a durable surface resistant to moisture, scuffing, and chemical spills. The flooring industry has experienced tremendous growth over the past few years. A large part of this growth can be attributed to the popularity of epoxy coatings for floors. Epoxy floor coatings are a floor finish that can make a big difference in the appearance of your home. The best thing about epoxy is that it's a durable product that won't crack, peel or chip over time.
Garage Floor Coatings
Garage floor coatings are a great way to protect and beautify your garage floor. The addition of a garage floor coating to your garage floor can eliminate the need to repeatedly paint your floor. We offer the best quality garage floor coating in the USA at affordable prices. We are the best solution if you want to rejuvenate your garage floor quickly, without damaging it or the surrounding areas. We have a range of floor coating options for your garage floor in order to protect it from scratching and wear and tear. You can also use them as a finishing touch for the interior of your garage.
Metallic Epoxy Floor Coatings
Metallic epoxy floor coatings are a type of paint that is used to protect and beautify the floors. They have been in use for many years now, but are only recently becoming more popular. Metallic epoxy floor coatings are ideal for many different applications and are the best choice for a lot of different things. If you are looking for floor coatings, then you should consider metallic epoxy floor coatings.
Stamped Concrete
Outdoor Flooring Stamped concrete is a concrete product that is stamped to look like real stone or brick. The product is made from concrete and other components that are mixed and poured into forms that give it the look of stone or brick. Decorative concrete contractor services is a great way to beautify your home or business with the look of natural stone. If you're looking for quality stamped concrete design or installation services, look no further than Northeast Decorative Concrete. We have over 35 years of experience in this field and are ready to help you with any project.
Stamped Concrete Patios
Stamped concrete patio floors are a wonderful choice for the home and garden. Stamping concrete is a low-maintenance, water-resistant alternative to pavers, brick, or stone. The benefits of concrete staining that can enhance your patio space with concrete. Stamped concrete is an easy way to update the look of a home or business. Stamped concrete, also known as pattern imprinted concrete, creates unique and appealing patterns, not only for aesthetic purposes but also can increase the traction and slip resistance of your patio or walkway.
Stamped Concrete Walkways
Stamped concrete walkways are one of the most cost-effective ways to create a beautiful patio or pool area. We share tips and benefits of using them and some tips for improving the appearance of your stamped concrete. Stamped concrete walkways are one of the most popular options for a new driveway or patio. They're inexpensive, require little maintenance, and add curb appeal to your home.
Stamped Concrete Pool Decks
The stamped concrete pool deck is one of the best materials for creating a beautiful pool deck. The most important thing is that it will give your home the perfect look of modern. Now, let's check out some of the benefits of a stamped concrete pool deck. When you use concrete for your concrete pool deck, you will be able to have a long-lasting pool deck.
Stamped Concrete Driveways
Stamped Concrete Driveways are a great way to upgrade the appearance of your property without spending lots of money. We at Northeast Decorative Concrete can create a custom driveway to suit your needs and budget. Stamped Concrete Driveways have many benefits including durability.
Resealing Stamped Concrete
Resealed stamped concrete looks amazing and is a great way to make your driveway, patio, or pool area look great again. Our sealers have all the right ingredients you need to complete a project the first time. Sealing concrete is an affordable way to protect the appearance and durability of your driveway or walkway. Sealing concrete provides protection against rain, snow, sun, dirt, and grime. It will keep your concrete looking new for many years!
Our Locations:
Nashua, NH
North Hampton, NH
Concord, NH