We service Londonderry (NH) with Stamped Concrete, Epoxy Floor Coatings, Epoxy Garage Floors, Contractors Services. We have a large selection of colors and patterns! Give us a call for your next concrete project. We provide Free Estimates.
We Offer a large selection of Decorative Concrete Installation Service types:
Regular Concrete
Stamped Concrete
Polished Concrete
Acid Staining
Epoxy Garage Flooring
Epoxy Floor Coatings
Concrete Overlays
Micro Toppings
Grinding and Resurfacing
Custom Concrete Designs
Concrete Slabs of All types
Sandblasting Stenciled Designs
Stencil Concrete
Self Leveling
Patching
Epoxy Chip Coatings
Metallic Epoxy Coatings
Solid Color Epoxy Coatings
Self Leveling Epoxy Coatings
Mortar Epoxy Coatings
Epoxy Terrazzo Floor Coatings
Vapor Barrier Epoxy Coatings
100% Solids Epoxy
Water-Based Epoxy Floor Coating
Solvent-Based Epoxy Floor Coating
Stamped Concrete Patios
Stamped Concrete Walkways
Stamped Concrete Pool Decks
Stamped Concrete Driveways
Stamped Concrete Londonderry New Hampshire (NH)
Many people choose to have their concrete stamped, but there are a few things to know before you do. For one, stamped concrete has a long lifespan, and can be shaped and colored to match your specific style and taste. The process involves stamping the entire volume of concrete and then dyeing it with a base color. A thorough mixing of the colored concrete results in a uniform color distribution. This method is very durable and can last for decades.
The benefits of stamped concrete are many. It can resemble a variety of natural materials, including stone, brick, tile, and wood. Because it is easy to install, stamped concrete is best suited for outdoor paving, pool decks, courtyards, and entryways. When getting ready to have your concrete stamped, it's important to prepare the base area with a level and clean surface. You should compact the base thoroughly to prevent soil settlement.
When applying stamped concrete over existing concrete, make sure to evaluate the condition of the subgrade and the existing concrete. If there is significant damage to the subgrade, the overlay may not stick correctly. If there are loose materials on the surface, the overlay will not adhere properly. If the conditions are ideal, stamped and dyed surfaces will last much longer than plain concrete. So, when choosing a stamping style, be sure to consider these factors before you begin.
When applying stamped concrete over an existing surface, you should evaluate the condition of the surface and subgrade. If the concrete is rotten or has major damage, this can cause problems later. If you have significant structural damage, your concrete overlay may crack and peel. If there are loose materials on the surface, the overlay may not adhere properly. A proper application of primer or paint on the surface will prevent this problem. If the conditions are favorable, you can then proceed with the installation.
Another common problem with stamped concrete is the appearance of small tears. Some customers mistake these tears for cracks. In reality, these tears are caused by the stamping tools used. Workers push down on the concrete surface, creating downward pressure and side-to-side or outward pressure that pulls the concrete apart. Therefore, you must keep an eye out for these tears. The process will be much more difficult than it needs to be and will cost you more time and money.
To avoid these problems, you should seal your concrete with a special coating every few years. If you are doing a concrete overlay over an existing floor, it is important to assess the condition of the subgrade and the existing concrete before proceeding. If there is significant damage, the concrete overlay will crack, and loose materials may prevent it from adhering properly to the new surface. In such cases, a touch-up technique can be applied.
Because it can mimic several types of natural materials, stamped concrete is the perfect choice for a driveway. You can choose to make the surface look more rustic or elegant with more decorative bricks and stones. The technique will also make the surface look more attractive than it would without the decorative overlay. If you'd like to make your driveway an eye-catching addition to your home, you can use a brick-patterned border. For a more subtle design, you can create a more modern, stylish entrance that blends in with the rest of your home.
Using a stamping tool, you can easily create a beautiful pattern in concrete. It will not only add curb appeal to your driveway, but it will make your house look luxurious. Whether you are looking for a decorative overlay or a simple resurface, stamped concrete is an excellent solution. Depending on the design, you can create a stunning new driveway that is sure to impress. There are many advantages to choosing stamped concrete over any other type of flooring.
If you are planning to have your concrete stamped, it is important to carefully assess the current concrete and subgrade. If there is significant damage, the overlay can crack or peel. If you're having a decorative overlay, make sure that it is not prone to damage. Once it's finished, you can apply the stamping paint. Then, apply the decorative finish. It's important to take the time to evaluate the condition of the existing concrete and subgrade.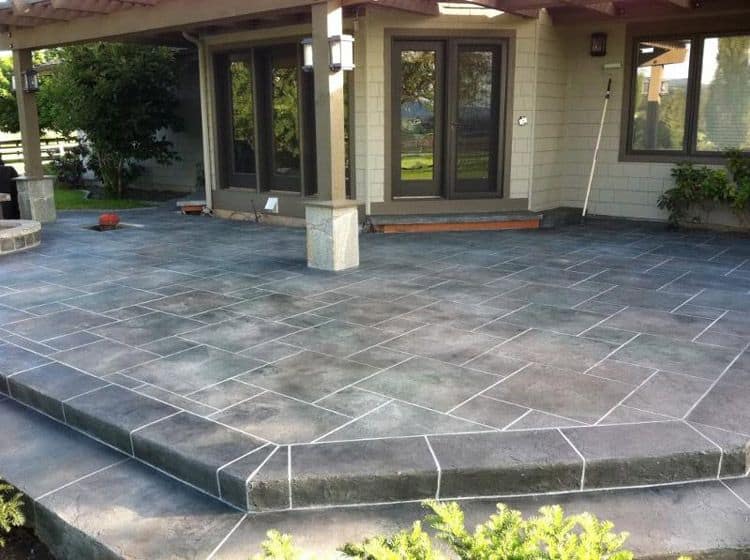 Our Locations:
Nashua, NH
North Hampton, NH
Concord, NH