We service Lynnfield (MA) with Stamped Concrete, Epoxy Floor Coatings, Epoxy Garage Floors, Contractors Services. We have a large selection of colors and patterns! Give us a call for your next concrete project. We provide Free Estimates. 
We Offer a large selection of Decorative Concrete Installation Service types:
Regular Concrete
Stamped Concrete
Polished Concrete
Acid Staining
Epoxy Garage Flooring
Epoxy Floor Coatings
Concrete Overlays
Micro Toppings
Grinding and Resurfacing
Custom Concrete Designs
Concrete Slabs of All types
Sandblasting Stenciled Designs
Stencil Concrete
Self Leveling
Patching
Epoxy Chip Coatings
Metallic Epoxy Coatings
Solid Color Epoxy Coatings
Self Leveling Epoxy Coatings
Mortar Epoxy Coatings
Epoxy Terrazzo Floor Coatings
Vapor Barrier Epoxy Coatings
100% Solids Epoxy
Water-Based Epoxy Floor Coating
Solvent-Based Epoxy Floor Coating
Stamped Concrete Patios
Stamped Concrete Walkways
Stamped Concrete Pool Decks
Stamped Concrete Driveways
Stamped Concrete Lynnfield Massachusetts (MA)
Slate stamped concrete is a beautiful addition to your backyard. This stone-inspired pattern is a natural material that looks like it was created by Mother Nature. Slate is a fibrous limestone that is found on hot springs in Tivoli, Italy. This stone-inspired pattern is a beautiful way to add character and style to your backyard patio. This design comes in a variety of colors and is easy to install.
You can choose from many different colors and designs for your stamped concrete patio. Slates look particularly good against white or gray walls. Adding a lagoon-style pool or a wooden palleted fence is also an option. To increase the beauty and functionality of your new patio, consider adding a small pergola or artificial grass. A small, shaded patio will add to the ambiance. There are many benefits and drawbacks to a slate stamped concrete patio.
Ashlar Cut Slate is another stone-inspired patio design. It mimics a natural stone surface with more texture and deeper joints. This design has a rougher appearance and comes in sizes of 24″ x 24″. For the most realistic appearance, choose a 24″ square. The Ashlar Cut Slate is available in two color combinations: Rustic Brown with Medium Gray. It has a border color of Buckskin.
Slate is a beautiful paving material that will complement any home. However, it is not a cheap option and isn't the most durable. A better option is to opt for slate-stamped concrete. Slate-stamped concrete has all of the durability of poured-in-place concrete and has a much lower cost. This type of paving material is a durable, inexpensive alternative to slate. It is also a great way to add character to your patio without the price tag.
Slate stamped concrete patios are a great choice for the home with a sunny climate. The soft and neutral colors of the concrete slabs will blend with the house's interior color. Unlike other types of stamped concrete, this material can be a good choice for a home with a Mediterranean style. This type of stone can be made in any color and is perfect for many types of homes. You can choose from chocolate to cappuccino colored slabs to accent your backyard.
Slate stamped concrete is a beautiful choice for your patio. A slate stamped concrete patio can mimic the look of real slate, which makes it a smart choice for patios in sunny areas. This material is cheaper and easier to install than real slate, and you can choose a slate-stamped concrete patio for your outdoor space. It will look great no matter what color you have chosen for the patio. Once it is set, it will be ready to use, so you can use it almost anywhere you would use real stone.
Slate stamped concrete patios are a great option for patios. Slate is a great color for a patio. The concrete will have a slate-colored color. Slate has a unique texture and will take some time to set. For this reason, you should not walk on the patio for a few days. During this time, the concrete will set and be completely ready. It may even take a few weeks for it to dry.
A slate stamped concrete patio is an ideal choice for patios in sunny areas of the yard. Slate stamped concrete is a great choice for your outdoor space. You can add a modern glass fire feature to it with a concrete bench. You can find many different designs to match the style of your home. You can also choose a slate-colored stamped-concrete border with a small border in the middle. A center ring fire pit adds drama and defines a separate area for entertaining.
A slate stamped concrete patio is the perfect choice for a backyard patio. This patio is a great way to add style to your home while being environmentally friendly. A slate-colored patio is both attractive and functional. It is also easy to clean and maintain, so you will be amazed at how long your new patio will last. You can enjoy it for years with the help of a quality-made slate concrete patio. But if you want to make it the perfect outdoor living space, you must first hire a professional contractor.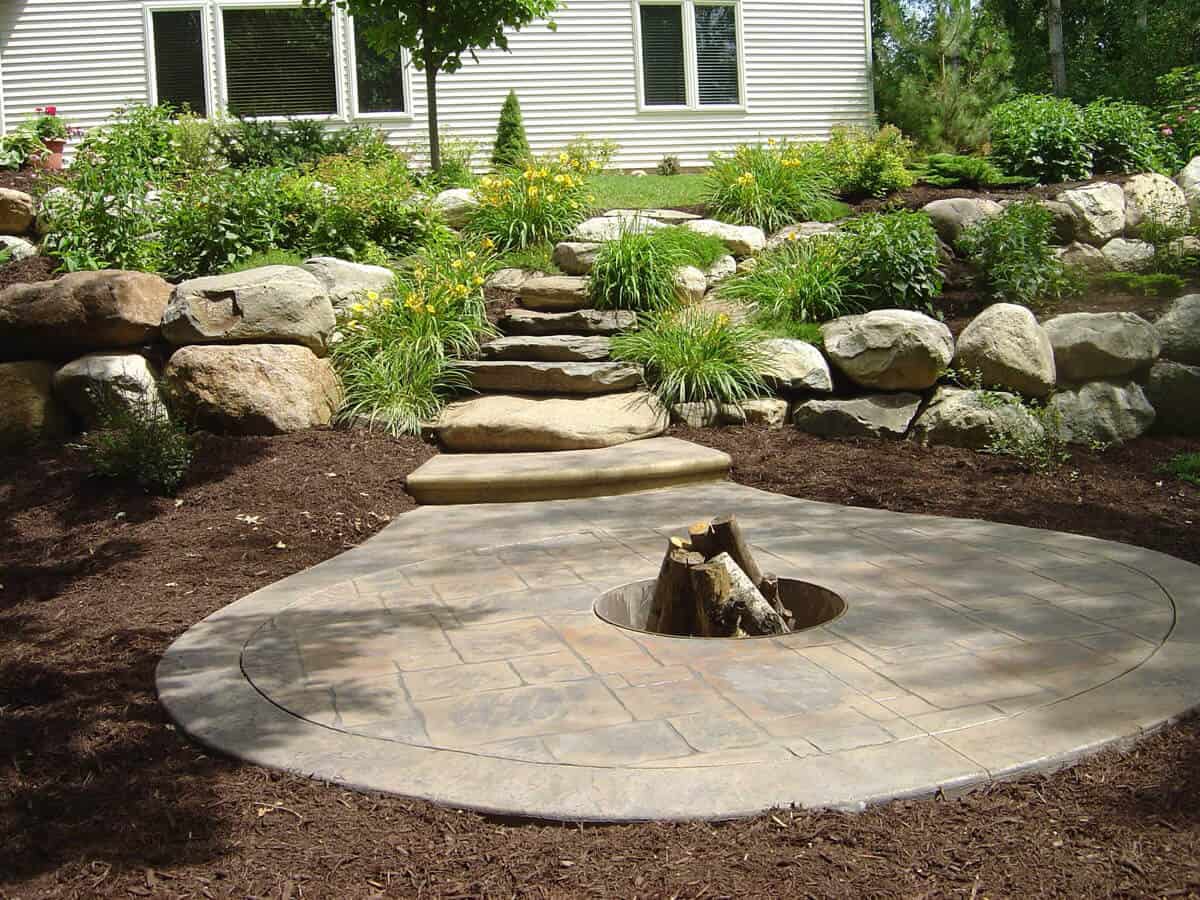 Our Locations:
Nashua, NH
North Hampton, NH
Concord, NH