We service Danville (NH) with Stamped Concrete, Epoxy Floor Coatings, Epoxy Garage Floors, Contractors Services. We have a large selection of colors and patterns! Give us a call for your next concrete project. We provide Free Estimates. 
We Offer a large selection of Decorative Concrete Installation Service types:
Regular Concrete
Stamped Concrete
Polished Concrete
Acid Staining
Epoxy Garage Flooring
Epoxy Floor Coatings
Concrete Overlays
Micro Toppings
Grinding and Resurfacing
Custom Concrete Designs
Concrete Slabs of All types
Sandblasting Stenciled Designs
Stencil Concrete
Self Leveling
Patching
Epoxy Chip Coatings
Metallic Epoxy Coatings
Solid Color Epoxy Coatings
Self Leveling Epoxy Coatings
Mortar Epoxy Coatings
Epoxy Terrazzo Floor Coatings
Vapor Barrier Epoxy Coatings
100% Solids Epoxy
Water-Based Epoxy Floor Coating
Solvent-Based Epoxy Floor Coating
Stamped Concrete Patios
Stamped Concrete Walkways
Stamped Concrete Pool Decks
Stamped Concrete Driveways
Stamped Concrete Danville New Hampshire (NH)
Decorative concrete pool decks are a good choice for homeowners with an eye for aesthetics. They can add texture, depth, and a variety of focal points to an otherwise flat and dull concrete hardscape. For the ultimate effect, use flowers and plants that attract bees and other insects. Plants with various textures, such as ferns, add visual interest and provide visual interest. You can even hide security fences with tall plants, or use raised planter boxes to create height and privacy.
To create a beautiful concrete pool deck, you can stamp patterns into the surface. You can apply stains or dry-shake color hardeners to the concrete to create a unique look. This technique not only looks exactly like natural stone, but is easier to install and complements other decorative surface treatments. Once it is set, the concrete will be ready to finish. If you'd like to make the finished deck more durable, you can add a coating of polymer to prevent slips.
Overlays for decorative concrete pool decks are a great option for homeowners who want a beautiful and unique look for their pool. They can give the deck the look they desire while still providing traction to help people with mobility and safety. Overlays can offer gorgeous colors and design effects and reduce liability issues. They can also increase the amount of space you have for guests. Moreover, they can be applied over the existing concrete to create a multi-level pool resort.
The best part of these decorative concrete pool decks is their low cost and long-lasting nature. A well-maintained and cared-for deck is a great investment. Decorative concrete is an excellent option for pool owners who want to save money. It can be stamped or stained to add a decorative flair to your swimming area. The downsides of using a coating on a pool deck are that it can't be removed or damaged.
Overlays for decorative concrete pool decks are an attractive option for homeowners who want a pool with an elegant look. Overlays can be applied in various colors and textures and can add a unique look to the surface. Overlays are also great for people with small children who need to avoid falling in the water. However, these decorative concrete pool decks should be carefully chosen to prevent injury. A good overlay can make the surfaces of a pool slippery and reduce liability issues.
A professionally-poured concrete pool deck can last for many years. Decorative concrete is a great choice for residential pool decks as it provides a durable surface. Depending on the style of your home and the landscaping, you can select a concrete deck that will enhance the beauty of your pool. You can even choose to have a contrasting colored deck, so you can create a focal point by adding a beautiful border around the pool.
Decorative concrete pool decks can also be stamped or textured to provide a beautiful and distinctive surface for your pool. The texture and color of a concrete pool deck can be stamped or applied for an additional fee. The overall appearance of a deck can range from elegant to uninviting, but it should be appropriate for your backyard. You can choose from a variety of options for the material, including natural stone or brick.
Decorative concrete offers the perfect opportunity to have any shape, color, and surface treatment you desire. By incorporating decorative concrete, you can create any type of design you can imagine. A pool deck made of a textured surface will be safe for your family. This will ensure that your pool is safe for all of your family. Choosing a concrete tile with textured finishes is an excellent choice for anyone with children or pets. There are many other options for a pool deck.
Decorative concrete pool decks are cool to the touch, and can make your pool a relaxing spot for guests. It is also a great choice for hotel guests, because it can make the water cool enough for them to kick off their shoes without burning their feet. It is also a great option for homeowners who want to add some class to their home. A unique decorative concrete pool deck can enhance any backyard and add character to any home.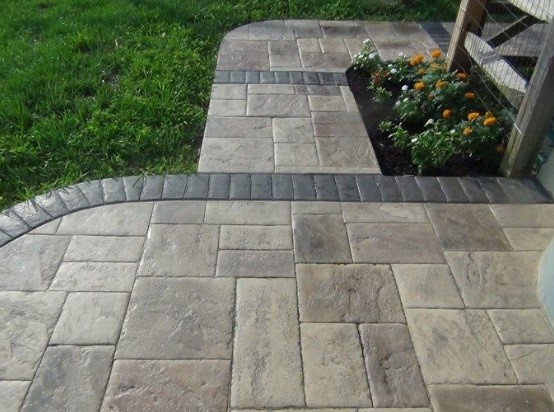 Our Locations:
Nashua, NH
North Hampton, NH
Concord, NH