We service Pembroke (NH) with Stamped Concrete, Epoxy Floor Coatings, Epoxy Garage Floors, Contractors Services. We have a large selection of colors and patterns! Give us a call for your next concrete project. We provide Free Estimates. 
We Offer a large selection of Decorative Concrete Installation Service types:
Regular Concrete
Stamped Concrete
Polished Concrete
Acid Staining
Epoxy Garage Flooring
Epoxy Floor Coatings
Concrete Overlays
Micro Toppings
Grinding and Resurfacing
Custom Concrete Designs
Concrete Slabs of All types
Sandblasting Stenciled Designs
Stencil Concrete
Self Leveling
Patching
Epoxy Chip Coatings
Metallic Epoxy Coatings
Solid Color Epoxy Coatings
Self Leveling Epoxy Coatings
Mortar Epoxy Coatings
Epoxy Terrazzo Floor Coatings
Vapor Barrier Epoxy Coatings
100% Solids Epoxy
Water-Based Epoxy Floor Coating
Solvent-Based Epoxy Floor Coating
Stamped Concrete Patios
Stamped Concrete Walkways
Stamped Concrete Pool Decks
Stamped Concrete Driveways
Stamped Concrete Pembroke New Hampshire (NH)
There are several ways to get the look you want with stamped concrete. For example, you can install a pattern such as ashlar slate. There are also a number of manufacturers that specialize in stamped concrete patterns. These products are usually installed by a professional who knows what they are doing. Whether you want a more modern look, or a more rustic feel, you can find a design that matches your preferences. Listed below are some of the common ways to make your home stand out.
You can get creative with your stamp patterns. Many people get inspiration from the surrounding landscape or architectural style. For a more realistic result, try choosing a brick-patterned border or a pattern that mimics a specific color. To avoid overlapping forms, plan your layout in advance. A skilled contractor will guide you through the process step-by-step. If you don't know where to start, you can always diagram the stamp layout.
Accent colors are the secondary colors used in stamped concrete. These colors are produced when a colored release is applied to the surface of the concrete. This substance prevents the concrete stamps from sticking. However, you should also consider the durability of the colors before purchasing them. The best way to determine the durability of a particular design is to ask for sample slabs. You can always get a free sample to check the quality. If you're happy with the finished project, make sure to give it a few days before moving on.
The last important step is sealing. A good sealer will protect your finished work. This sealer will provide a high-quality finish and keep the colors and patterns from fading. The best sealer will make sure the finished product lasts longer. If the colors don't match your current home décor, you can simply use a different one. Once you've completed the stamping process, you can then begin your sealing process.
When choosing a color, you can go with one of the five basic patterns. Each of these patterns has a different texture and color, which is why you'll have to decide what kind of design suits your home best. Using a solid color that's already present on the surface is the best choice. It is a great way to make your home stand out and complement the rest of your home. So, get inspired and give your home a new look with stamped concrete!
For a more natural look, you can use a textured wheel. The textured wheel can help you define the area where you want more definition. When you're finished with the stamping, be sure to seal it to ensure a long-lasting finish. When sealing, make sure you've used Release Cleaner to remove any remnant materials. The sealer will also help you achieve the best looking effect possible. If you're not sure what type of sealer to use, you can purchase a textured tool or two to do the job for you.
Another common mistake when installing stamped concrete is not using the correct base material. You must make sure the base is clean and compacted before you install the stamped concrete. Then, you'll have to install the concrete on top of the existing surface. Then, you'll need to apply a sealant to ensure that the sealant will not discolor the concrete. Once you have decided to install the stamping, you'll need to install the sealant.
Once you've chosen the pattern, you can get the details you want. Whether you want to add texture to an existing floor or create a pattern to match an old floor, these details will make your home stand out. It will give the area a unique look and be a valuable addition to your home. And you'll be proud to show off your beautiful concrete floors. If you're planning a DIY project, you can save money by buying your stamping materials online.
A stamped concrete design can be made by using various techniques. A float is used to apply the concrete to the desired shape. The float is an application tool to apply the stamping material. Besides laying it down, it's also important to follow the instructions carefully. The float will make the stamped detail look even better. The next step is to apply the color hardener. Then, you'll need to wait for it to soak in.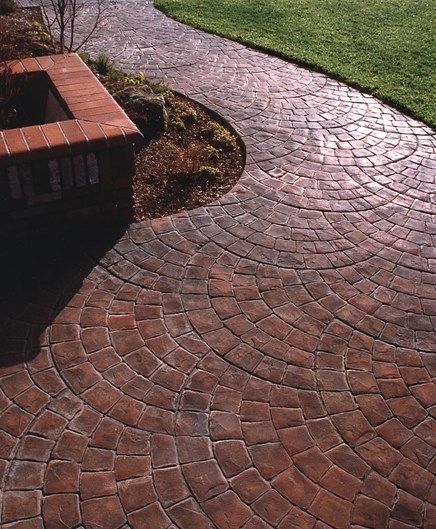 Our Locations:
Nashua, NH
North Hampton, NH
Concord, NH