We service Bradford (NH) with Stamped Concrete, Epoxy Floor Coatings, Epoxy Garage Floors, Contractors Services. We have a large selection of colors and patterns! Give us a call for your next concrete project. We provide Free Estimates. 
We Offer a large selection of Decorative Concrete Installation Service types:
Regular Concrete
Stamped Concrete
Polished Concrete
Acid Staining
Epoxy Garage Flooring
Epoxy Floor Coatings
Concrete Overlays
Micro Toppings
Grinding and Resurfacing
Custom Concrete Designs
Concrete Slabs of All types
Sandblasting Stenciled Designs
Stencil Concrete
Self Leveling
Patching
Epoxy Chip Coatings
Metallic Epoxy Coatings
Solid Color Epoxy Coatings
Self Leveling Epoxy Coatings
Mortar Epoxy Coatings
Epoxy Terrazzo Floor Coatings
Vapor Barrier Epoxy Coatings
100% Solids Epoxy
Water-Based Epoxy Floor Coating
Solvent-Based Epoxy Floor Coating
Stamped Concrete Patios
Stamped Concrete Walkways
Stamped Concrete Pool Decks
Stamped Concrete Driveways
Stamped Concrete Bradford New Hampshire (NH)
Whether you want a pristine path to your home or a rustic walkway that stands out from the neighborhood, a stamped sidewalk is an excellent choice. These durable materials have a variety of benefits. A stamped walkway can make any homeowner proud. These concrete sidewalks are designed to look like natural stone or wood and can be customized to a wide range of colors. The endless benefits of stamped concrete can make it the perfect choice for a variety of applications.
The process of creating a stamped sidewalk is a time-consuming process and requires a lot of precision. Fortunately, the concrete is usually pre-textured and therefore the stamping process is fairly quick. It is recommended to sketch the layout of the stamping process prior to beginning construction to avoid a mess. Ideally, you will have enough labor to complete the job in a few days. You will need a few hours to complete the work, so make sure you have enough help on hand.
The benefits of a stamped sidewalk are numerous. There are virtually limitless color and pattern options. Many people choose a pattern based on the surrounding landscape or their home's architecture. This allows them to complement the surrounding areas and blend with the design. For instance, a brick-patterned border will tie in with the brick on the home's exterior. The colors and patterns are available in thousands of different shades. However, choosing a color scheme can be difficult, and you should consult a professional before making any decisions.
Depending on the color of the sidewalk you desire, you can choose between a basic or a sophisticated design. The costs depend on the amount of concrete, the weather, and the amount of traffic that the walkway receives. In most cases, a basic cleaning is enough to maintain the look of a stamped sidewalk. If you would like a more elaborate design, you can consider a border or hand-tooled accents.
Stamped concrete is a beautiful and durable paving material. The cost of the materials varies depending on the region of the country and the use of the driveway. As a result, you can expect your stamped sidewalk to last for years, so it is essential to consider the maintenance of the concrete. A simple cleaning and resealing are the most common maintenance requirements for your stamped sidewalk. Decorative concrete is an excellent choice for walkways, but it is also important to choose the right color hardeners for your property.
Depending on the area and the design of the stamped sidewalk, the price of the finished product varies from $8 to $26 per square foot. It is important to plan the stamping layout beforehand, as the process can be very costly. In addition, you must have adequate labor on hand to complete the project. Once you have selected a design, you can begin installing the concrete. A finished sidewalk will be beautiful and durable, and it will add value to your home.
Stamped concrete is an excellent way to add a touch of luxury to your home. Its incredibly durable surface will last for years and add a high-end look to your home. Since it is so durable and low-maintenance, it is an excellent choice for homeowners. The cost of a stamped sidewalk will depend on the size of the patio. This is an investment in your home. If you want a more luxurious sidewalk, you should plan ahead for this.
The cost of a stamped sidewalk can range from colors and design options. A two-foot by fifty-foot walkway can be done for about relatively cheap. For a larger walkway or driveway, it can cost anywhere on the higher end because it requires more material. Adding a stamped sidewalk to your home's exterior is a great way to add a touch of luxury to your home. Its unique patterns and colors can mimic natural stone or tile, and it can be a low-maintenance alternative to natural stone or tile.
One of the main advantages of a stamped sidewalk is its color and texture options. You can choose from dozens of different colors and patterns, including brick, stone, and tile. In addition, the color and pattern of the stamped concrete can match the surrounding landscape. And while a stamped sidewalk can be a great investment, it can also add value to a home. Its cost is extremely low, which makes it an ideal choice for homeowners looking for a beautiful, low-maintenance sidewalk.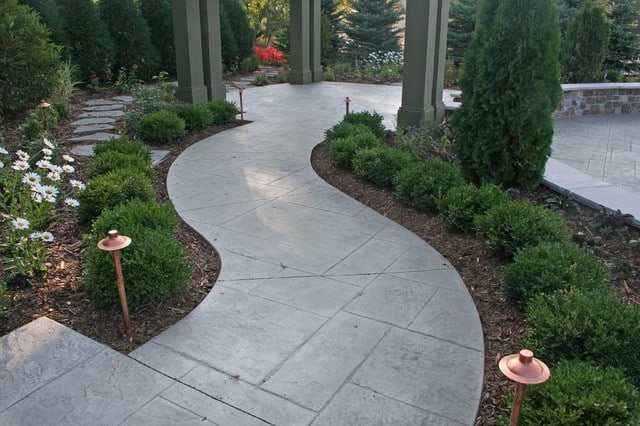 Our Locations:
Nashua, NH
North Hampton, NH
Concord, NH