We service Stoneham (MA) with Stamped Concrete, Epoxy Floor Coatings, Epoxy Garage Floors, Contractors Services. We have a large selection of colors and patterns! Give us a call for your next concrete project. We provide Free Estimates. 
We Offer a large selection of Decorative Concrete Installation Service types:
Regular Concrete
Stamped Concrete
Polished Concrete
Acid Staining
Epoxy Garage Flooring
Epoxy Floor Coatings
Concrete Overlays
Micro Toppings
Grinding and Resurfacing
Custom Concrete Designs
Concrete Slabs of All types
Sandblasting Stenciled Designs
Stencil Concrete
Self Leveling
Patching
Epoxy Chip Coatings
Metallic Epoxy Coatings
Solid Color Epoxy Coatings
Self Leveling Epoxy Coatings
Mortar Epoxy Coatings
Epoxy Terrazzo Floor Coatings
Vapor Barrier Epoxy Coatings
100% Solids Epoxy
Water-Based Epoxy Floor Coating
Solvent-Based Epoxy Floor Coating
Stamped Concrete Patios
Stamped Concrete Walkways
Stamped Concrete Pool Decks
Stamped Concrete Driveways
Stamped Concrete Stoneham Massachusetts (MA)
Creating a decorative concrete pool deck is an excellent option if you're looking for a low-cost way to add texture and slip resistance. It is a process that involves pressing rock salt into the concrete surface, washing it away, and re-applying the salt. The result is a speckled pattern that resembles weathered rocks. There are many ways to customize the look of your pool deck with decorative finishes, such as marble, stone, or granite.
If you're concerned about the aesthetics of a plain concrete pool deck, consider adding a decorative coating. A high-quality coating can make your pool deck look like a backyard resort. There are several types of decorative concrete that you can choose from, including textured, sandblasted, and color-treated. The choice depends on your preferences and the conditions of your local area. Alternatively, you can apply a polymer-coating that dries into a seamless layer.
Concrete pool decks that are exposed to sunlight are likely to require more frequent maintenance. UV exposure wears down the waterproof seal of concrete over time, and it may be wise to wait until your next pool resurfacing project to repair this problem. Adding a polymer-coating to a concrete pool deck is a more affordable and faster option than a costly resurfacing. But if you have a sloping or uneven concrete surface, it may be a good idea to consult a foundation repair specialist, or get a professional opinion.
Another option is to have a textured concrete pool deck. This material has a non-slip quality and is very durable. There are two types of textured concrete: acid-etched concrete and sand-finished concrete. Both methods involve sand finishing, allowing for a unique, natural-looking look. Decorative concrete can complement the look of your home, kitchen, outdoor patio, and landscaping. This option is not cheap, so be sure to consider this before making any major decisions.
You can create a beautiful concrete pool deck using decorative stamping. A concrete pool deck with a brushed surface will prevent slips. A brushed surface will look very elegant. For an inexpensive alternative to wooden pool decks, you can also use a stencil on your pool deck to make it look more like a natural stone or brick. It will be easier to clean than wood, and the result will be a beautiful deck that will last for years.
Once the concrete pool deck is poured, it will need to be awaited for several weeks. This process is not inexpensive, but the results are worth it. A brushed concrete pool deck will look more attractive than a painted one. A polished concrete pool deck will have an attractive and functional look. The surface is smooth and slip-resistant, but it will also provide a barrier against algae growth. A brushed concrete pool deck can be finished with colored or patterned concrete.
A brushed finish is a decorative option that adds texture to a concrete pool deck. The brushed finish is a popular choice for concrete pool decks because it provides a slip-resistant surface. By applying a textured overlay or color hardening, you can create a textured surface that is both decorative and functional. It is even possible to mix clear plastic grit into the sealer to make the surface more slippery.
A brushed finish is a decorative option that will add a slip-resistant texture to your concrete pool deck. This type of finish is achieved by sweeping a broom over freshly poured or freshly coated concrete. This type of finish also allows you to apply colored or patterned concrete to the surface. These are both beautiful options that will compliment your swimming pool. But it is important to consider the weather conditions before making any final decisions.
Concrete pool decks are a common choice for swimming pools. They're easy to maintain and are very slip-resistant. However, they require regular maintenance and are often more expensive than wood. A sealant applied on your pool deck will help protect it from the harsh elements while maintaining its beauty. This type of sealant will also add a beautiful decorative element to your pool area. It's important to consider the materials used to build your pool deck.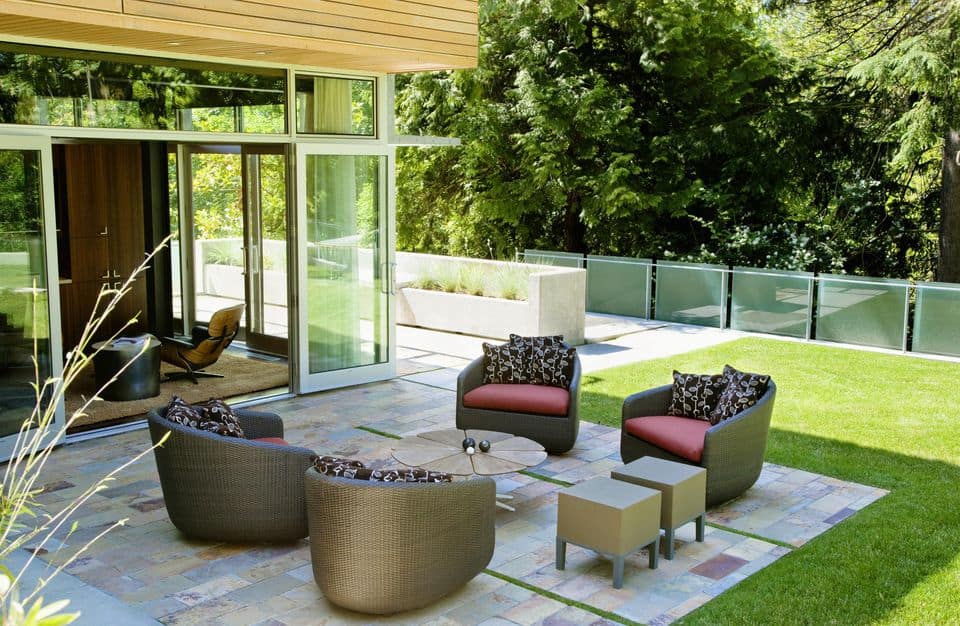 Our Locations:
Nashua, NH
North Hampton, NH
Concord, NH