We service Warner (NH) with Stamped Concrete, Epoxy Floor Coatings, Epoxy Garage Floors, Contractors Services. We have a large selection of colors and patterns! Give us a call for your next concrete project. We provide Free Estimates. 
We Offer a large selection of Decorative Concrete Installation Service types:
Regular Concrete
Stamped Concrete
Polished Concrete
Acid Staining
Epoxy Garage Flooring
Epoxy Floor Coatings
Concrete Overlays
Micro Toppings
Grinding and Resurfacing
Custom Concrete Designs
Concrete Slabs of All types
Sandblasting Stenciled Designs
Stencil Concrete
Self Leveling
Patching
Epoxy Chip Coatings
Metallic Epoxy Coatings
Solid Color Epoxy Coatings
Self Leveling Epoxy Coatings
Mortar Epoxy Coatings
Epoxy Terrazzo Floor Coatings
Vapor Barrier Epoxy Coatings
100% Solids Epoxy
Water-Based Epoxy Floor Coating
Solvent-Based Epoxy Floor Coating
Stamped Concrete Patios
Stamped Concrete Walkways
Stamped Concrete Pool Decks
Stamped Concrete Driveways
Stamped Concrete Warner New Hampshire (NH)
Have you recently decided to build your own swimming pool deck on your property? If so, you've probably looked at all of the different materials and costs that are associated with constructing a deck for your pool. Whether you're building a wooden deck or one of the many other types of concrete pool decks available today, there are several things that you should take into consideration in order to make sure that you get your money's worth when you decide to build a pool deck.
The most important thing to do when you decide to build a pool deck is determining your budget. A lot of people tend to overextend themselves financially when they're building a pool deck. They realize the potential expense but put it off until the last minute. Make a list of all of the materials that you'll need. Decide if you want to build a pool deck that matches your home or one that doesn't. For example, if you're planning on building a deck that matches the style of your home then your pool deck can be made from any type of wood that matches your home.
Once you have a list of all of your materials, the next step is to decide on the design of your pool deck. Do you want a tropical themed deck with palm trees? Would a football theme be more suited to your family? How about a pirate themed deck? Regardless, of what you choose, make sure that your pool deck design includes at least two steps leading down to your pool. This way you will have easier access to your deck when people come to visit and they can have drinks.
Now that you've got your budget and your design in place, you're ready to begin searching for a company that can build your pool deck. Remember that you don't have to go with the first company you find or the first contractor that comes along. As I mentioned above, this is your dream home, so you don't have to settle for the home you saw in the building industry magazines. You can look at hundreds of different companies and contractors before deciding which one is right for you. Make sure they have proof of insurance and that they are licensed and bonded.
One of the advantages of choosing a concrete pool deck company near you is that they will be able to show you many options. Don't just limit yourself to looking at their website. Take the time to stop by and see how nice their pool deck is and what they can do for you. If you are in an area with extreme weather, you'll need a company that has experience working in that weather. Ask them about their years of experience and how long they've been doing concrete pool deck construction.
You don't want to just hire the first company that offers you a price that sounds good. Make sure you get several quotes to ensure you are paying the best deal. The average cost of a deck is between six hundred and eight hundred dollars, depending on the size you're looking for. Talk to a few different contractors to make sure you're getting the best price.
You also want to make sure that the contractor you get a quote from has a good reputation. Just like shopping for anything, you want to shop around and compare prices. You should never go with the first company you meet with, and you should always call references that will give you an honest answer. This will help you make sure you are hiring someone who is reliable and trustworthy.
There are many great benefits to installing a pool deck in your backyard. You don't have to be stuck with the ugly concrete that most companies offer. With a little research and a lot of patience, you can find a great concrete pool deck near you that you will enjoy for years to come.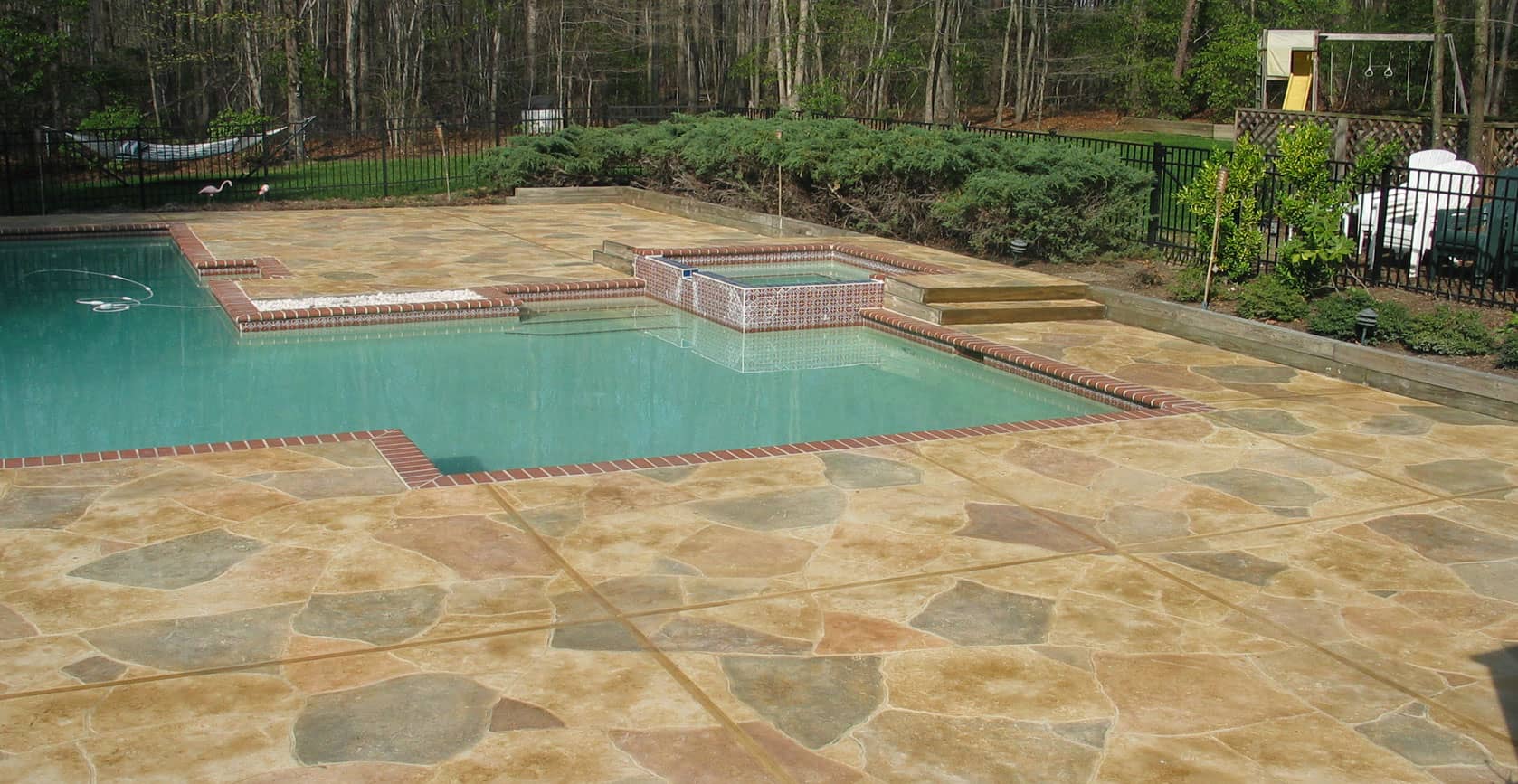 Our Locations:
Nashua, NH
North Hampton, NH
Concord, NH