We service Wakefield (MA) with Stamped Concrete, Epoxy Floor Coatings, Epoxy Garage Floors, Contractors Services. We have a large selection of colors and patterns! Give us a call for your next concrete project. We provide Free Estimates. 
We Offer a large selection of Decorative Concrete Installation Service types:
Regular Concrete
Stamped Concrete
Polished Concrete
Acid Staining
Epoxy Garage Flooring
Epoxy Floor Coatings
Concrete Overlays
Micro Toppings
Grinding and Resurfacing
Custom Concrete Designs
Concrete Slabs of All types
Sandblasting Stenciled Designs
Stencil Concrete
Self Leveling
Patching
Epoxy Chip Coatings
Metallic Epoxy Coatings
Solid Color Epoxy Coatings
Self Leveling Epoxy Coatings
Mortar Epoxy Coatings
Epoxy Terrazzo Floor Coatings
Vapor Barrier Epoxy Coatings
100% Solids Epoxy
Water-Based Epoxy Floor Coating
Solvent-Based Epoxy Floor Coating
Stamped Concrete Patios
Stamped Concrete Walkways
Stamped Concrete Pool Decks
Stamped Concrete Driveways
Stamped Concrete Wakefield Massachusetts (MA)
When considering stamp concrete, color and pattern are two of the biggest factors that determine the overall effect. Fortunately, there is no shortage of ideas for these elements. Many homeowners take inspiration from the architectural style of their home and surrounding landscape. This will help you choose patterns that blend well with your existing property. For example, brick-patterned borders on a home's driveway can tie in with the surrounding landscape and echo the brick exterior. Here are some tips for choosing the right colors and patterns for your stamped concrete project.
While choosing the colors of your stamped concrete project can be a challenge, the process can be made easy with a little bit of research. The first thing to consider is the color of the concrete you are going to use. A gray-colored concrete will look better with a gray color, while a dark brown stain will contrast well with a gray-colored slab. The colors you choose will depend on your personal preference and the style of your home.
Lastly, if you are considering the color of your concrete, a gray-colored slab will look great. This color will mimic natural materials like stone or slate, as well as give your home a timeless look. It can even be used on countertops. If you want to create a wood-like floor, you can stamp a pattern onto the surface of a concrete countertop. There are numerous colors available, and you can easily find one that suits your taste.
You can stamp your concrete with a variety of textures. Those of you who want to give your floors and walls a more traditional look can choose from stone and brick tiles. Whether you want the effect to look like brick or natural stone, there are different ways to achieve the look you desire. The more options you have, the more you can choose! The possibilities are endless. You can create the look you've always dreamed of with stamped concrete!
Choosing the right color for your concrete can be a huge help when it comes to choosing the best color for your project. When choosing a color, consider the color of your home and your personality. You can find pictures online of a variety of colors and patterns that work best with your home. A clear liquid release is the easiest option for stamped concrete, while colored powders are not. When looking for a color, consider the color of your floor. While white and cream are both good choices, make sure you choose a shade of gray or white to add to its appearance.
The color of stamped concrete is another key factor. You can choose the color to match the style of your house. If you have a neutral color scheme, use a clear liquid release. If you want to use a more colorful paint, consider using a stains to add additional color. Grey-colored concrete, for example, can look great with dark brown stains. And remember that different textures are perfect for different types of projects.
When choosing a color for your stamped concrete, consider the color. If you plan on using colored concrete, go for a neutral color for your project. If you are attempting to add a color accent, choose a darker color that contrasts with other colors. A darker color will show up well against gray. However, if you want a brighter accent, you can also use a dark brown. For a bolder effect, try a bold accent color on a lighter background.
A good tip when choosing a color for your stamped concrete project is to use a liquid release that will help the color adhere to the concrete. You can also choose a stain to add more color. If you want to simulate wood planks, choose a dark brown stain. This will make the pattern more realistic. Similarly, a dark brown stain will make gray look more appealing. A neutral color will also contrast well with a darker tone.
It's important to consider the color of your concrete before choosing a color. Generally, the best color for a stamped concrete is one that matches the color of the rest of the home. Then, choose the color you want to use for your stamping. Then, you can add a color stain to your stamped concrete if desired. If you don't like the look of gray, try using a darker brown stain.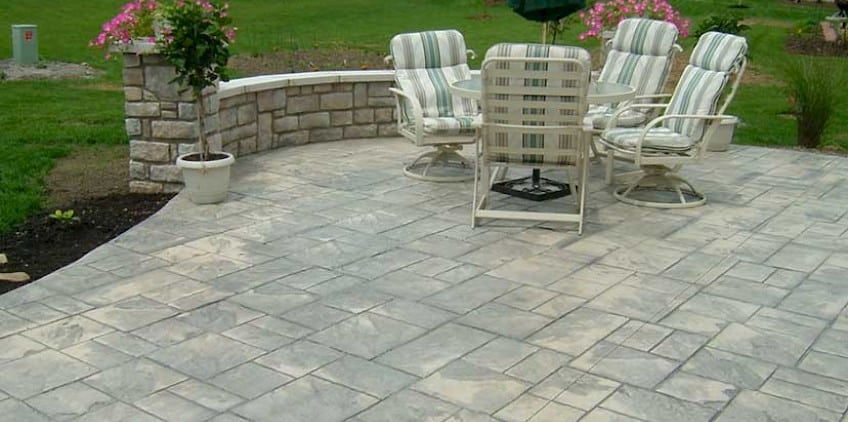 Our Locations:
Nashua, NH
North Hampton, NH
Concord, NH