We service Barnstead (NH) with Stamped Concrete, Epoxy Floor Coatings, Epoxy Garage Floors, Contractors Services. We have a large selection of colors and patterns! Give us a call for your next concrete project. We provide Free Estimates.
We Offer a large selection of Decorative Concrete Installation Service types:
Regular Concrete
Stamped Concrete
Polished Concrete
Acid Staining
Epoxy Garage Flooring
Epoxy Floor Coatings
Concrete Overlays
Micro Toppings
Grinding and Resurfacing
Custom Concrete Designs
Concrete Slabs of All types
Sandblasting Stenciled Designs
Stencil Concrete
Self Leveling
Patching
Epoxy Chip Coatings
Metallic Epoxy Coatings
Solid Color Epoxy Coatings
Self Leveling Epoxy Coatings
Mortar Epoxy Coatings
Epoxy Terrazzo Floor Coatings
Vapor Barrier Epoxy Coatings
100% Solids Epoxy
Water-Based Epoxy Floor Coating
Solvent-Based Epoxy Floor Coating
Stamped Concrete Patios
Stamped Concrete Walkways
Stamped Concrete Pool Decks
Stamped Concrete Driveways
Stamped Concrete Barnstead New Hampshire (NH)
A stamped concrete patio is a wonderful addition to any home. This material combines concrete slabs with textured surfaces. After the wet concrete is poured, it is patterned to mimic any pattern or design you want. You can also add sprays and colors to your concrete to further enhance its appearance. A crushed concrete patio is the perfect setting for a fireplace, eating area, or seating area. This material is also very durable and can stand up to years of wear and tear.
A stamped concrete patio can cost depending on the square footage and custom designs, depending on the square footage and the design. Single-toned designs will cost less than two-toned designs, while intricate hand-carved features will cost more. Professional installation will cost on the amount of patterns and colors chosen. You can also hire a company to do the work for you, but you should be aware of the additional costs. You can also avoid having any imperfections in the surface of the stamped concrete patio if you follow the above-mentioned tips.
While natural stone is an attractive option, it is also expensive and requires a lot of maintenance. In addition to being aesthetically pleasing, a stamped concrete patio will not crack or break when exposed to the elements. This low-maintenance material requires minimal maintenance. If you are looking to add value to your home, you should invest in a patio made of this material. This type of material is an excellent choice because it will look amazing for decades and will last longer.
If you want to create a unique patio, you can get creative with the designs. You can have a geometrical or floral pattern or create a wavy pattern. A random stamped concrete patio gives a Greek feel, with a decorative pool and azure waters. This material is highly durable and is perfect for outdoor use. In addition, you will be able to customize it with any pattern you desire. This material is the perfect material to cover a concrete slab patio.
A stamped concrete patio can be a great addition to a home. This material will stand up to the elements and will still look just as beautiful after ten years. It will require little maintenance other than a sealant to keep it looking new. Adding a sealant will protect the surface from water and damage. In addition, it will not absorb moisture, making it a great option for homeowners who want to add a patio to their property.
A stamped concrete patio can also be used to create an outdoor kitchen. This material is very versatile, and can be used for a variety of applications. A textured concrete patio can be used for a patio, fire pit, or outdoor fireplace. These materials are also useful for driveways and pool decks. A textured concrete patio can be great for pergolas, outdoor kitchens, and pergolas. If you have a large backyard, consider using a textured concrete patio.
If you are planning to have a stamped concrete patio, it is best to hire a professional to do the work. These projects are not easy and can lead to expensive mistakes. Whether you're planning a small patio or a large outdoor kitchen, you'll need a professional to ensure that the project is done correctly. If you're not a professional, you can even choose a stamping pattern yourself and save money on labor.
A textured concrete patio may have ridges or other imperfections. This is a common problem, and it can be difficult to fix. For example, a textured concrete patio can be unattractive and have distracting ridges. It is important to check the stamping process before installation. The stamping process should be done by an expert. A textured concrete patio will have a smooth finish, which will make the entire patio look more attractive.
A textured concrete patio will look like a jigsaw puzzle. Different shapes and textures will create a unique effect. A textured concrete patio is ideal for a summer barbecue or a winter dinner. It is durable and offers protection from the elements. In addition to these advantages, stamped concrete designs are a great investment for any home. You can even add a screened in patio if you're concerned about bugs.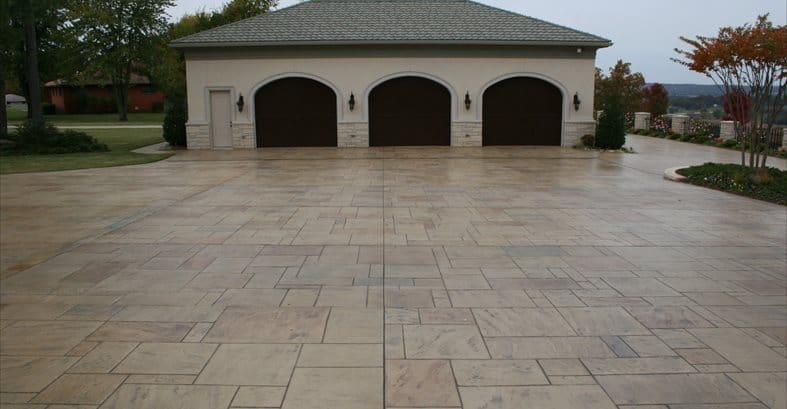 Our Locations:
Nashua, NH
North Hampton, NH
Concord, NH