We service Greenland (NH) with Stamped Concrete, Epoxy Floor Coatings, Epoxy Garage Floors, Contractors Services. We have a large selection of colors and patterns! Give us a call for your next concrete project. We provide Free Estimates.
We Offer a large selection of Decorative Concrete Installation Service types:
Regular Concrete
Stamped Concrete
Polished Concrete
Acid Staining
Epoxy Garage Flooring
Epoxy Floor Coatings
Concrete Overlays
Micro Toppings
Grinding and Resurfacing
Custom Concrete Designs
Concrete Slabs of All types
Sandblasting Stenciled Designs
Stencil Concrete
Self Leveling
Patching
Epoxy Chip Coatings
Metallic Epoxy Coatings
Solid Color Epoxy Coatings
Self Leveling Epoxy Coatings
Mortar Epoxy Coatings
Epoxy Terrazzo Floor Coatings
Vapor Barrier Epoxy Coatings
100% Solids Epoxy
Water-Based Epoxy Floor Coating
Solvent-Based Epoxy Floor Coating
Stamped Concrete Patios
Stamped Concrete Walkways
Stamped Concrete Pool Decks
Stamped Concrete Driveways
Stamped Concrete Greenland New Hampshire (NH)
If you're looking to update your outdoor space but are on a budget, consider investing in a new concrete patio. These beautiful projects don't have to be costly. If you'd like a stylish look, you can purchase a set of concrete stamps and molds to create your own design. A set of these can mimic the look of expensive materials like tiles. These can also add texture and pattern to your patio.
If you're looking for a unique and personalized patio, consider applying a decorative stencil finish. This durable surface can be cut to almost any shape. If you want to make a statement, consider a sculptural vase centerpiece or a garden bed. Decorative stencils also give a more artistic look to your backyard. If you're willing to spend more money than the minimum, you can hire a professional to apply the finish.
Another inexpensive way to spruce up your concrete patio is to paint it. If you're unsure about the appearance of your concrete slab, you can choose a paint color that suits your home's design. Alternatively, you can use a stencil or paint the surface freehand. While this can be expensive, it will add instant style to your patio, and it won't break your budget. A concrete slab is also easy to repair compared to other materials.
When you're ready to start pouring the concrete, the first step is to create a paper layout of your patio area. You can then weigh up each pile according to the surface area. Next, organize the materials into the different types and colors. If you'd like your patio to have a decorative pattern, you can stamp the concrete with a design. If you'd like it to be fancier, you can invest in some fancy landscaping and hang up some ceiling lights or hanging wall sconces.
If you're on a budget, you can still get a beautiful concrete patio for the price of a wooden slab. Using the same technique, you can also install custom concrete walkway forms. By using these forms, you'll have an attractive patio on the lowest possible budget. This will not only increase the value of your home but will also give you a sense of pride. If you're on a tight budget, you can use any of these two affordable options to make your patio a place to entertain friends and family.
Concrete patios are an inexpensive, durable option for your outdoor space. They can be molded into any shape and design and can be resurfaced as often as you'd like. In addition to allowing you to shape and customize your patio, these poured concrete patios are also low-maintenance. They are easy to care for and are very durable. A few simple steps can transform your concrete patio into a luxurious outdoor space for a fraction of the cost.
A fire pit is an excellent option for a concrete patio. It's inexpensive, too, and it can be built in the center of your patio. Once the concrete is poured, you can then use the bricks or cinderblocks to make the fire pit the focal point of your patio. It's easy to do and offers many benefits. Once it's done, you can enjoy your newly-finished concrete patio with ease.
If you don't want to spend a lot of money, you can try a concrete patio with a slate or brick pattern. These tiles can add style and color to your patio while being more affordable. They are also an excellent option for people with limited outdoor space. A slate patio with a textured finish can enhance the look of your patio while minimizing its overall size. Adding plants to the borders of your new concrete patio will make the space more inviting.
You can even build your own fire pit. A small fire pit is an excellent idea if you're on a budget. A concrete patio is very durable and will last for decades if properly built. It will cost you  per square foot but a good contractor can customize it to fit your needs. If you have a concrete patio, the cost can be reduced to a reasonable amount depending on the complexity of your design.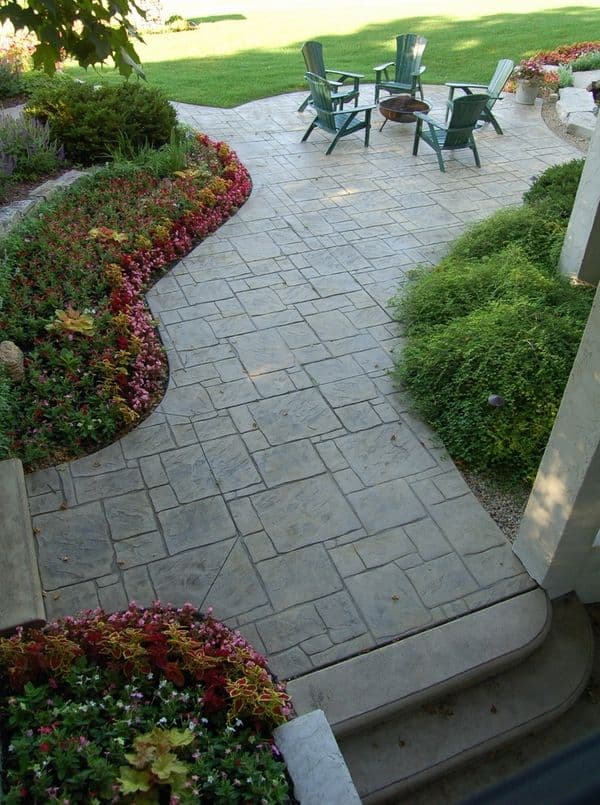 Our Locations:
Nashua, NH
North Hampton, NH
Concord, NH