We service Brentwood (NH) with Stamped Concrete, Epoxy Floor Coatings, Epoxy Garage Floors, Contractors Services. We have a large selection of colors and patterns! Give us a call for your next concrete project. We provide Free Estimates.
We Offer a large selection of Decorative Concrete Installation Service types:
Regular Concrete
Stamped Concrete
Polished Concrete
Acid Staining
Epoxy Garage Flooring
Epoxy Floor Coatings
Concrete Overlays
Micro Toppings
Grinding and Resurfacing
Custom Concrete Designs
Concrete Slabs of All types
Sandblasting Stenciled Designs
Stencil Concrete
Self Leveling
Patching
Epoxy Chip Coatings
Metallic Epoxy Coatings
Solid Color Epoxy Coatings
Self Leveling Epoxy Coatings
Mortar Epoxy Coatings
Epoxy Terrazzo Floor Coatings
Vapor Barrier Epoxy Coatings
100% Solids Epoxy
Water-Based Epoxy Floor Coating
Solvent-Based Epoxy Floor Coating
Stamped Concrete Patios
Stamped Concrete Walkways
Stamped Concrete Pool Decks
Stamped Concrete Driveways
Stamped Concrete Brentwood New Hampshire (NH)
If you are interested in creating a beautiful driveway or patio, consider using stamped concrete designs. These designs allow you to create almost limitless pattern and color options. Most people take inspiration from the surrounding landscape and architectural style of their home to find a design that blends well with the existing elements. For example, you could create a brick-patterned border that matches the brick exterior of your home. Similarly, you can use complementary colors and designs to make a checkerboard pattern on your driveway.
Stamped concrete designs are also incredibly realistic, with most stamping mats molded from actual materials. These concrete contractors often use integral color, dry-shake color, or surface-applied coloring mediums to create a realistic effect. Another bonus: stamped-concrete is a durable and beautiful material. There is no risk of rot and weeds growing in the joints, so you can rest assured that your patio will look great for years to come.
The beauty of stamped concrete can also extend to the outside of your home. For example, if you have a pool, you can choose a simple, natural-looking design that mimics the look of a rock or running bond brick. This style is especially popular for patios and pool decks. Those who love the look of cobblestones will love the beauty of the stamped concrete patio. You can also add the look of a cobblestone path without the hassle of repairing loose bricks or cracked stone.
When it comes to colors, stamped concrete can be any color you like. For instance, if you have a blueish-green shade of fieldstone in your yard, you can have a gorgeous patio. You can even hire a professional installer to add some flair to your patio by embedding designs into the cured concrete. Some professionals will also incorporate designs into a design. You can choose to have a geometric shape or a flower in the shape of a medallion. The color can be applied manually, which can add a small amount to the cost of the stamped concrete project.
In addition to colors, you can choose to use a particular shade of color of stamped concrete. Its color can be blueish-green similar to fieldstone. Besides that, you can also have your design made into a flower-shaped or medallion-shaped one. There are several types of stamping concrete and choosing the best one will depend on your needs and preferences. This type of design is not for everyone, and it is best to discuss your project with a professional first.
A well-appointed patio is a seasonal must-have. During summer, a well-appointed patio will provide you with the ultimate destination for your summer pleasures. With the beauty and durability of indoor flooring, stamped concrete designs will make your patio an even better choice. In addition to a gorgeous patio, it can also add some value to your home. If you have a low budget, consider a simple yet attractive patio.
While there are a variety of colors for stamped concrete, there are a few things you need to consider. Some people don't like the color of their concrete, while others are more into the color of the driveway. Depending on the shade of your home, the design can be anything you want it to be. Moreover, there are many styles of patterns you can choose from. You can also choose a combination of patterns, shapes and designs for a unique look.
You can choose any color for your stamped concrete driveway. However, it can be less durable than other types of poured cement. It can last for only 10 to 15 years. If you want to get a stamped concrete driveway, you should choose a design that matches the style of your home. You can choose a design that complements the theme of your home. If you don't want to use a stencil, you can use a stencil to create an impression of a stamped floor.
Decorative stamped concrete designs are a great way to enhance the beauty of your driveway. You can add a decorative design to your driveway with decorative stamps that can resemble wood. In addition, it can be used to decorate a pool deck and provide traction on public walkways. If you're not sure what type of design you want, you can visit the website of a company that offers this service. There are many different types of contractors available for this work.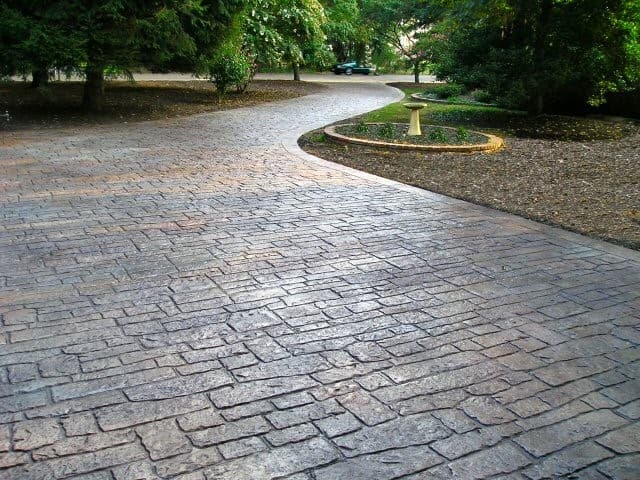 Our Locations:
Nashua, NH
North Hampton, NH
Concord, NH