We service Hudson (NH) with Stamped Concrete, Epoxy Floor Coatings, Epoxy Garage Floors, Contractors Services. We have a large selection of colors and patterns! Give us a call for your next concrete project. We provide Free Estimates. 
We Offer a large selection of Decorative Concrete Installation Service types:
Regular Concrete
Stamped Concrete
Polished Concrete
Acid Staining
Epoxy Garage Flooring
Epoxy Floor Coatings
Concrete Overlays
Micro Toppings
Grinding and Resurfacing
Custom Concrete Designs
Concrete Slabs of All types
Sandblasting Stenciled Designs
Stencil Concrete
Self Leveling
Patching
Epoxy Chip Coatings
Metallic Epoxy Coatings
Solid Color Epoxy Coatings
Self Leveling Epoxy Coatings
Mortar Epoxy Coatings
Epoxy Terrazzo Floor Coatings
Vapor Barrier Epoxy Coatings
100% Solids Epoxy
Water-Based Epoxy Floor Coating
Solvent-Based Epoxy Floor Coating
Stamped Concrete Patios
Stamped Concrete Walkways
Stamped Concrete Pool Decks
Stamped Concrete Driveways
Stamped Concrete Hudson New Hampshire (NH)
One of the more beautiful and durable materials you can use for your home is to stamp a Belgium slate concrete floor. It is extremely striking and will provide the perfect accent to your existing décor. Using this type of flooring in your home or commercial space can bring your design ideas to life, making you want to use it all the time.
Slate is a naturally occurring material that can be found in various sizes and colors. They are typically found in neutral tones such as gray, browns, and tans. These qualities make slate very adaptable to different architectural styles. The color variety also makes it ideal for mixing and matching with other materials.
When it comes to the aesthetic appearance of a floor, there really isn't any substitute for slate. This material has been utilized in the construction of buildings for centuries due to its inherent beauty and durability. Most often used as a flooring material, the sheer longevity of this natural stone makes it the ideal choice for home and commercial use. Also, slate is one of the few floor types that doesn't need to be sealed or repaired on a regular basis, another reason it's so durable.
If you've never used an unpainted slate material before, you should consider trying one at least once. It's a great way to learn how staining different types of materials can be quite fun. Once you've had some experience using different types of stains, you'll wonder how you ever got along without it. The color variety is something else that makes slate so appealing. You can choose from virtually any color of the rainbow and create a truly one-of-a-kind look.
One thing that you do have to be careful about is matching your slate to the building you're using it on correctly. Using the wrong colored sealer can make the material look blotchy and irregular instead of being uniform in color. Even if you do use the right type of sealer, the concrete may still be prone to fading over time. This is why it's important to choose the right pattern and texture for your project.
Before you start stamping the slate, you'll want to mix it with water to make sure it's completely dry. Then use a sealer with a light application to get the best results possible. A light application of the sealer will help the finished product stay looking just like it did the day it was first applied.
When sealing a slate material, always apply with a finishing agent that's appropriate for the material. This will help keep things smooth and prevent any potential air bubbles from appearing. Also, be sure to use a high quality sealer and let the finish dry completely before and after application. Any air bubbles will only result in a messy and ugly project. Also, using concrete stamps on a slate material should only be performed on areas that are totally covered.
By learning a little bit more about stamping a Belgium slate, you'll be able to create beautiful masterpieces of concrete artwork. Using colors that compliment the limestone used to construct the piece will help the final project turn out better than you originally imagined. Stamping slate is a great way to decorate your property, no matter what its purpose will be.
There are several steps involved in using an actual slate slab. First, you're going to need to create a base by pouring in concrete. The next step is to lay in decorative concrete laminates on top of the base. The final step is to stamp the pattern onto the slate. You can choose to have everything pre-colored or you can leave things as they are until you're ready to apply the color.
It may take some practice to get the hang of using slate, but once you do, it's very rewarding. Creating a beautiful floor using this material is something you can show off to your friends and neighbors. You might even get recognized for your work! Best of all, when choosing slate, you're getting a naturally striking material that comes in a huge variety of colors and textures.
Slate isn't the cheapest building material out there, so you're going to want to spend time thinking about how much you want to spend on this project. However, it's also one of the most beautiful. When it's done right, you won't be able to help but fall in love with the way this material looks. If you're interested in learning more about slate building, contact a company in your area today.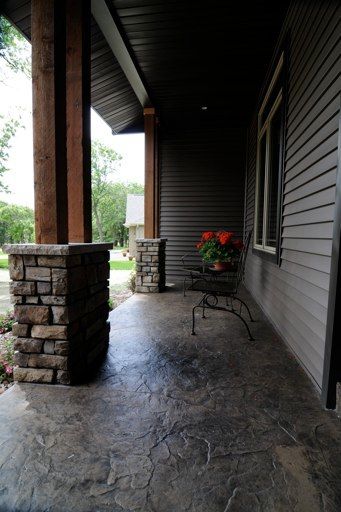 Our Locations:
Nashua, NH
North Hampton, NH
Concord, NH