We service Townsend (MA) with Stamped Concrete, Epoxy Floor Coatings, Epoxy Garage Floors, Contractors Services. We have a large selection of colors and patterns! Give us a call for your next concrete project. We provide Free Estimates. 
We Offer a large selection of Decorative Concrete Installation Service types:
Regular Concrete
Stamped Concrete
Polished Concrete
Acid Staining
Epoxy Garage Flooring
Epoxy Floor Coatings
Concrete Overlays
Micro Toppings
Grinding and Resurfacing
Custom Concrete Designs
Concrete Slabs of All types
Sandblasting Stenciled Designs
Stencil Concrete
Self Leveling
Patching
Epoxy Chip Coatings
Metallic Epoxy Coatings
Solid Color Epoxy Coatings
Self Leveling Epoxy Coatings
Mortar Epoxy Coatings
Epoxy Terrazzo Floor Coatings
Vapor Barrier Epoxy Coatings
100% Solids Epoxy
Water-Based Epoxy Floor Coating
Solvent-Based Epoxy Floor Coating
Stamped Concrete Patios
Stamped Concrete Walkways
Stamped Concrete Pool Decks
Stamped Concrete Driveways
Stamped Concrete Townsend Massachusetts (MA)
The weathered bluestone stamp is a versatile design tool that comes in a variety of patterns and colors. The weathered stone pattern can be applied in a herringbone, stacked bond, or basket weave pattern. It is part of a three-mat random pattern series and features a variation in pattern design. Flexible stamps are used to finish the edges of stamped concrete. Chisels are used to clean grout lines between the stamps, and rollers are used to finish the edges where the stamping mats cannot reach.
Another type of concrete texture that is popular is the Bluestone texture. It is a durable and affordable way to transform a plain area into a unique outdoor space. The textured look is the result of the pressing of rubber stamps into freshly poured concrete. Decorative concrete is the most expensive option, but it will last just as long as any other type of paving. However, it is important to choose a good base and to seal it on a regular basis.
Stamped concrete is a cost-effective alternative to other hardscape materials. It can mimic a variety of stone, brick, or irregular flagstone. Depending on the design, bluestone stamped concrete will look like bluestone or irregular flagstone. Unlike other types of paving, bluestone concrete can withstand heavy foot traffic and last a long time. All you need to do is maintain it properly and it will last just as long as any other type of paving.
Decorative bluestone is an excellent choice for the patio, backyard, or any other part of the house. While it is considerably cheaper than real bluestone, it will look better than a natural stone patio. If you're looking for a more expensive option, try a brick multi-tone cobblestone or large ashlar slate. These can be expensive compared to concrete and clay pavers, but they're well worth it.
The Bluestone texture can be added to the concrete by using a 9-inch x 54-inch bluestone textured plank. These planks have a seamless texture that can be used as a border or a stamp. These products can be used to add a unique, natural look to any area. In addition to its attractive appearance, stamped concrete patios can be used for outdoor kitchens, decks, and driveways.
Decorative bluestone can be imitated with the use of rubber stamps that mimic real stone. Compared to real bluestone, stamped concrete can be half the price and is free from loose stones and weeds. The bluestone patio created by custom concrete designs is a beautiful addition to any outdoor space. The homeowner wanted to have a fireplace in the same style, and a matching stone sitting wall is a great way to achieve the same effect.
In addition to putting in a bluestone patio, it can be used as an outdoor kitchen. The material can be applied to a patio or driveway with a special stamping machine. This process is an ideal choice for people who are interested in adding a unique, rustic look to their home. It is also inexpensive compared to other paving materials. It requires regular sealing and maintenance. It lasts as long as any other paving option.
For the patio, the homeowners wanted a stone sitting wall. The homeowners opted for bluestone stamped concrete to match their fireplace. The price of the project will depend on the size of the patio, which is about 500 square feet. The installation process is easy and requires no professional skills. The homeowner did not want to deal with the weeds and loose stones, so the project was done herself. This is a beautiful and timeless patio for the homeowner.
The homeowners wanted a patio with a stone sitting wall. They wanted the stone to be consistent with the fireplace and other accents. They also wanted to create a fireplace with a stone face, so they hired a professional to install it for them. The homeowner also wanted a matching stone fireplace and a kitchen. They chose a custom-made concrete company that specializes in bluestone. They loved the look of the product and the price was right for their needs.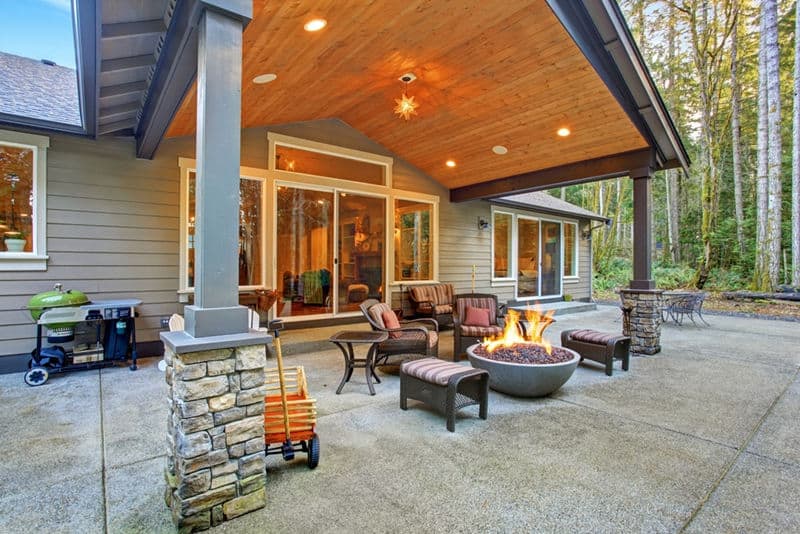 Our Locations:
Nashua, NH
North Hampton, NH
Concord, NH