We service Dover (NH) with Stamped Concrete, Epoxy Floor Coatings, Epoxy Garage Floors, Contractors Services. We have a large selection of colors and patterns! Give us a call for your next concrete project. We provide Free Estimates. 
We Offer a large selection of Decorative Concrete Installation Service types:
Regular Concrete
Stamped Concrete
Polished Concrete
Acid Staining
Epoxy Garage Flooring
Epoxy Floor Coatings
Concrete Overlays
Micro Toppings
Grinding and Resurfacing
Custom Concrete Designs
Concrete Slabs of All types
Sandblasting Stenciled Designs
Stencil Concrete
Self Leveling
Patching
Epoxy Chip Coatings
Metallic Epoxy Coatings
Solid Color Epoxy Coatings
Self Leveling Epoxy Coatings
Mortar Epoxy Coatings
Epoxy Terrazzo Floor Coatings
Vapor Barrier Epoxy Coatings
100% Solids Epoxy
Water-Based Epoxy Floor Coating
Solvent-Based Epoxy Floor Coating
Stamped Concrete Patios
Stamped Concrete Walkways
Stamped Concrete Pool Decks
Stamped Concrete Driveways
Stamped Concrete Dover New Hampshire (NH)
While the best colors for stamped concrete will vary by project, the best choice for your home is a color that is complementary to the area where it will be installed. This is especially true for concrete that will be used as a driveway. When selecting a color for your driveway, you should consider traffic and the use of the area. You can also base your decision on the design and material of your home. You should also consider any existing landscape or color schemes in the surrounding area. The best colors for stamped concrete are those that are complementary to each other and will complement each other.
The best color for stamped concrete is a neutral one, so if you are installing it in a home, choose a color that matches the rest of the building. If you're using the concrete in a business, try to use a darker color, such as black or dark brown. These colors have a more authentic look and can go with most color schemes. You can use these colors in almost any stamped concrete project, and they can even be used to accent a more subtle color.
While gray is a neutral color, it can also be used for stamped concrete. It is important to note that gray is a bit darker than the base color for a more realistic appearance. If you're using grey on a patio or porch, try a dark brown stain to make it pop. A dark brown stain will enhance the look of a grey stamped concrete patio. However, be careful with bold colors – they can look overwhelming.
If you're planning a commercial project, you can go with a more neutral color like gray or beige. When choosing a neutral color, remember to check out the other elements of the room. If your home is decorated with natural stone or wood planking, a light gray or brown tone would look best. Alternatively, you could go with a darker color scheme that is more likely to complement the rest of your design.
If you're going with a more neutral color for your stamped concrete, you might opt for a neutral color like gray. Just make sure that it is darker than the base color you want. You can also go with a darker color, such as black or dark brown. These are more intense colors and will make your finished project stand out in a way that makes it more attractive. If you're going with a bold color for your concrete, you should consider the space's use. If your space is small, it will be difficult to find a contrasting colour.
If you're going with a dark color, you should choose a light color for the stamped concrete. A light gray will look great, but a darker shade will make other decorative elements stand out. Another option is to go with a darker tone for a lighter color. It will be easier to coordinate with other colors and furniture. The dark color will be more noticeable on your driveway and can be used to highlight accents.
If you want a light color, you should opt for a dark release color. The dark release color will make the stamped concrete more prominent. You should choose a light color if you want the color to be more neutral. If you want to add some color to your driveway, you can select a dark brown stain. This will highlight the gray area of your stamped concrete. If you want a dark release color, opt for one that's dark.
If you're going for a neutral color, a gray-based color may be the best choice. If you're going for a bold color, you can go with a dark brown or black release. These are less common but can create highlights and make your stamped concrete look more real. If you're looking for a color that matches the rest of the house, you can go with a darker shade.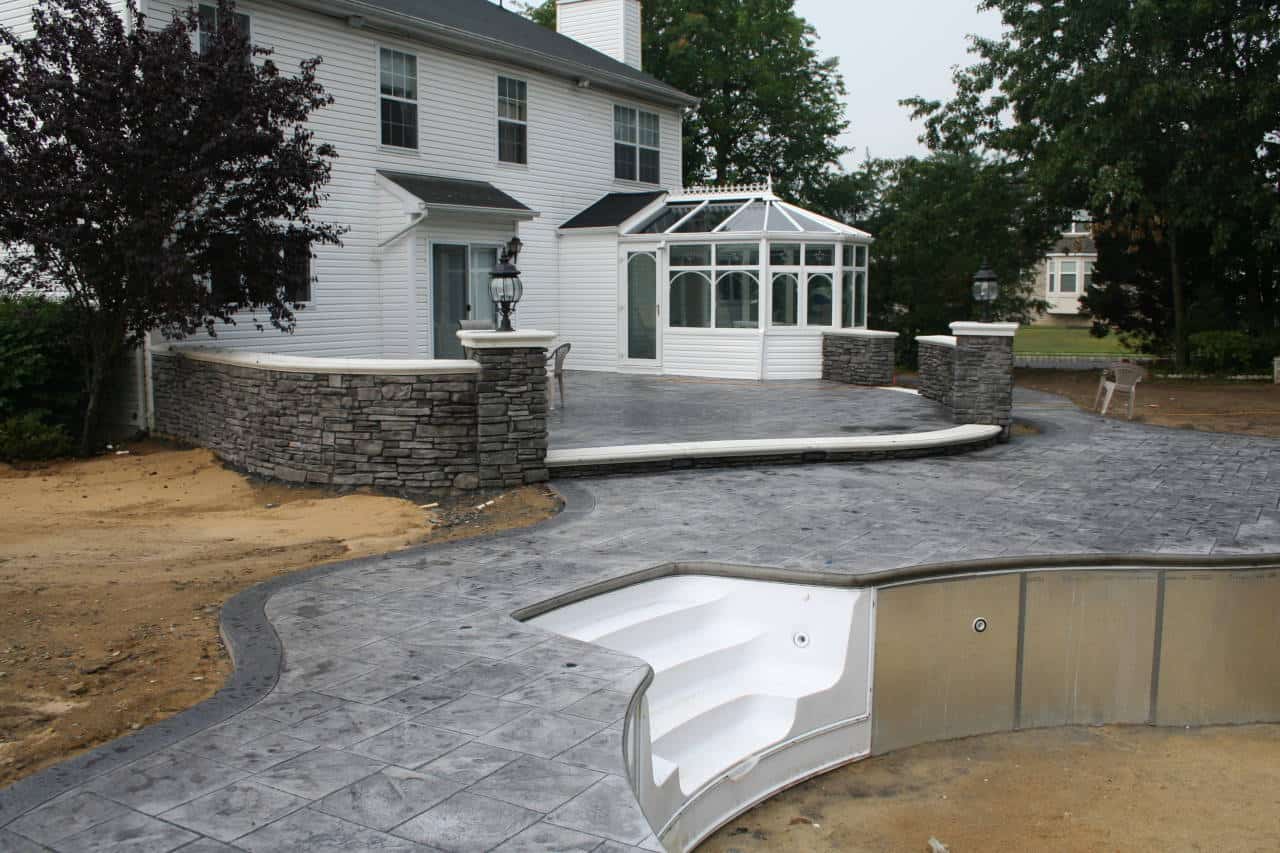 Our Locations:
Nashua, NH
North Hampton, NH
Concord, NH