We service all of New Hampshire(NH) Massachusetts(MA) Maine, Stamped Concrete Pool Deck Contractors Services. We have a large selection of Colors, Patterns, and Textures. We have been servicing the New England area with Stamped Concrete Pool Deck services for over thirty years. We provide Free Estimates! Give Us a call for your next concrete project!
Stamped Concrete Pool Decks
There are many different materials that can be used to create a pool deck, but stamped concrete is one of the most popular. This material is relatively affordable, durable, and easy to maintain. In addition, it can be customized to match any décor. Concrete pool decks are a great way to improve your backyard and add value to your home. They are durable, easy to maintain, and can be customized with a variety of finishes and designs that will add beauty and function.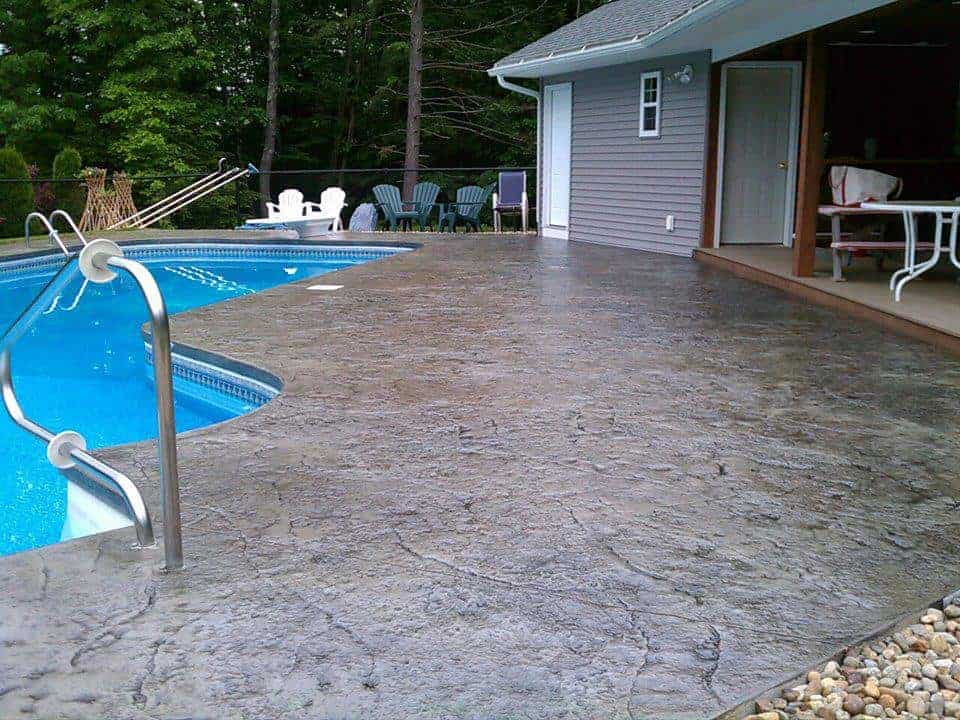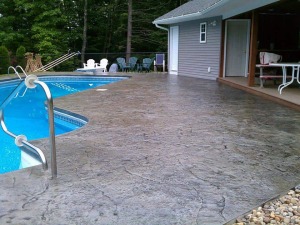 A stamped concrete pool deck is the perfect way to enjoy your pool and backyard. The decks are made of concrete that is stamped with a variety of patterns and colors, giving you a beautiful and unique finished product. Not only are they beautiful, but they are also durable and long-lasting.
Deck Ideas For Your Stamped Concrete Pool Deck Design
Transform your deck into a work of art with concrete stamping. Our interior designers will help you create a one-of-a-kind deck that perfectly matches your style and personality. You'll love the added security and convenience of a pool deck that's easy to keep clean and safe for swimming.
A cement deck can be a great place to relax and get some sun. However, a plain old gray slab of concrete can quickly become boring. With stamped concrete, you can add color and custom designs to your deck while also protecting it from the weather.
Transform your deck with a stamp-colored overlay. Our exclusive designs will give your deck a custom look at a fraction of the cost of traditional pavers or stone. Plus, our durable overlay is slip-resistant and easy to maintain.
5 Best Ideas To Incorporate: Into Your Stamped Concrete Pool Decks
1. Geometric Patterns – Create interesting designs by combining different shapes and sizes of concrete stamps.
2. Color Variations – Enhance your design by adding color variations to the concrete.
3. Textured Finishes – Add a unique touch to your pool deck by using textured concrete stamps.
4. Integrate Lighting – Add lighting to your stamped concrete pool deck to create a unique atmosphere.
5. Incorporate Curves – Create a unique look by adding curves to your stamped concrete pool deck.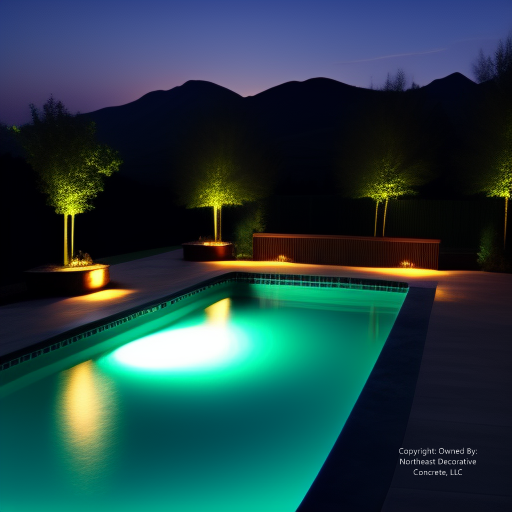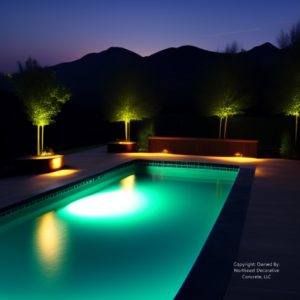 Is Stamped Concrete Good around A Pool?
Is concrete that is stamped good around a pool? The answer is an unequivocal yes! Not only does stamped concrete look great and add curb appeal to any home, it's also incredibly durable and perfect for use around a pool. The non-slip surface provides peace of mind when wet, and the stamping creates a realistic look that replicates natural stone or brick. Best of all, stamped texture-colored concrete is affordable and easy to maintain – perfect for busy homeowners who want the best of both worlds.
Stamped concrete is great for around a pool. It is non-slip, low maintenance, and can be customized to any color or pattern you like.
The Best Stamped Concrete Patterns for around Pools
Concrete stamped is the perfect choice for your pool deck because it's durable, slip-resistant, and can be customized to match any style. Our specialists can help you choose a pattern and color that will complement your pool and backyard perfectly.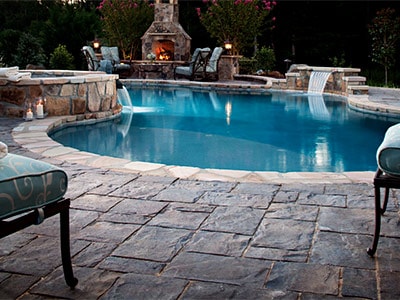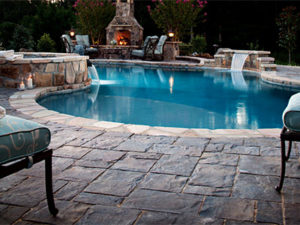 If you're looking for the perfect way to dress up your pool area, concrete stamped is the answer! Our selection of patterns and colors will help you create a look that's uniquely yours. And because concrete stamping is so durable, it's perfect for areas that get a lot of traffic.
The Most Popular Patterns Are:
Flagstone
Large Ashlar Slate
Large Random Stone
Seamless Stone Texture
Wood Plank Stamps
Castle stone
How much does Concrete Stamping around a Pool Cost?
Stamping cement around a pool is a great way to save money while still having a beautiful and functional pool area. It's less expensive than traditional paving materials, like stone or brick, and it can be customized to match any décor. Plus, it's durable and easy to maintain.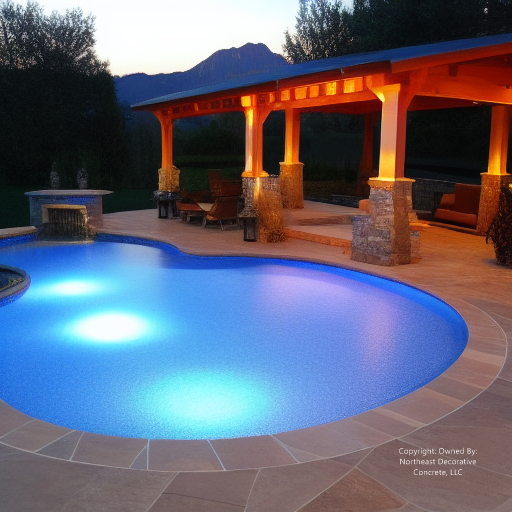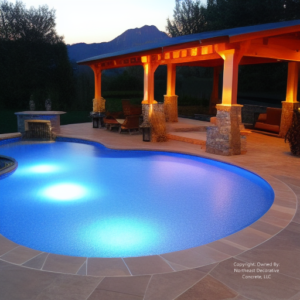 What Maintenance is Required?
Concrete-colored decks need very little maintenance, but there are a few things you can do to keep them looking great for years. First, sweep or hose off any dirt or debris regularly. If you have a particularly dirty deck, you can use a cleaner made specifically for concrete. Be sure to follow the manufacturer's instructions carefully. You can also seal your deck every few years to protect it from weathering and staining.
Are Colored Concrete Decks slippery?
Looking for a non-slip surface for your deck? Look no further than stamped finishes. Our concrete contractors can create a custom design for your deck that will not only look great but also provides a safe surface that is slip resistant. Concrete is a popular choice for decks because it is durable and affordable.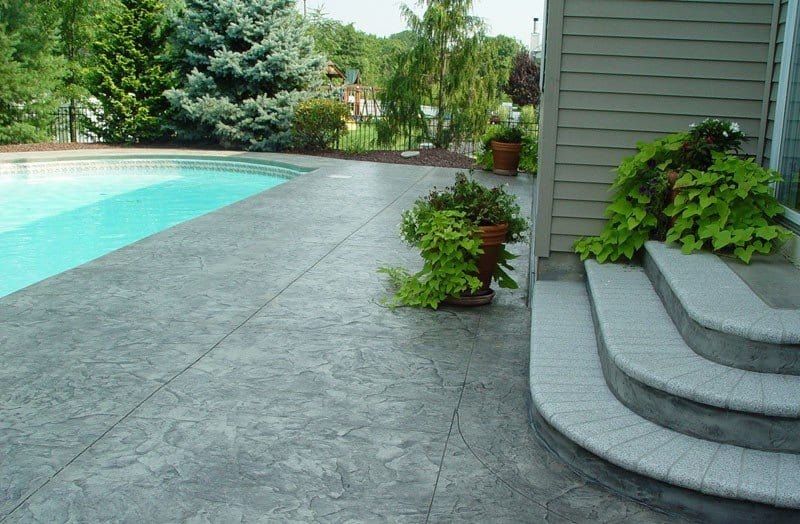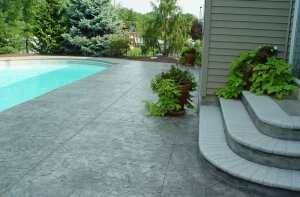 Is stamp concrete Pool Decks slippery? No, concrete stamping is not slippery. In fact, it's one of the most slip-resistant surfaces you can find. That's because the concrete is treated with a slip-resistant additive to the sealant that makes it highly resistant to slips and falls. So if safety is a concern for you, decorative concrete is a perfect choice.
What Are the Benefits of Decorative Finishes on Pool Decks?
Budget-friendly option
Aesthetically pleasing
Various concrete pool deck overlay and coating options
There are many pattern choices available
Added color options and textured concrete to upgrade plain brushed concrete
It is sealed to stay clean and maintenance free
It is generally less expensive than pavers
If you're interested in transforming your pool deck into the most appealing and inviting it's ever been, get a stamped pool deck finish!
Give us a call today!
Request a free quote to see how we can help you with all of your concrete pool decking needs.
Stamped Concrete Pool Deck Contractors New Hampshire (NH) and Massachusetts (MA)
Our Locations:
Nashua, NH
North Hampton, NH
Concord, NH