We service all of New Hampshire(NH) Massachusetts(MA) Maine, Stamped Concrete Driveway Contractors Services. We have a large selection of Colors, Patterns, and Textures. We have been servicing the New England area with Stamped Concrete Driveway services for over thirty years. We provide Free Estimates! Give Us a call for your next concrete project!
Stamped Concrete Driveways
Concrete is a popular material for driveways, but stamped concrete can give your driveway a unique and beautiful look that will really set it apart. Stamped concrete can be customized to match any design you want, from simple geometric designs to more intricate patterns. It's also very durable and long-lasting, so you can be sure your driveway will look great for years to come.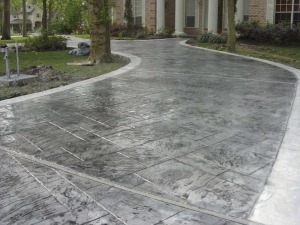 A stamped concrete driveway is the perfect way to improve the look of your home and increase its value. Our expert installers will create a unique design for your driveway that will complement the style of your home. Plus, our high-quality concrete will last for years.
Is Stamp Concrete Good for Driveways?
Stamp concrete is a popular choice for homeowners who want to improve the look of their homes and increase their value. Our expert installers can create a unique design for your driveway that will perfectly match your home's style.
The Benefits of Stamped Concrete Driveways
When it comes to driveways, there are a lot of options to choose from. You can go with asphalt, concrete, gravel, or even brick pavers. Each option has its own set of pros and cons. If you're trying to decide between stamped concrete and another type of driveway, here are some of the benefits of stamped concrete that may help you make your decision:
1. A driveway is the first thing that people see when they pull up to your house, so it's important to make a good first impression.
2. A colored textured driveway can give your home a custom, finished look.
3. Concrete stamping is also very durable and can last for many years with little maintenance.
4. It's a great option if you're looking for a low-maintenance surface that will add curb appeal to your home.
Concrete Stamping Driveway Installation Cost
Homeowners are often curious about textured-colored driveway installation costs. This is a type of driveway that has been gaining popularity in recent years. It is made to look like brick or stone, and it can be customized to match the look of your home.
There are many factors to consider when installing a concrete stamp driveway. The most important factor is the cost. The cost of materials, installation, and maintenance all need to be considered when making a decision about installing a stamped concrete driveway.
The cost of materials for a decorative colored driveway can vary depending on the size of the driveway and the design of the stamps.
Design Ideas for your Driveway
If you are in the market for a new driveway or are simply wanting to give your current one a facelift, you may be wondering where to start. There are many factors to consider when designing a driveway – from the material you choose to the shape and size of the driveway itself. Here are a few ideas to get you started.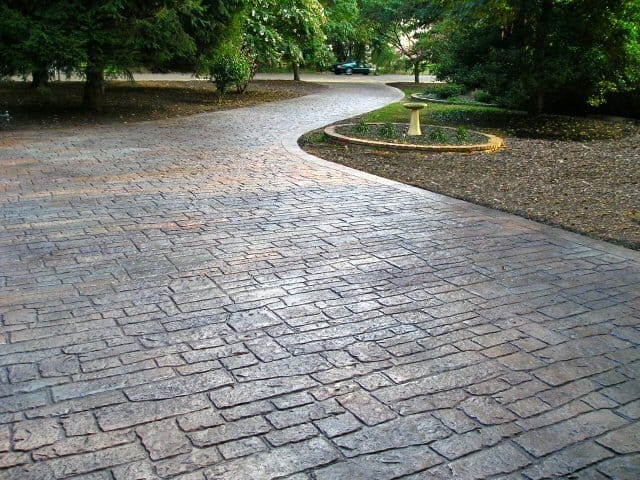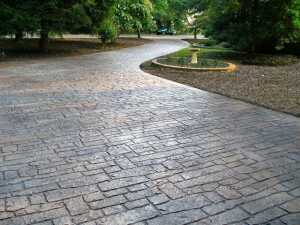 1. A driveway is a great way to improve the look of your home and increase its value.
2. There are many different design options to choose from.
3. You can choose between a variety of color options
4. You can also choose between different shapes and sizes.
5. The best way to find the right design for your driveway is to consult with a professional designer.
Popular Decorative Driveway Patterns
-Cobblestone
-Herringbone
-Large Ashlar Slate
Our popular decorative concrete driveway patterns are the perfect way to enhance your home's curb appeal. Our unique designs add a touch of sophistication and elegance, while our durable construction ensures that your driveway will last for years to come.
Your home is your castle, and you should demand the best driveway to match. With Popular Stamping Driveway Patterns, you can have a driveway that looks like it was imported from a faraway land, without spending a fortune. Our colored textured driveways are durable and easy to maintain, so you can enjoy your beautiful driveway for years to come.
Colored Textured Concrete Stamp Driveway Maintenance
If you have a concrete decorative driveway, proper maintenance is key to keeping it looking its best. Here are a few tips:
1) Keep the surface clean by sweeping or hosing it off regularly.
2) Remove any stains or debris as soon as possible.
3) Apply a sealant every few years to protect the surface from weathering and staining.
How to Improve an Ugly Cement Driveway
There are a few ways to improve an ugly concrete driveway. One way is to stain and seal the concrete. This will make it look nicer and also protect it from weathering. Another option is to add a concrete stamped overlay. This involves adding a thin layer of concrete over the existing driveway and then stamping it with a patterned texture. This can dramatically improve the appearance of an old or ugly driveway.
How much weight can a colored stamped driveway hold?
Textured colored driveways are a popular choice for homeowners because they are durable and can hold a lot of weight. In fact, a properly installed colored textured concrete surface driveway can hold up to 10,000 pounds per square foot. This means that even the heaviest vehicles will be able to travel over it without damaging the surface.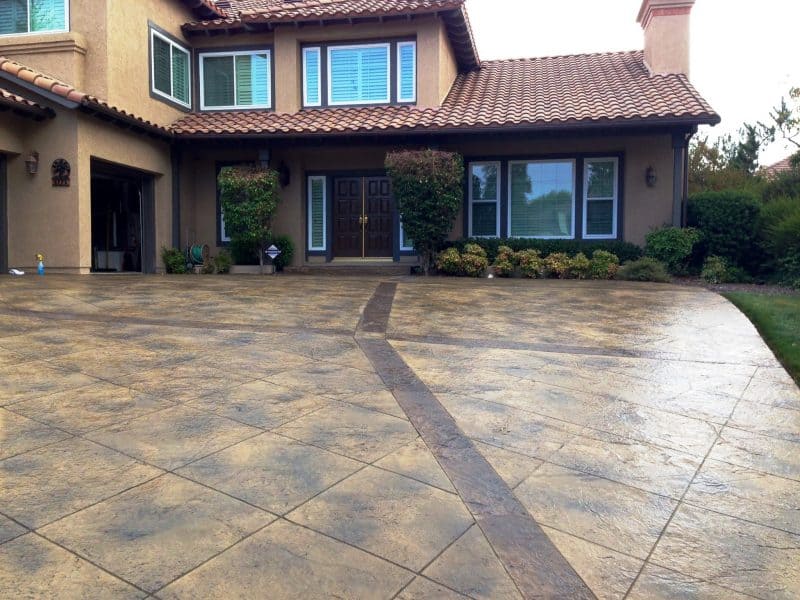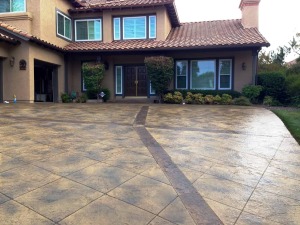 Driveways stamped also require very little maintenance, and they can last for many years if they are properly installed and maintained. If you are thinking about installing a stamp driveway in your home, be sure to consult with a professional contractor who can help you choose the right type of concrete and install it correctly.
How Thick Should a Stamp Driveway be?
When it comes to driveway thickness, there are a few things to consider. The first is the weight of your vehicle. The second consideration is what type of surface you want. A thicker driveway will give you a more solid surface, while a thinner driveway will be more prone to cracking. If you're opting for a stamped concrete patterns driveway, we recommend at least 6 inches of thickness. This will ensure that your driveway is durable and looks great for years to come. We also add in steel rebar into all driveway installations to give it maximum support.
Give the driveway of your property a clean and professional stamped concrete designs look
Call Us For a Free Estimate!
We also provide concrete contractor services, for exposed aggregate, pool decks, concrete patios, and garage floors.
Stamped Concrete Driveway Contractors New Hampshire (NH) and Massachusetts (MA)
Our Locations:
Nashua, NH
North Hampton, NH
Concord, NH