Are you wondering if stamped concrete is high maintenance? Read on to learn more about the maintenance of stamped concrete, including the best practices to keep your stamped concrete looking its best.
Is Stamped Concrete High Maintenance?
Stamped concrete is one of the most popular paving materials, and it's easy to see why. Decorative concrete is attractive and durable, and it can last for years with the right care and maintenance. But is stamped concrete high maintenance? The short answer is no—with the right maintenance, textured colored concrete is relatively low maintenance.
Decorative concrete is a good idea and a low maintenance option compared to other materials, requiring much less upkeep than brick, tile, or stone. Although some cracking is inevitable over time if not properly installed with the proper reinforcement, there is little you need to do to maintain your walkway yearly. Many stamped concrete features are sealed, which needs to be resealed every three to five years. Furthermore, clear coating your patio or driveway every three or five years can help prevent from mold and weather damage.
Cleaning stamped concrete and seal coating is easy – just use a push broom, garden hose, and mild detergent to sweep and wash it occasionally. Sealing the surface periodically is the best way to protect it from moisture penetration, freeze-thaw conditions, de-icing chemicals, and abrasion. To maintain its color, an annual maintenance program is recommended. All in all, if you install decorative concrete, maintenance and resealing is essential.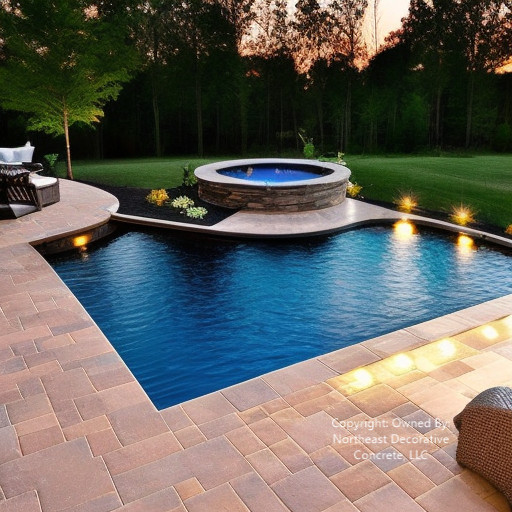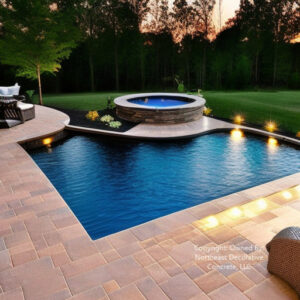 Best Practices for Stamped Concrete: Tougher Stains & Seal Maintenance
The key to keeping your colored concrete surface looking its best is to follow a regular maintenance schedule. This should include cleaning the surface regularly, seal coating the concrete surface every three to five years, and removing any stains or spills as soon as possible.
Here are some of the best practices for stamped concrete maintenance tips:
Clean the surface regularly with a pressure washer and a mild detergent.
Clear coat the surface every three to five years to protect it from weathering and dirt.
Remove any spills as soon as possible to prevent them from setting in.
Avoid using salt or de-icing agents on the surface, as these can damage the sealant.
Repair any cracks or chips as soon as possible to prevent further damage.
What Materials are Used to Maintain: Clean Stamped Concrete
Cleaner: A cleaner will help remove dirt and other debris from textured concrete surfaces.
It is important to choose a cleaner specifically designed for use on stamped concrete patio surfaces, as other cleaners may damage or discolor the surface. Additionally, it is important to follow the manufacturer's instructions when using the cleaner, as some may require dilution with water or special application techniques.
Patching Material: Can be used to fill in any cracks or other damage that may have occurred over time.
It is made of concrete and sand, and when combined with water, it forms a strong, durable bond. Patching material is typically used to repair concrete surfaces, such as driveways, sidewalks, patios, and pool decks. The patching material works by filling in any holes or cracks and then hardening to create a seamless surface.
Stains: They provide a variety of color options for colored concrete.
They are designed to penetrate the concrete and bond with it to create a permanent color that won't fade or chip away. Stains can be applied in a variety of techniques to create different effects and textures on the surface. You should consult with a professional before applying a color option to a decorative concrete patio or driveway.
Resurfacing Material: Can be used to restore the original look of concrete stamping surfaces.
It is a thin layer of material that is applied to the surface of the concrete to create a more aesthetically pleasing look. The material can be applied in a variety of colors, textures, and patterns to give the concrete a new, more attractive look. It is also designed to help protect the concrete from damage and wear over time.
Sealant: A clear coat will help protect the concrete from damage and wear.
It also helps to keep the colors vibrant and bright. The clear coat should be applied after the stamped concrete has been allowed to cure for at least 24 hours. It is recommended to put another coat down after 28 days after the concrete has fully cured.
What are The Costs for Resealing Stamped Concrete Aesthetics
Decorative Concrete is a durable low-maintenance material, but it's still essential to keep it clean. Re-sealing your patio or driveway every 3 to 5 years can help avert dirt and weather-related damage. The price of resealing stamped concrete driveway varies, depending on the area's size and the sealer used. Cleat coating concrete costs roughly $1.20 – $1.75 per square foot. DIY-ing the project can lead to more time and resources, so it's usually preferable to hire a professional.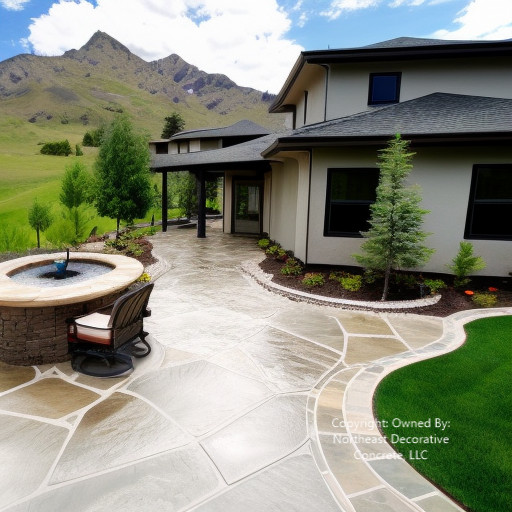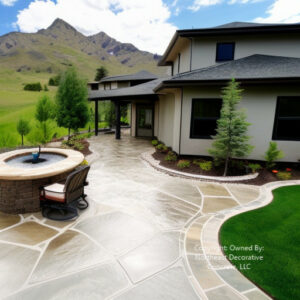 Costs Of Materials: To Maintain Stamped Concrete Paver Durability:
Concrete Cleaner: (coverage 1,000 sq. ft.)Zep Purple Pressure Wash
$14 Dollars for (172oz.)
Concrete Patching Material: (coverage – 10 sq. ft.)Quikrete Vinyl Concrete Patcher
$11.41 for (10lb. bag)
Stain: (coverage – 250 sq. ft.)Kemiko Stone Tone Concrete Stain
$80 dollars for (1-gallon)
Concrete Resurfacing Material: (coverage – 25 sq. ft. at 1/4 spread rate)Brickform SC-60 Stampable Overlay
$53 dollars for (60pd. Bag)
Sealant: (coverage – 1,000 sq. ft.)SuperSeal30 Gloss
$189.99 for (5-Gallon Pail)
You can figure out the total price by figuring out how much square feet you need to do, but it is all relatively cheap to maintain concrete stamping surfaces.
FAQs:
Q: How Often Should I Seal my Stamped Concrete?
A: You should recoat your colored concrete every three to five years to protect it from dirt and weathering with a anti slip resistance additive.
Q: How do I Remove Stains From Stamped Concrete?
A: To remove dirt from concrete stamping finishes, use a mild detergent and a pressure washer. You can also use simple green to remove stubborn dirty spots.
Q: Is Stamped Concrete Hard to Keep Clean?
A: Textured concrete is not hard to keep clean, as long as it is clear coated properly. Regular sweeping and occasional pressure washing should keep it looking pristine.
Q: Is There Winter & Spring Maintenance for Stamped Concrete?
A: Yes, colored textured finishes requires regular maintenance in order to keep it looking its best. Clear coating the surface is recommended every 3 to 5 years to protect it from the elements, and it should be resealed if it starts to show signs of wear or fading after winter. Regular cleaning with a hose or pressure washer is also recommended in the spring to keep the surface free of debris and mold.
The key to keeping your homeowner surface looking its best is to follow a regular maintenance schedule, including cleaning the surface regularly and sealing it every three to five years. With the right maintenance, stamped concrete surface is not high maintenance. We specialize in stamped concrete contractor professional winter maintenance services.
Our Locations:
Nashua, NH
North Hampton, NH
Concord, NH