We service all of New Hampshire (NH) , Massachusetts (MA) , Maine (ME) with Stamped Concrete Contractors Services. We have a large selection of Colors, Patterns, and Textures. We have been servicing the New England area with Stamped Concrete Patio services for over thirty years. We provide Free Estimates! Give Us a call for your next concrete project!
Stamped Concrete
What Is Stamped Concrete?
Stamped concrete is concrete in which rubber molds, called stamp concrete patterns, have been imprinted with patterns into the fresh wet concrete. These patterns create a surface that is textured and has a unique appearance. Also known as, colored textured concrete or decorative concrete.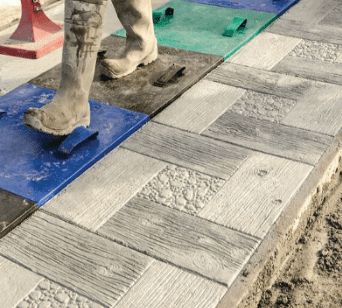 Colored textured concrete is created by using a mold with a pattern and pouring concrete into the Forms. The concrete is allowed to harden, and after it hardens to a point, it is then followed with the process of imprinting the concrete stamped finished. The finished product can be used as a walkway, patio, concrete driveway, flooring, or any other outdoor surface.
Concrete texturing is a type of concrete that is created by pressing down small pieces of rubber molds into the aggregate, such as rocks, into the wet concrete. This creates a textured surface that provides durability and a look that is different from other types of concrete.
Patios:
A stamp concrete patio is easy to maintain and low-maintenance. It's a great option for any homeowner that wants an affordable alternative to stone, brick, or other natural materials for their next project.
Add a concrete sealer to the surface of a stamp patio. This will protect against stains and scratches from accidental contact with shoes, furniture, and pets. The sealer also provides added protection against the elements.
Create a decorative patio with a textured finish to give it an aged look and feel. This gives your porch or patio area a rustic appearance that is perfect for entertaining.
Walkways:
Walkways add curb appeal to your home or business.
We offer a variety of walkway designs, including circular and rectangular patterns for your convenience. Walkways provide protection from inclement weather and can add a decorative touch to your landscaping.
A stamp concrete walkway is a versatile outdoor space that can be used for many purposes.
This durable surface offers a natural, elegant look and will last as long as you need it to. Walkways can be used for patios, steps, or even as a driveway to join together and complement each other.
A textured concrete walkway is a great way to add interest and beauty to your outdoor living space without the need for constant maintenance like brick pavers.
Pool Decks:
The benefits of a decorative concrete pool deck are tremendous. Pool decks can be customized with a variety of colors, textures, and patterns.
Concrete stamped pool decks are a cost-effective way to create an attractive and safe surface around your pool area.
Textured concrete pool decks are not slippery when wet and are impossible to slip on when adding maximum strength slip resistance additives to the sealer. Most installers do not take the time to do this and we at Northeast Decorative Concrete take this as a serious step in the installation process. We add Gator Grip to the sealer and we max out on the percentage needed to properly install the pool deck without having any issues.
Driveways:
A stamp concrete driveway is a type of textured surface that has been cast in place and imprinted with rubber molds or scored to form patterns. It can be used as an alternative to traditional paving techniques, such as tarmac, brick or stone.
It is also a cost-effective alternative to traditional paving methods and provides an attractive finish while providing low maintenance.
The benefits of using a stamp concrete driveway include:
– Less expensive than traditional paving techniques.
– Low maintenance, as it does not require regular cutting or sweeping and is resistant to cracking and fading.
– Offers a variety of patterns that can enhance the look of your home or business.
– Provides an attractive finish while providing low maintenance.
What are Some Reasons to Choose Colored Textured Concrete?
Some reasons to choose stamp concrete include its low cost, the durability of the material, and the ability to create a variety of textures and designs. Additionally, stamp concrete is a popular choice for floors and wall surfaces due to its resistance to moisture and dirt.
Stamp concrete has been around for over 20 years, but only recently has it become more popular. A new generation of stamped concrete contractors is making the material affordable to homeowners and commercial property owners.
Textured concrete is a popular material for new construction due to its affordability and durability. It is a relatively recent construction material, having only become more popular in the past few decades. Today, stamped concrete is a cost-effective and versatile option for homeowners and commercial property owners. Also, it can increase the value of your property by a significant amount.
Concrete is a very versatile building material. It's a great choice when you're looking for something that will last a long time and doesn't require a lot of maintenance.
Textured Colored Concrete Options
There are many concrete stamping colors to choose from, so you can find the perfect one for your project. Some popular stamp concrete hardeners are sandstone, silver, gray, charcoal, and platinum.
Base Color:
There is integral color and color hardener. The integral color is added to the cement truck and the color is through the thickness of the concrete. Color hardener is broadcasted over the concrete area after it is poured.
The base color is usually a natural-colored aggregate, such as red or gray cement, and can be used as the base color or to do highlights an existing color.
There are also some lighter colors available. These lighter colors are typically popular for outdoor use because they have a natural look and feel.
Release Agent Color:
The release agent is a powdery substance that comes in five-gallon pales and is dyed with colored pigments.
The release agent has two main purposes. The first purpose is to put the powder on the freshly placed concrete before stamping, so the rubber molds will not stick to the concrete. It acts as a barrier to not smudge the concrete and leaves a beautiful textured finish.
The second reason to use a release agent when stamping is to add more color variations to the stamping process. For example, you have a light gray base color and want to use a charcoal black release to give you highlights and make the stone appear natural.
To learn more about concrete colors, click on the link below to view our color chart.
One of the most popular options when it comes to creating a color palette is to use colored concrete samples made by your contractor. This allows you to easily create patterns and designs that are unique to your property. And you won't have to worry about making mistakes or getting something wrong.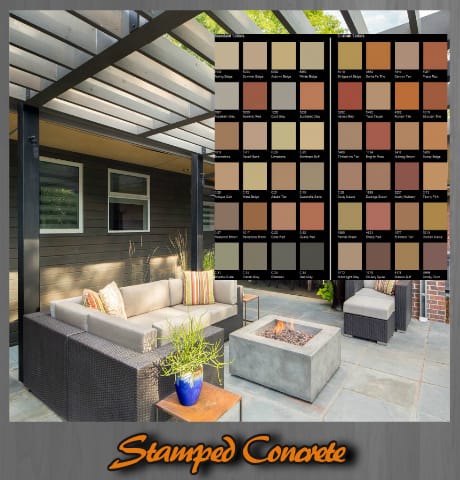 Stamping concrete dye options, When it comes to choosing a color for your concrete project, the first thing you need to consider is the type of material you plan to use. If you are using concrete that is already in a premixed form, then you will have a much easier time selecting a color. However, if you are using concrete that you have mixed yourself, then you will have a much wider range of colors available to you.
Stamp Concrete Designs
Colored concrete designs are a great way to add a unique and personal touch to your home. By stamping your own designs into the concrete, you can create a one-of-a-kind look that is perfect for your own home.
Stamped concrete patio design is one of the latest trends in home remodeling and it has gained huge popularity among homeowners. The benefits are that the concrete can be stamped into various shapes and designs and the end result is always stunning.
Textured patio designs can be created with different patterns and designs. These designs are attractive and durable. You can choose from a variety of designs and patterns for your home or office. Some of the most popular designs are ashlar slate and textured stone. Wood plank concrete stamps look, is becoming very popular.
The possibilities for stamping concrete patterns and colors are virtually endless. Many homeowners draw inspiration from the surrounding landscape and architectural style of their home to choose a pattern that blends in with the current elements. For example, a brick-patterned border can tie in with the surrounding landscape and echo the exterior of the home. You can also create your own design by mixing and matching several different colors. In addition, you can choose from a variety of different patterns and colors to suit the overall design of your home.
There are many different types of patterns and colors available in stamp concrete. The options are almost limitless. The best way to achieve a certain look is by using a wide selection of patterns and colors. A variety of products and processes can be used to achieve the desired look, from traditional concrete to custom designs. Whether you want a modern, rustic look, or a traditional patio, the possibilities are endless. You can choose a single design, or create a kaleidoscope of patterned colors, including a mix of different materials.
For the most realistic, durable look, choose a pattern with a high proportion of secondary color. These patterns are great for new homes. This type of pattern will last for many years and will provide you with a great investment. You can even get a stamped overlay to revive your existing concrete floors. You can even have your own pattern imprinted on your concrete countertops. You are only limited by your imagination, so you should take the time to research each pattern and choose the one that best suits your taste.
There are many types of stamping concrete designs. Tile, wood, stone, slate, and texture. Each can have a unique look and can complement any type of home décor. For an elegant look, choose a brick or stone pattern. There are even specialized stamping tools designed for this purpose. There are many different types of decorative stamps to choose from, so it's easy to find the one that suits your home and your personal preferences.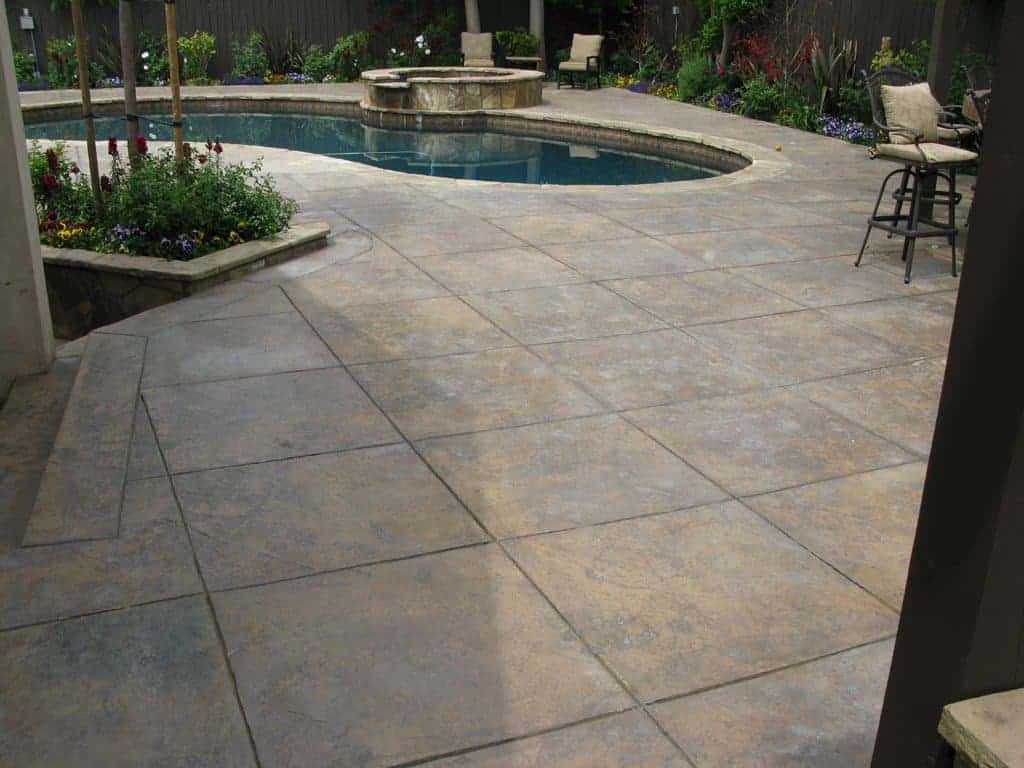 Natural stone and brick patterns are among the most common options for stamp concrete. Other popular options include cobblestone, wood, and brick. For a seamless, authentic look, a seamless stamp is pressed into the concrete without a visible joint. In more complex projects, you can even use multiple colors. Once you've chosen a pattern, you can start looking at the different colors and textures available. You can also check out the installation videos and learn more about the process of stamping concrete.
There are many reasons to choose stamp concrete for your home. You can add it to your driveway or patio. It can be used as a floor covering or in the kitchen and bathroom. You can also use it to create a unique and beautiful design. In addition, the flooring will be durable, which will make it the perfect choice for outdoor living. You can even add wood textures and patterns to your countertops. The possibilities are endless!
Should I Choose Pavers or Colored Textured Concrete?
Pavers or stamp concrete are both great options for walkways and patios. It all depends on what look you are trying to achieve.
Stamping concrete is cheaper than pavers, also it is more durable, especially if you use the right kind of concrete. Stamp Concrete is more affordable than pavers because pavers can be more difficult to install and more labor-intensive.
What's the difference between stamping concrete and pavers? Pavers are a form of concrete that is created by pressing concrete through a mold and is ready to sell when it is dry. Stamp Concrete is a type of concrete that is created by pouring a colored concrete mixture onto a prepared surface with forms then imprinted with a rubber mold design while pouring the concrete pour in large areas, such as patios, walkways, and pool decks.
Up here in New England, we have a lot of customers complaining about their existing pavers pros and cons failing after many winters, they are individual pieces that collect water in between each brick paver and cause unsettling to the existing area. Water gets underneath and causes major issues with the structure of the brick paver job. Also, we hear about the constant maintenance involved in picking weeds from in between the bricks and grass that grow inside those areas, resulting in weekly ongoing maintenance in the summertime, when you are trying to enjoy the nicer weather. That is why many new customers are choosing stamp concrete over brick pavers in the New England area.
Is Stamp Concrete the Right Choice?
Are you looking for an easy, inexpensive, and low-maintenance way to improve the look of your driveway, walkway, patio, or pool deck? Concrete stamped is a great option that won't add any additional cost to your project. It comes in a variety of colors and textures that allow you to customize your patio to suit your style.
Stamping concrete is a relatively new type of concrete, which has recently been receiving a lot of attention due to its ability to be more cost-effective than other types of concrete. It's made by using a mold to imprint or stamp into wet concrete a certain design.
The process of using concrete molds to create custom designs is quickly gaining popularity due to its cost-effective nature. Concrete molds can be used to create a wide variety of designs, including replicating stone or texture patterns.
Is Stamp Concrete Worth The Money?
Textured concrete is a durable and cost-effective alternative to regular uncolored poured concrete. It's easy to install for professionals and inexpensive to purchase. Stamp concrete is a very popular alternative to regular concrete.
You can create beautiful designs and patterns in just days. It also has several benefits over other types of concrete. Concrete stamping is a popular option for homeowners because it is easy to install and inexpensive to purchase. You can create beautiful designs and patterns in just days, and it also has several benefits over other types of concrete.
Aside from adding value to your home, stamp concrete is also low-maintenance. The surface of stamp concrete is non-porous, which means you don't have to spend money on frequent repairs. And since it doesn't need to be painted or stained frequently, it's a smart investment for your home. In fact, potential home buyers will pay more for a property with low maintenance costs.
Another benefit of textured concrete is its ease of cleaning. Once installed, stamp concrete can be easily cleaned and maintained. It's also worth investing in the landscaping that surrounds it. The right landscaping can help the concrete stand out in your yard. If your lawn is patchy, the stamp concrete installation will look less attractive. Ideally, a lush, colorful yard will complement your newly installed flooring. Hence, it's worth the extra money to install it!
How Do I Hire The Right Stamp Contractor?
Do you want to have a beautiful patio but are having a difficult time finding a Stamped Concrete installation contractor? Don't worry we can help you out!
There are a few things you should take into consideration when trying to find a good contractor. First, make sure the contractor you hire has been around for many years and has a great reputation in your area providing quality concrete services.
Second, make sure the contractor you choose has extensive experience working with textured concrete. Our crew has plenty of experience in working with concrete stamping and we are happy to offer you our services. If you are looking for a company that knows how to do a great job in stamping concrete, look no further than us.
The Advantages of Textured Concrete Surfaces:
There are a number of advantages of stamp concrete. Not only is it aesthetically pleasing, but it also has many performance benefits. In addition to being durable, other surface materials can become loose over time, posing a tripping hazard. In addition, stamp concrete requires very little maintenance and never needs to be replaced or reset. The overall labor involved in installing this type of flooring is also less than that of placing individual paving stones.
One of the most important factors in maintaining the luster of stamp concrete is cleaning. A mild detergent can be used to clean the surface, but avoid washing the floor with harsh chemicals. It is important to note that you do not have to seal your stamped concrete every year, but you should take care of it to prevent delamination and have it resealed every 3 to 5 years.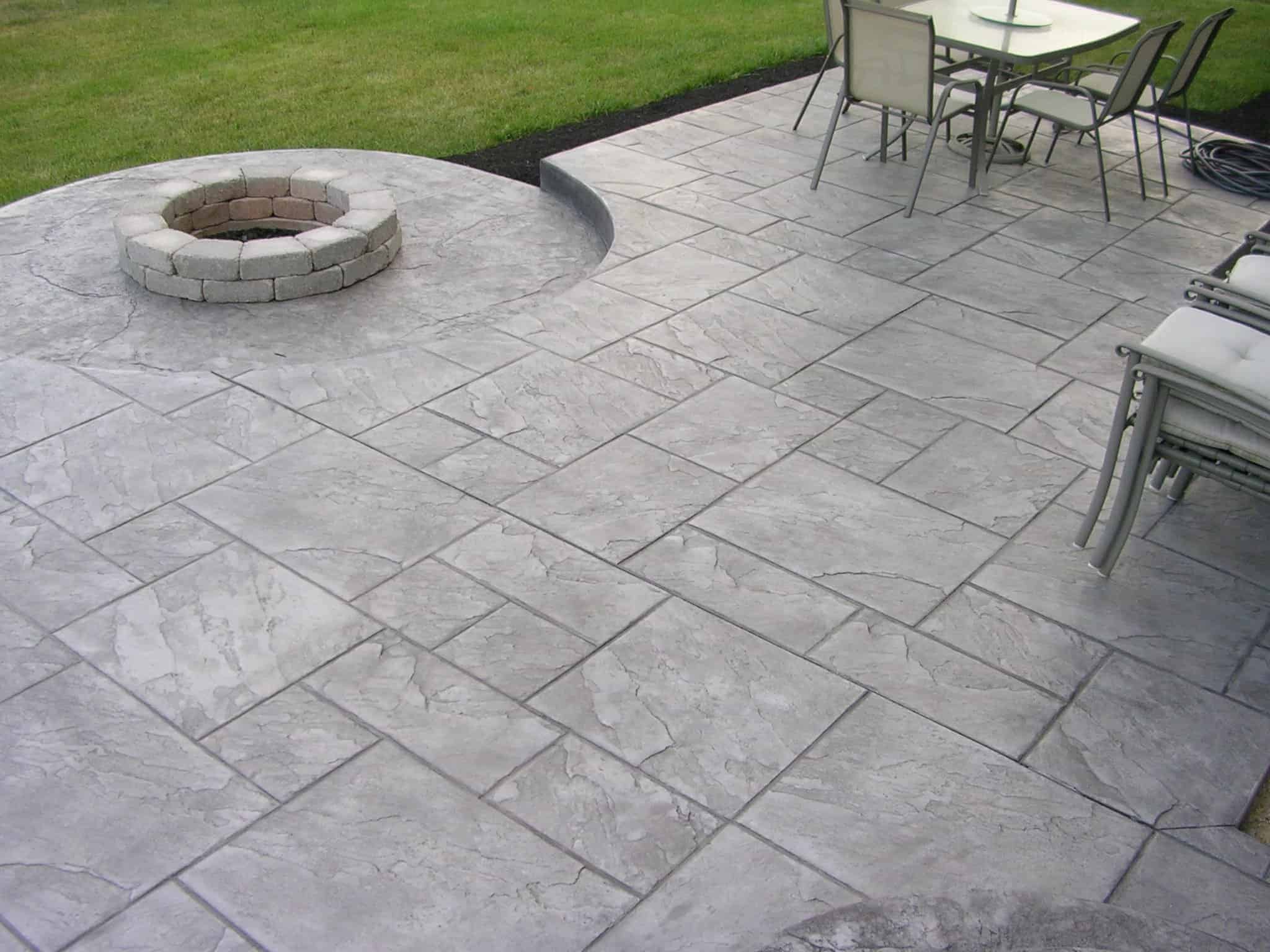 To maintain the luster of stamp concrete, it is important to clean it periodically with mild detergents. This is because your stamped concrete will stay shiny for years. You can also use mild detergents on your floors to keep the surface clean and lustrous.
Another benefit of stamping concrete durability is that it can be customized to look exactly like natural stone or segmented paving. This material is often difficult to install, so it is not recommended for do-it-yourselfers.
So you need to hire a professional to ensure that your stamp concrete is installed properly.
Color and pattern options are virtually limitless with stamp concrete. A number of other decorative elements such as exposed aggregate and acid staining can be imprinted on concrete to give it a distinctive look. For a more authentic and natural look, you can even add a stamped overlay to existing concrete floors. For an inexpensive, yet highly attractive flooring option, you can also imprint patterns on your concrete countertops. This material can also be installed in areas where you have limited experience.
When it comes to stamp concrete maintenance, it is one of the cheapest ways to create a natural-looking surface. For example, you can stamp on the concrete in any shape and color you desire. Then, when you are building your patio or pool, we can stamp the concrete surface. If you're building your own deck, you can choose to add a decorative overlay on top of the existing one. Once you've done this, we can add the design you want.
Stamping concrete is a long-lasting, low-maintenance option that can enhance your landscape and building. Its natural look is created by imprinting different patterns on the surface of the concrete. Its durability will last for years, so it's the perfect material for outdoor areas and other places. The advantages of stamp and colored concrete are listed below. You can also choose to create a cobblestone driveway using the same process.
The first step is to choose a color that matches your home's exterior. You can use a natural color to create the perfect accent around your home. While stamp concrete has a rich, natural look, it can still be a bit more difficult to install yourself, that's why you should hire a professional stamping contractor.
Colored stamp concrete is one of the best choices for your home. The material is long-lasting and is made from concrete. It can be stamped with natural stone, brick, or any other design you can think of. Whether you choose to hire a professional or do it yourself, stamp and colored cement is a great choice for a variety of reasons.
Stamped Concrete Contractors New Hampshire (NH) and Massachusetts (MA)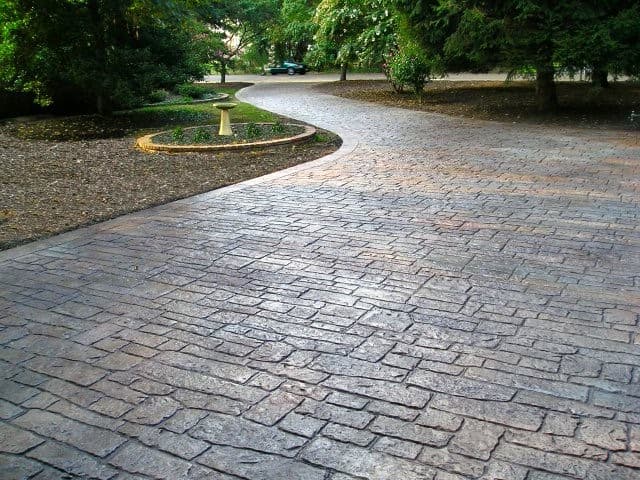 Our Locations:
Nashua, NH
North Hampton, NH
Concord, NH