We service all of New Hampshire(NH) Massachusetts(MA) Maine, Stamped Concrete Walkway Contractors Services. We have a large selection of Colors, Patterns, and Textures. We have been servicing the New England area with Stamped Concrete Walkway services for over thirty years. We provide Free Estimates! Give Us a call for your next concrete project!
Stamped Concrete Walkways
Walkways are an important part of a home, providing a path from one area to another. They can be made of a variety of materials, including concrete, brick, or stone. Brick and stone walkways are often expensive and difficult to install. Concrete is a more affordable and easy-to-install option. Stamped concrete walkways can be customized to match the style of your home.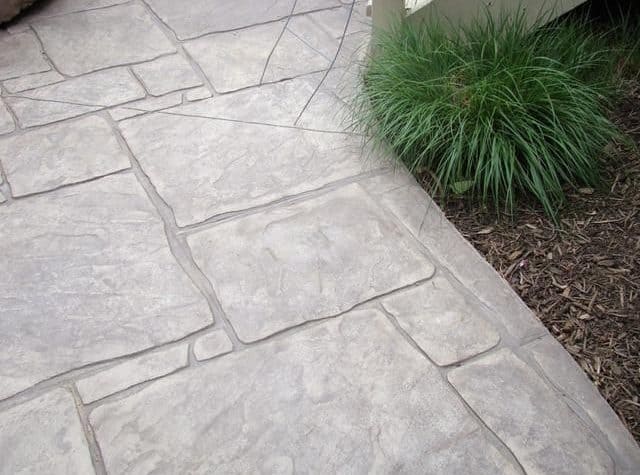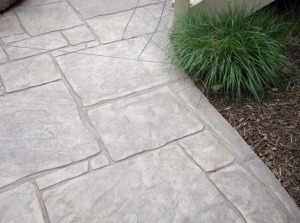 Walkways provide a way for people to get around your property. They can also be used to add beauty and style to a home. There are many different types of walkways available, including stamped concrete walkways. Stamped concrete is made to look like brick, stone, or other materials. It can be a great choice for a walkway because it is durable and affordable.
Stamped Concrete Walkway Designs
If you're looking for a beautiful and affordable way to improve your home's curb appeal, you should consider a concrete stamped walkway design. There are many different styles available, so you can find one that perfectly matches your home's style. And since concrete stamping is made from concrete, it's a very durable material that will last for many years. Concrete-stamped walkways are an excellent way to make the outside of your home more appealing. This is because these walkway designs can bring a lot of attention to your property through their beautiful designs and appearance.
Popular Walkway Designs for Homeowners:
Ashlar Slate
Random Stone
Wood Grain Stamp
Flagstone
Seamless Stone Texture
Herringbone Brick
5 Tips: On Stamped Walkway Design Ideas:
1. Use a variety of colors and patterns to create a unique look
2. Incorporate curves and angles to create a visually appealing design
3. Incorporate different textures, such as exposed aggregate
4. Add stamped concrete borders around the walkway to create a finished look
5. Incorporate decorative elements, such as lighting or plantings, to enhance the look of the stamped concrete walkway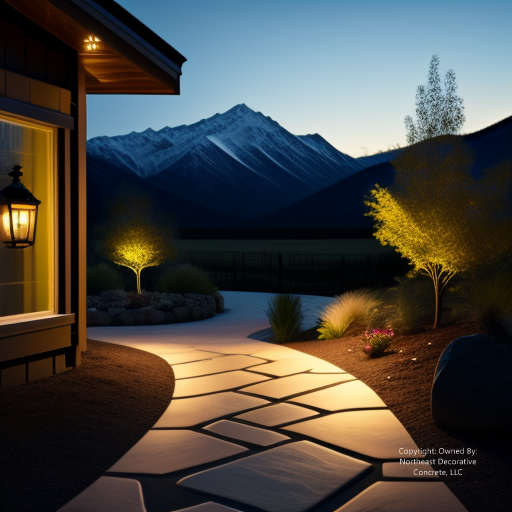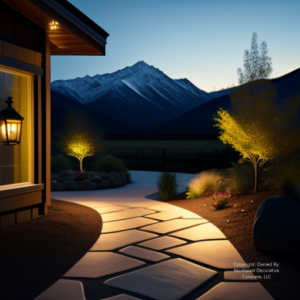 Customize Your Concrete Patios and Walkways With a Border
Concrete walkways are the perfect way to add a touch of style to your home. With a beautiful border, it will add character and charm to any landscape. Get a more customized appearance with a border on your stamped concrete walk.
Our concrete stamped walkway with borders is perfect for adding a touch of distinction to your home. The border is made to look like a real stone that is made out of concrete, adding an extra layer of elegance and durability that will last for years.
With our concrete contractor concrete services we offer can add different color borders and different textured pattern designs to any project.
Benefits of Concrete Stamping Walkways
1. They are affordable and easy to maintain.
2. They add value to your home.
3. They are durable and can last for many years.
4. They can be custom designed to match your home's style and décor.
5. They make your home look more appealing.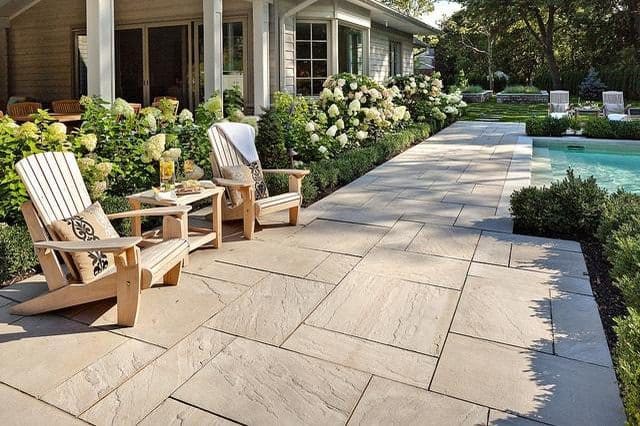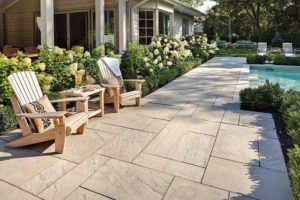 Stamped walkways are the perfect way to improve your home's curb appeal. With a variety of patterns and colors to choose from, you can create a unique look that perfectly complements your home's style. Best of all, concrete stamping is incredibly durable and will last for years with minimal maintenance.
Colored Stamp Walkway Cost
The average cost of stamped pathways is calculated per square foot. The price range typically includes the cost of materials and labor for all final estimates. There are a few factors that can affect the final price, such as the complexity of the design, the size of the walkway, and whether or not additional prep work is needed.
One of the benefits of colored textured concrete pathways is that it can be used to create a variety of designs. This versatility allows homeowners to create a unique look that reflects their personal style. Additionally, stamped concrete is often more affordable than other types of walkways, such as pavers or brick.
Is a Stamp Walkway Slippery?
No, a stamped walkway is not slippery. The surface of the walkway is textured, so it provides good traction for your feet. In addition, because the concrete is stamped with a design, it creates a non-slip surface. Also, we add a slip-resistance powder to the sealer to give it even more traction.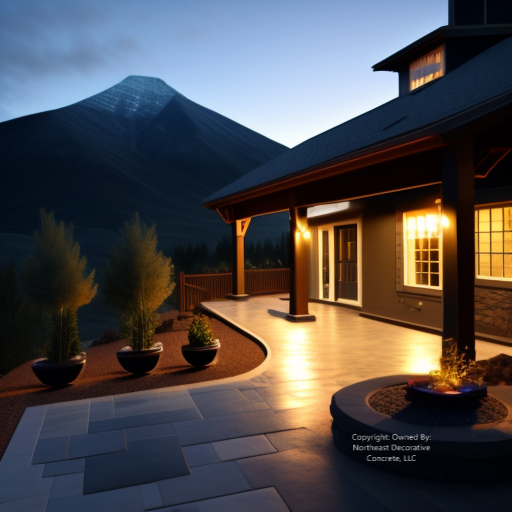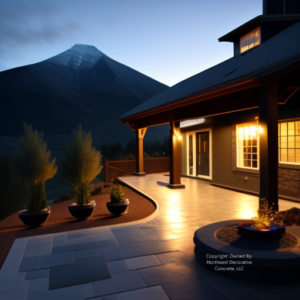 Stamped Walkway with Steps
A stamp walkway with steps is the perfect addition to any home. It is durable, low-maintenance, and adds a touch of elegance to your landscape. A stamped walkway can be used to create a beautiful path from your stamped concrete driveway to your front door, or it can be used to create a stunning entrance to a stamped concrete patio area.
Stamped walkways with Steps are the perfect way to improve your home's exterior. The stamp walkway will add a touch of elegance and style, while the steps make it easy to get in and out of your residence.
Are Colored Textured Concrete Pathways Durable?
Walkways and pathways don't have to be boring! With stamp concrete, you can add color and style that will last for years. Our durable concrete is perfect for any climate and can be customized to match your home's décor.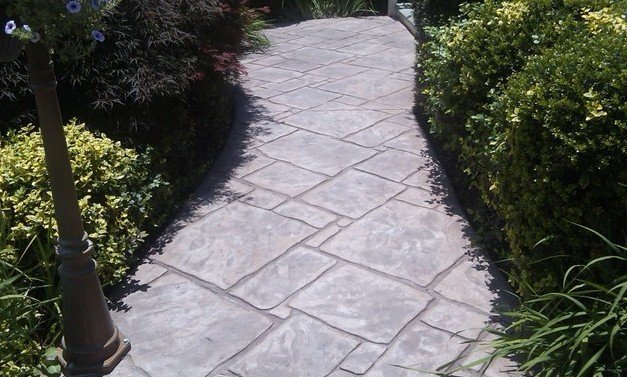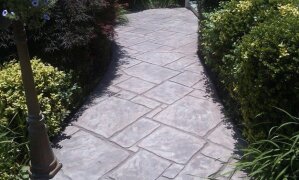 The best thing about stamp concrete pathways is that they're maintenance-free. You don't have to worry about repainting your walkways or worrying about removing weeds and debris from in-between each brick paver every week. With our stamped concrete, you can be sure that it will stay looking great for years to come.
Why Choose Concrete Stamping For Your New Walkway?
There's a reason stamp concrete sidewalks are becoming so popular for walkways. It offers a unique, attractive look that can't be matched by any other type of material. And because it's made of concrete, it's strong and durable. Plus, it's easy to maintain – just sweep and hose off when needed.
Looking for a new walkway that will make your home stand out? Concrete Stamping is a perfect choice! Not only does it look great, but it's also durable and affordable. Plus, it's easy to keep clean – just rinse with a hose when needed. So why wait? Contact us today to get started on your new stamp custom concrete pathway!
Why Choose Northeast Decorative Concrete, LLC Walkways?
-Extensive Experience
-Top-notch Quality Materials
-Honest and Transparent Pricing
-Variety of Concrete Colors and Designs
-We are a proud, Locally-Owned NH Business Dedicated to our Clients
-Minimal Disturbance To your Household
-Guaranteed Customer Satisfaction
CALL TODAY FOR A FREE ESTIMATE!
Stamped Concrete Walkway Contractors New Hampshire (NH) and Massachusetts (MA)
Our Locations:
Nashua, NH
North Hampton, NH
Concord, NH