We service all of New Hampshire(NH) Massachusetts(MA) Maine, Resealing Stamped Concrete Contractors Services. We have a large selection of Colors, Patterns, and Textures. We have been servicing the New England area with Stamped Concrete Sealing Companies services for over thirty years. We provide Free Estimates! Give Us a call for your next concrete project!
Resealing Stamped Concrete
If you have a stamped concrete patio, pool deck, walkway, driveway, or other surfaces that have started to show signs of wear, you may be wondering if it is possible to reseal the concrete with a stamped concrete sealer. In most cases, the answer is yes – resealing stamped concrete is a relatively easy process that can help to restore the surface and improve its appearance.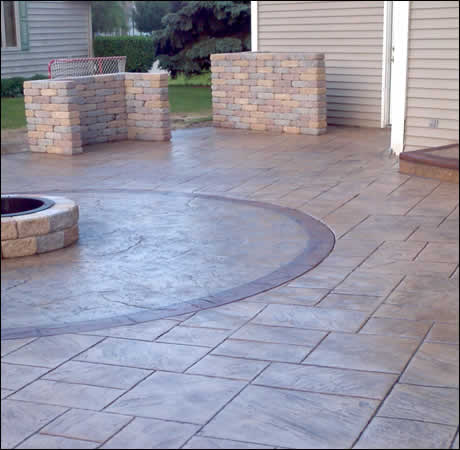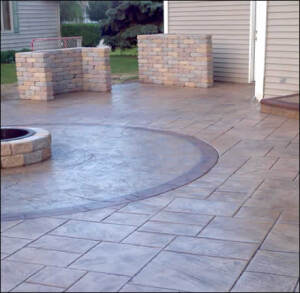 Decorative concrete is a popular choice for many homeowners because of its unique and customized look. However, over time, the concrete can start to show signs of wear and tear. One way to combat this is by resealing it with a specialized sealant that will help to protect it from the elements and keep it looking new for years to come.
Sealing concrete that is stamped is a must to protect it from the elements and extend its life. Our sealant provides a long-lasting barrier against water, oil, and other liquids while also resisting UV damage.
Can you use a Pressure Washer to Clean Stamped Concrete?
You can use a pressure washer to clean stamped concrete, but it's important to use the right kind of detergent. A pressure washer can blast away years of built-up dirt and grime, restoring the original beauty of your stamped concrete.
A pressure washer is a great way to clean stamped concrete. It can remove dirt, grease, and grime from the surface, leaving it looking like new. Pressure washers are also efficient and affordable, making them a great choice for homeowners.
Is Sealing Decorative Cement Surfaces Slippery?
Slip resistance is an important safety feature for stamped concrete. Many factors affect the slip resistance of stamped concrete, including the texture and finish of the surface, the substrate material, and the weather. In general, a rougher surface with more texture provides better slip resistance than a smooth surface. The type of stamp used also affects slip resistance; for example, a cobblestone stamp will provide more traction than a brick stamp.
We add a powdered material called gator grip to the sealer which makes the concrete surface extremely tacky to bare wet feet. So the answer is NO, it is not slippery at all. We put the maximum amount allowed on pool decks and patios for a perfect non slippery surface.
How to Remove Paint, Rust Stains, Adhesives & Oil from Concrete
Removing paint, rust stains, adhesives, and oil from concrete can be a daunting task. However, if you know the right techniques and use the proper supplies, it can be a lot easier than you think.
Removing paint, rust stains, adhesives, and oil from concrete can be a daunting task. However, if you have the right tools and knowledge, it can be an easy process.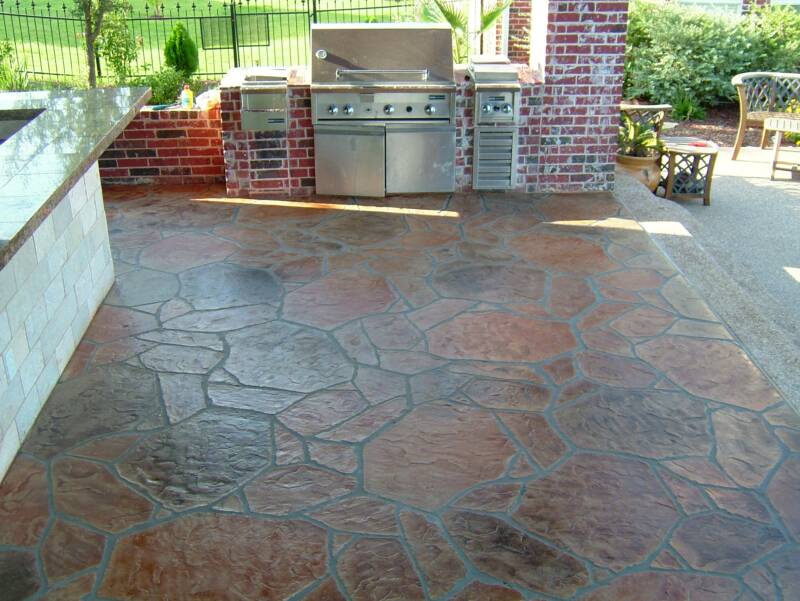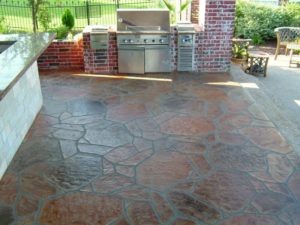 Here are a Few Tips on How to Remove Different Types of Stains from Concrete:
1) To remove paint, use a degreaser or paint stripper. Be sure to follow the manufacturer's instructions carefully.
2) To remove rust stains, use a rust remover or diluted vinegar.
Benefits of Sealing Colored Concrete
A concrete pool deck or patio can be a beautiful and functional addition to your home, but without proper maintenance, it can quickly become stained and unsightly. Sealing colored textured concrete is a quick, easy way to protect it from dirt, oil, and other pollutants, and can also make it easier to clean. Sealing also helps keep the color of the concrete looking new for years to come.
What is the Best Concrete Sealer?
Concrete sealers protect and enhance concrete surfaces. They are designed to resist staining and fading, while also providing a protective barrier that can repel water and other contaminants. When choosing a concrete sealer, it is important to consider the climate and environment where the surface will be used. Some sealers are more durable than others, so it is important to select the right product for the job.
Sealing concrete is an important step in protecting it from the elements. There are many different types of cement sealers on the market, but not all of them are created equal. So, what is the best concrete sealer?
The answer to that question depends on your specific needs and preferences. Some sealers are better at protecting against water damage, while others offer more protection against staining and fading. You also need to consider the climate where you live and how much traffic your pool deck or patio sees.
If you're looking for a general-purpose sealer that will protect against both water and staining, then a penetrating acrylic sealer is a good option. These sealers soak into the concrete and form a protective barrier on the surface. They are typically easy to apply and don't require any special equipment.
We use the best solvent-based sealer on the market for our reseal stamped concrete services.
How Often do You Need to Re-Seal Stamp Concrete?
Concrete stamped is a great option for homeowners looking for an affordable and versatile patio surface. However, it's important to reseal colored concrete on a regular basis in order to protect it from fading and staining. Depending on the climate and how often the surface is used, resealing may need to be done every 3-5 years.
How Much Does it Cost to Re-Seal your Stamp Concrete?
Concrete stamping is a popular choice for concrete driveways, patios, pool decks, and walkways. Over time, the sealant on stamped concrete can wear away, leading to staining and weathering. To re-seal your stamp concrete, you will need to hire a contractor to apply a new coat of sealant. The cost of re-sealing your stamp concrete will vary depending on the size of the area you are sealing and the type of sealant used. Generally, you can expect to pay per square foot for sealant application.
We do the full proper professional way of sealing concrete with a commercial grade pressure washing and 2 coats of high-end sealer specifically made for decorative surfaces, then we add in gator grip on both coats.
After a Reseal, How Long do I Need to Wait until I Can Walk on the Concrete Floors?
The answer to this question depends on a few factors, including the type of sealant used and the weather conditions. Generally speaking, it's best to wait at least 24 hours before walking on the concrete. This will give the sealant enough time to cure properly. If you have any questions or concerns, be sure to speak with a professional contractor.
Let's Seal The Deal
Why Choose Us To Apply Sealer to Your Exposed Aggregate Concrete?
Professional and Reliable Decorative Concrete Sealing Services In NH and MA
Contact Us today for a FREE Estimate!
Re Sealing Stamped Concrete Contractors in New Hampshire (NH) and Massachusetts (MA)
Our Locations:
Nashua, NH
North Hampton, NH
Concord, NH