We service all of New Hampshire (NH) , Massachusetts (MA) , and Maine (ME) with Decorative Concrete, Stamped Concrete, Epoxy Floor Coatings, and Garage Flooring.  We have a large selection of colors and patterns! Give us a call for your next concrete project. We provide Free Estimates. 
Is Stamped Concrete Good For Pool Decks?
Pool decks are often made of concrete to provide a durable surface that can withstand the weight of people, furniture, and other objects. However, stamped concrete can also be used to create a beautiful pool deck that is both functional and aesthetically pleasing. Stamping concrete is created by pressing a pattern into freshly poured concrete. This creates a textured surface that is both slip resistant and beautiful. There are many different stamping patterns available, so you can find one that will perfectly match your home's style. Additionally, concrete stamping is much more affordable than traditional paving materials such as brick or stone.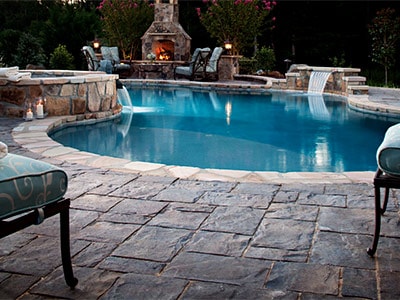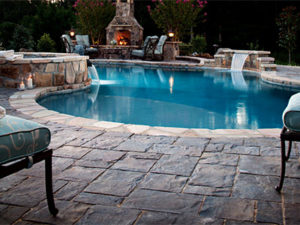 How to Choose the Right Material for Your Pool Deck
With summertime just around the corner, many homeowners are starting to think about their outdoor living spaces. If you're in the market for a new pool deck, there are a few things you should keep in mind when making your decision.
The first thing to consider is what type of material you want your deck to be made out of. There are a variety of materials to choose from, including wood, concrete, and stone. Each has its own benefits and drawbacks, so you'll need to weigh the pros and cons before making a decision.
Concrete is the most popular choice for pool decks, as it's affordable and easy to maintain. So you'll need to make sure you choose a high-quality pool decking that will stand up to the elements.
The Benefits of Stamp Concrete for Pool Decks
There are many benefits to decorative concrete for pool decks. One of the biggest advantages is that it is extremely durable and can last for many years without needing much maintenance. It is also resistant to fading and staining, so it will look great year after year. Additionally, stamped concrete is a very affordable option, and it can be customized to match any décor or style.
Adding a colored textured concrete overlay to your pool deck can provide a number of benefits, both functional and aesthetic. A decorative concrete surface is non-slip, making it safer for swimming and sunbathing. It is also cooler to the touch than traditional concrete, providing relief from the summer heat. The variety of colors and textures available in textured concrete allows you to create a uniquely customized look for your pool deck that will be sure to impress your friends and neighbors. Best of all, stamping concrete is less expensive than many other materials options, making it a cost-effective solution for your pool deck needs.
If you're looking for a pool deck that will last, look no further than stamping concrete. Stamp concrete is made to resist cracks and fading, meaning your pool deck will look great for years to come. Plus, concrete stamping is slip-resistant, making it the perfect choice for pool decks.
Is Stamp Concrete for Pool Decks Slippery When Wet?
Stamping concrete is a great option for pool decks because it is not slippery when wet. This is important because it ensures safety for people walking on the deck. Additionally, concrete stamping can be customized to match any color or design that you choose. This makes it a great option for creating a unique look for your pool deck.
Slippery pool decks can be a safety hazard. Additives such as Gator Grip can help to make these decks less slippery and safer for swimming. These additives are mixed in with the concrete sealer when it is finished, and they create a surface that is less likely to cause falls. Gator Grip is a product that has been used for many years and has been proven to be effective. It is important to test the deck before adding any additive, as some decks may not need it. A quick walk on the deck with wet shoes should be sufficient to determine if it is safe or not.
Options: Colors and Designs for Pool Decks
When it comes to adding color and designs to a stamped pool deck, there are many options available. The colors and designs can be chosen to match the homeowner's style and preferences. There are many different patterns that can be stamped into the concrete, and these can also be customized to fit the individual's needs. Additionally, homeowners can choose from a variety of finishes that will make their pool deck look unique. The options for colors and designs are almost limitless, making it possible for homeowners to create a pool deck that perfectly suits their needs and style.
In conclusion, stamp concrete is a good material for pool decks because it is durable, looks great, and is affordable. If you are considering installing a pool deck, concrete stamping should be at the top of your list of materials to consider.
Our Locations:
Nashua, NH
North Hampton, NH
Concord, NH