Adding stamped concrete to your home can add significant value and improve its appearance. The textured surface and beautiful colors create a look that is both unique and timeless. With a variety of designs and colors to choose from, you can create a look that's unique to your home. And because stamping concrete is durable and low-maintenance, it's a cost-effective way to improve your home's appearance and increase its value.
How Much Does Stamped Concrete: Add Value To My Home?
Stamped concrete can add both visual and practical value to your home. It can look great and provide durability for your foundation and decking. Plus, stamped concrete is not as pricey as other types of construction, so it may be a good option if you're on a budget.
In terms of how much value stamped concrete adds to your home, it really depends on what kind of project you're doing and where you live, as well as other factors such as market conditions and local demand for such projects. In general, adding stamped concrete can raise the value of your home by at least 15% compared to similar homes in your area that don't have this feature, which is a big deal.
It is a great choice for people who want to improve the value and look of their home. It has a one-of-a-kind look that will never go out of style and can turn ordinary concrete into something beautiful and eye-catching. The textured surface and vibrant colors create a distinct design that stands out from the rest. Stamped concrete can be used to make creative designs, and because it is durable and looks nice, it can also raise the value of your home.
What Are The Benefits Of Textured Concrete?
Low Maintenance
Durable
Aesthetically pleasing
Many colors and designs to choose from
Variety of applications
Affordable
Adds a unique and attractive look to any home
Enhances the aesthetic appeal of the property
Increases property value by at least 15% and up to as much as 25%
Textured concrete has a variety of benefits that can make it a preferable option for construction projects. Some of these benefits include:
-It is both fire-resistant and shock-resistant, making it a good choice for building areas that are frequently visited by the public.
-It allows for more evenly distributed weight and pressure, which can result in a smoother, more durable surface.
-It is easy to clean and maintain, which makes it a popular choice for areas such as walkways and parking lots.
How Much Does Stamped Concrete Add Value To Your Home?
Concrete Stamping can add as much as 15 percent to 25 percent value to your home in a number of ways, depending on the size you decide to go with.
First and foremost, concrete stamping can be a beautiful addition to any property. The intricate designs and colors that concrete stamping can create are stunning, and they can really make a difference on a smaller scale or on a large scale.
Furthermore, stamp concrete is durable. Stamping concrete is resistant to water damage and other weather extremes. This means that it can last for many years without needing major repairs or replacements.
Last but not least, stamp concrete is affordable. Compared to other types of construction, stamping concrete is quite affordable – especially if you're looking for a high-quality finished product.
Adding value to a house often means investing in upgrades or repairs, such as flooring. Stamped concrete is an ideal solution for this because it provides long-term benefits without needing frequent maintenance or replacement like other materials do. Unlike pavers which shift over time, stamped concrete remains stable once installed properly and can last up to 30 years with minimal upkeep required. This makes it more cost effective than other options while still providing stunning results that will increase the overall worth of your property significantly.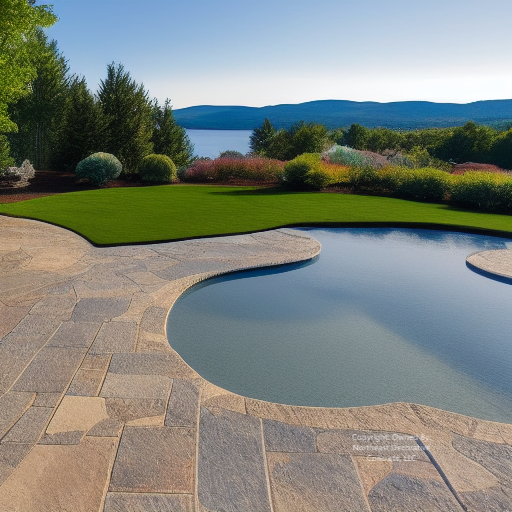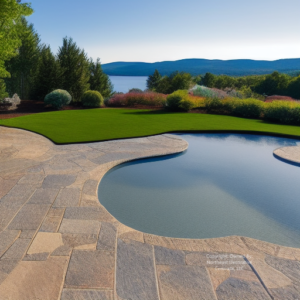 Is Stamping Concrete: The Right Choice For You?
A concrete stamped patio or driveway is a beautiful and affordable alternative to other paving materials. The cost of textured concrete is comparable to that of asphalt or brick, but with a longer lifespan and the ability to create just about any design imaginable.
Concrete stamping is a popular choice for residential and commercial properties. It's a low-maintenance alternative to traditional concrete, and it has a number of advantages over other types of construction.
Stamping concrete is the perfect choice for you if you are looking for a durable and long-lasting construction material. The colored textured concrete process creates a unique and beautiful finish that is sure to impress. With options like textured borders, compass designs, and custom patterns, colored concrete can be customized to perfectly match your project's style. Plus, because concrete is so versatile, it can be used for a variety of applications – from walkways to patios. If you're interested in learning more about this exciting construction option, contact a qualified contractor today!
What Factors Influence: The Addition of Value To Your Home?
How much does stamped concrete add value to your home? There are a number of factors that influence the addition of value to a home. Location, size and condition of the home, features, and amenities available in the area, and prevailing market conditions are just a few examples. Additionally, factors such as zoning laws, tax rates, and subdivision regulations can also affect the amount a home is worth.
Homeowners are always looking for ways to increase the value of their homes. Value can be increased in many different ways, some more expensive than others. For example, adding a new bathroom is an expensive addition that increases the value of your home by a substantial amount, while adding storage space with shelves or drawers is much less costly.
7 Main Factors: That Influence The Value Of Your Home
Location
Size of Home
Age of Home
Condition of Home
Upgrades
Renovations
Neighborhood
How Can I Add Value To My Home With Stamp Concrete?
Concrete is the most ubiquitous building material on earth. When stamped, it can be used to add value and beauty to your home, in a variety of ways.
If you're looking for a way to add value to your home, consider stamp concrete. This process involves imprinting a design into freshly poured concrete, and the results are stunning. Not only does stamp concrete add visual interest, but it can also increase your home's resale value.
Adding a Patio:
Adding a colored concrete patio to your home can add value to the property. A textured concrete patio is a popular option because it's easy to maintain and looks amazing. A concrete patio is also durable, which means you can enjoy it for many years to come. Here are some tips on how to add a patio to your home:
1. Consult with a contractor or architect about designing the perfect patio for your home.
2. Stamping concrete patios can be designed in a variety of ways, so it's important to get help if you're not sure where to start.
Adding a Walkway:
Adding a concrete stamped walkway to your home can provide both beauty and value. The walkway can be an attractive focal point for your property, and it can also increase its resale value. Here are some tips on how to add value to your home with a concrete-colored walkway:
1. Choose the right colors. A stamp concrete walkway is a relatively easy way to change the look of your home without having to tear down or rebuild any walls or ceilings. Select a color that will complement the colors of your home and go with a design that reflects your personal style.
2. Consider design features. A concrete walkway can be customized in many ways, including width, height, and design features such as steps and handrails.
Adding a Pool Deck:
Adding a stamped pool deck to your home can provide you with an extra measure of value and comfort. With the right design and materials, you can create a custom deck that is both stylish and durable. Here are some tips to help you add value to your home with decorative concrete:
1. Choose the right style. There are several styles of decorative pool decks available, so find one that fits your personality and home décor. Some popular options include modern minimalist designs or more traditional styles with stone or brick veneers.
2. Plan your layout carefully. Make sure to account for the height of the pool, as well as any steps or stairs that might be present on your property. Also, decide on a layout that will work best for all of your guests – whether they are lounging around the pool or using it for swimming.
In conclusion, concrete that is stamped can add a lot of value to your home. It is a great way to increase your home's curb appeal, and it can also make your home more comfortable and functional. If you are considering stamped concrete for your home, be sure to consult with a professional contractor to get an idea of what the cost and the benefits will be.
Our Locations:
Nashua, NH
North Hampton, NH
Concord, NH