We service all of New Hampshire (NH) , Massachusetts (MA) , and Maine (ME) with Decorative Concrete, Stamped Concrete, Epoxy Floor Coatings, and Garage Flooring.  We have a large selection of colors and patterns! Give us a call for your next concrete project. We provide Free Estimates. 
How Thick Should Stamped Concrete be?
When it comes to choosing the thickness of stamped concrete, there are a few factors to consider. The first is the climate. In colder climates, thicker stamp concrete will help keep the surface from freezing and becoming brittle. The second consideration is the weight of traffic that will be using the concrete. A thicker stamped surface will be able to withstand more weight without cracking or becoming damaged. The last factor to consider is the overall budget.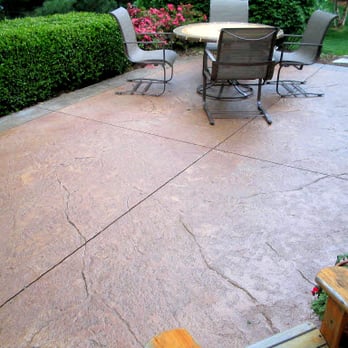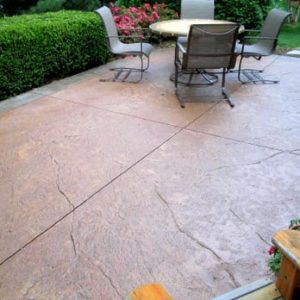 How Thick Should Stamped Concrete Be?
The thickness of stamped cement should be based on the loads that will be placed on it. The concrete should be thick enough to support the weight of people, vehicles, and other objects.
The thickness of decorative concrete is an important consideration, as it affects the finished look and how long the concrete will last. A thickness of 4 inches is generally recommended, as it provides a robust surface that can handle moderate traffic and resists staining and fading. However, if you are looking for a more decorative finish or plan on using your stamp cement in a high-traffic area, you may want to consider a thickness of 6 inches.
Factors That Affect the Thickness of Concrete that is Stamped
There are many factors that affect the thickness of decorative concrete. The size and shape of the stamp, the amount of concrete being poured, and the weather conditions are just a few of the factors that can influence how thick the concrete should be.
The size and shape of the stamp can affect how thick the concrete needs to be. If there is a lot of detail in the stamp, then more concrete will need to be poured to make sure all of the details are covered. The amount of concrete being poured also affects the thickness. If more than one layer of concrete is being used, then each layer will need to be a certain thickness in order to achieve the desired look.
The weather conditions also play a role in how thick the textured concrete should be.
Tips for Creating a Thick Stamping Concrete Surface
When it comes to creating a thick-colored textured concrete surface, there are a few key things to keep in mind. First, you'll need to make sure that the concrete is poured at the correct thickness. For most projects, a minimum thickness of 4 inches is recommended. This will ensure that the stamping process goes smoothly and that the finished surface is both durable and attractive.
In addition, it's important to use high-quality stamps and tools. If you try to save money by using less expensive equipment, you may end up with a stamping concrete surface that doesn't look very professional. Finally, be sure to allow enough time for the concrete to dry completely before applying any sealant or coating. If you try to hurry the process, you may end up with a surface that is uneven or faded.
Benefits of Thick Stamp Concrete
Thick concrete that is stamped can offer a homeowner many benefits. One of the biggest advantages is that it is very sturdy and can withstand a lot of wear and tear. It is also very easy to clean and does not require a lot of maintenance. Thick stamp surfaces can also add value to a home by increasing its curb appeal.
What Else Can You do to Strengthen The Thickness of Stamping Concrete?
There are a few things homeowners can do to increase the thickness of concrete stamped. One is to add more concrete when the slab is initially poured. This will create a thicker surface that is less likely to crack or chip. Another option is to use a stamping overlay, which is a layer of concrete that is applied over an existing slab. This overlay can be textured or patterned to create the desired look, and it will help to strengthen the underlying surface. In some cases, it may also be necessary to seal the stamped surface in order to protect it from weathering and staining.
Why Is Thickness Important for Decorative Concrete?
-Strength
-Durability
-Aesthetics
-Versatility
The thickness of stamp concrete is important because it affects the overall look and feel of the surface. A thicker stamping concrete surface will be more durable and resistant to wear and tear.
Our Locations:
Nashua, NH
North Hampton, NH
Concord, NH