We service all of New Hampshire (NH) , Massachusetts (MA) , and Maine (ME) with Decorative Concrete, Stamped Concrete, Epoxy Floor Coatings, and Garage Flooring.  We have a large selection of colors and patterns! Give us a call for your next concrete project. We provide Free Estimates. 
Stamped Concrete Walkway With Steps
Stamped concrete walkways provide a unique and affordable way to add beauty and value to your home. There are many different designs and colors to choose from, so you can create a look that is perfect for your home. A stamped concrete walkway with steps is a great way to add functionality to your property.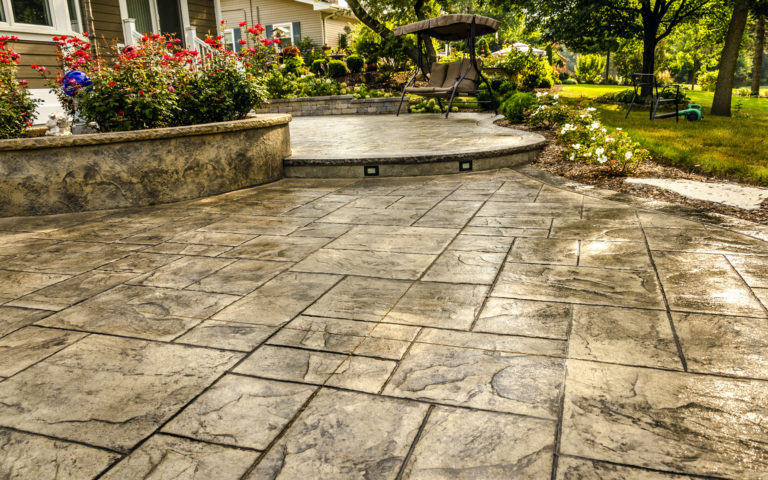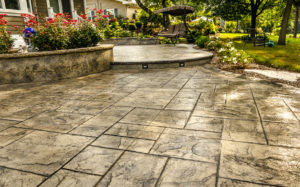 How to Add Steps to Your Stamp Walkway
Adding steps to your concrete walkway is a great way to add functionality and style. There are a few things you need to consider before getting started. Here are a few tips to help make the process easy:
– Decide where you want the steps to be. They should be placed where they will be most useful, such as at the bottom of a hill or near the entrance to your home.
– Choose a style of step that will complement your walkway. There are many different styles to choose from, so take your time and find the perfect one.
– Measure the distance between each step and the height of each step. This will help you determine how wide and deep your steps need to be.
– Use decorative concrete to create your steps. This is a durable option that will last for many years.
The Different Ways You Can Add Steps to Your Stamped Walkway
There are a few different ways that you can add steps to your concrete-stamped walkway. You can use precast concrete steps, which are available in a variety of colors and styles. You can also use natural stone steps, which can be purchased from a masonry supplier. If you want to create your own steps, you can use blocks or bricks to build them.
When adding steps to your walkway, it's important to make sure that they are level and evenly spaced. You may also want to add a landing at the top and bottom of the stairs. If you're using precast concrete steps, it's important to make sure that they are properly anchored in the ground.
How to Choose The Right Steps for Your Walkway
When constructing a walkway, it is important to choose the right steps. The steps will determine how easy it is to walk on the walkway and how safe it is. There are a few things to consider when choosing the steps for a walkway.
1. The width of the walkway: The steps should be wide enough to accommodate the width of the walkway.
2. The height of the steps: The steps should be high enough so that people can easily step up and down them. They should also be low enough so that they do not require too much effort to climb.
The depth of the treads: The treads (the surface on which people walk) should be deep enough so that people can comfortably step on them. They should also be textured so that people do not slip while walking on them.
Proper Law Requirements For Steps In Your Area To Meet Code
State law requires no more than an 8-inch rise for steps, so when building or repairing a set of stairs, it is important to keep this in mind. Anything higher can be difficult and dangerous for people to navigate. If you are unsure how to build a safe set of stairs, it is best to consult with a professional.
What are The Benefits Of Using Steps With Walkways?
When designing or renovating a walkway, many people choose to use steps instead of a flat surface. There are several reasons for this. First, steps provide a more secure surface for walking. They also add an interesting visual element to the walkway. Additionally, they can help to speed up traffic flow on a walkway.
The biggest benefit of using steps with a walkway, however, is that they provide a much safer surface for walking. Unlike a flat surface, steps provide good traction and grip, which helps to prevent slips and falls. This is especially important when it rains or when the ground is wet or icy. Steps also have a shorter run-off distance than a flat surface, which means that people are less likely to fall if they do slip.
6 Tips: When Installing Steps With a Decorative Walkway
When installing a step with a decorative walkway, it is important to consider the following:
1. Always use a level to ensure that the surface is even before you begin.
2. Use a straight edge if necessary to get your lines perfectly straight.
3. Make sure the area you are working in is well-ventilated; Concrete dust can be harmful if inhaled.
4. Wear safety glasses and gloves while working with concrete.
5. Mix the concrete according to the manufacturer's instructions; Overmixing can cause the finished product to be weaker and more prone to cracking.
6. Pour the concrete into place and use a trowel or broom to smooth it out, taking care not to create any ridges or bumps.
In conclusion, stamped walkways with added steps are a beautiful way to improve your home and garden. They are easy to install and affordable, and they add a touch of elegance that can be enjoyed for years to come. If you are interested in installing a stamped walkway with steps, be sure to contact a qualified contractor who can help you choose the perfect design and materials for your needs.
Our Locations:
Nashua, NH
North Hampton, NH
Concord, NH