Are you wondering if stamped concrete is slippery when wet? Learn more about the safety of stamped concrete and how to keep it slip-free in wet conditions.
Is Stamped Concrete Slippery When Wet?
YES, Stamped concrete can become slippery when wet, but there are ways to make it, so it's not dangerous. These include adding a nonslip additive or using a sealer with a nonslip formula to make it less slippery. This can help reduce the slipperiness of the surface.
In the United States, the slip resistance of concrete surfaces is measured using the Static Coefficient of Friction (SCOF). This helps to determine how hazardous the surface is.
The SCOF is determined by the ASTM C1028 test, which measures the friction between the surface and a rubber-soled shoe. This test is commonly used in the construction industry to evaluate the slip resistance of various Cementous surfaces. Other tests, such as the pendulum test, can also measure slip resistance. The pendulum test is an internationally-recognized method for determining the slip resistance of Cementous surfaces. It involves measuring the inclination angle at which a rubber-soled shoe slips on the surface. The higher the angle, the higher the slip resistance.
Stamped surfaces can be made more slip-resistant than smooth surfaces by adding texture. A tribometer is the most common machine used for measuring slip resistance. Several versions include the James Machine, Horizontal Pull Slipmeters, Portable Inclinable Articulated Strut Slip Testers, and Variable Incidence Tribometers. A NATA-accredited contractor can perform both wet pendulum tests and ramp tests. A wax coating can be used for added sparkle and improved slip resistance. SparkleTuff™ Clear Anti-Slip Floor Coating is a transparent abrasive coating that passes the McDonald's Restaurants test for Sustainable Slip Resistance. It has been tested to maintain its wet slip resistance after more than 1,000,000 people have walked across it.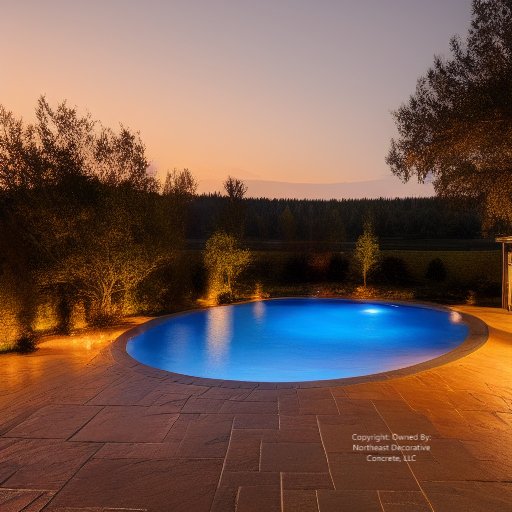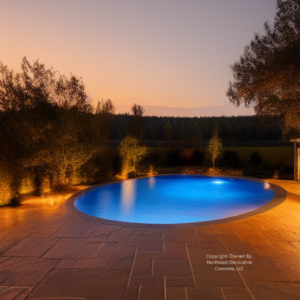 What Seal Slip Resistant Additives: Can Be Added To The Concrete Surfaces?
Nonslip resistance additives for concrete swimming pools surfaces can be made from various materials, such as aluminum oxide and micronized polymer. Aluminum oxide is the most commonly used material. It is rugged, durable, and provides an aggressive, challenging, and long-lasting anti-slip surface when added to epoxy, poly aspartic, polyurea, and urethane coatings. Aluminum oxide aggregates are more aggressive than silica or poly bead aggregate and are ideal for industrial and commercial applications where anti-slip and safety are paramount.
Micronized polymer particles can also be used as nonslip resistance for coatings. These particles are smooth to the touch and provide easier cleanability. They also have low oil absorption and high solvent resistance, making them easy to stir into most oil-based and latex-based paints, sealers, and stains with minimal impact on the coating's slab color.
Nonslip products can be added to epoxy, latex, or oil-based paints, stains, or sealers to create a skid-resistant coating for concrete, wood, metal, or fiberglass surfaces. Some sealers already have the grit premixed, while others require an additive. The best material for this purpose is grit which typically includes spherical plastic beads, as their round shape helps them resist wearing the sealer faster than sharp, angular quartz.
What Are Non Slip Additives: For Slippery Surfaces of Stamped Concrete Sealers?
Nonslip resistance products for concrete sealers come in various materials, including aluminum oxide, grit, and micronized polymer. Aluminum oxide is a fine powder that can be added to water or solvent-based sealers to provide bare feet slip resistance and grip. Gritty sealers are also an option to create nonslip surfaces, often composed of plastic beads that are smooth and round to prevent sealer wear. Micronized polymer is also an anti-skid additive in water and solvent-based acrylic sealers and coatings, creating a safe textured surface.
It is important to note that nonslip stamped concrete materials should not be added to tinted sealer products. When adding these additives, stir/mix well during application to prevent settling. The coverage of nonslip material varies depending on the product—for example, 1 lb. Non-slip additive product added to 5 gallons of sealer will usually cover 750-1000 sq. ft., while Micronized Polymer Anti-Skid Product (32 oz.) provides slip resistance for acrylic sealers, epoxies, urethanes, and other topical regular concrete coatings.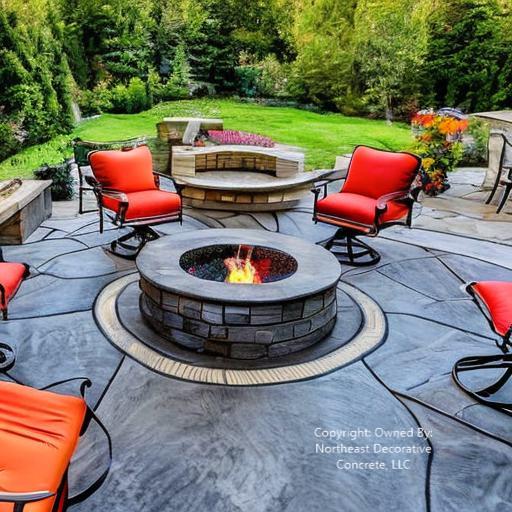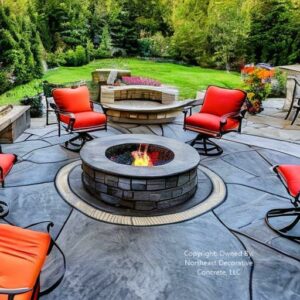 How to Make Stamped Concrete Patio Pavers Slip-Resistant: Less Hazardous!
Is stamped concrete a good idea? If you are concerned about the safety of your stamped concrete pool deck in wet conditions, there are several steps you can take to reduce the risk of slipping and injuries.
Choose a textured pattern: One of the best ways to reduce the slipperiness of the slippery concrete patio is to choose a textured pattern. Patterns with deeper grooves are more slip-resistant than smoother patterns.
Apply a nonslip sealant: Applying a nonslip resistance sealant with silica beads to your concrete pool deck can help make it less dangerous. Several types of sealants are available, so be sure to do your research to find the one that best suits your needs.
Choose a nonslip additive: If you want to make your concrete walkway even more slip-resistant, add a nonslip polymer grit material. This product is mixed into the decorative concrete during stamping and can provide an extra layer of protection against slips and falls.
FAQs:
Q. What is the Best way to Reduce the Slipperiness of Stamped Concrete?
A. The best way to reduce the slipperiness of a stamped concrete surface is to choose a textured pattern, apply a coat of sealer, and add a nonslip product.
Q. Is Stamped Concrete Slippery to Walk On?
A. Decorative concrete can be hazardous when the surface is wet, but generally, it is no longer slippery than other concrete surfaces. To reduce the risk of slipping, it is essential to have a good sealer with nonslip resistance materials applied to the concrete after it has been stamped. The nonslip sealer will provide a protective coating that makes the surface less dangerous. In addition, good drainage should be incorporated into the design to prevent standing water on the surface.
Q. What are The Disadvantages of Stamped Concrete?
List of Disadvantages of Stamped Concrete:
A.
1. Requires Professional Installation: Concrete stamp installation requires the services of a professional concrete contractor, which can be expensive.
2. Limited Design Options: Patterned concrete provides different design flexibility than other paving materials.
3. Color Fading: Patterned concrete can fade over time due to exposure to the elements.
4. Requires Maintenance: Colored textured concrete requires periodic sealing every 3-5 years to protect it from staining and other damage.
5. Slippery Surfaces When Wet: Patterned type of concrete can be a hazard around a pool when wet if not installed correctly, making it a potential hazard.
Q. How Do You Make Concrete Not Slippery?
A. You can make concrete around a pool not slippery by adding a textured finish, such as a broom finish, to the surface of the concrete. This creates a rough surface that will not be as dangerous when wet. In addition, you can add an anti-slip material to the sealer mix to create a less hazardous surface.
Q. Is Stamped Concrete Slippery In The Winter?
A. Stamped concrete can be slippery in the winter, especially if it is not sealed correctly. Therefore, keeping the concrete sealed and treated with a nonslip sealer is essential to ensure the surface does not become slick. Additionally, adding sand to the surface can increase the traction of the slippery stamped concrete patio.
Our Locations:
Nashua, NH
North Hampton, NH
Concord, NH