We service all of New Hampshire (NH) , Massachusetts (MA) , and Maine (ME) with Decorative Concrete, Stamped Concrete, Epoxy Floor Coatings, and Garage Flooring.  We have a large selection of colors and patterns! Give us a call for your next concrete project. We provide Free Estimates. 
Is Stamped Concrete Worth The Money?
When it comes to driveways, sidewalks, and patios, there are a variety of materials homeowners can choose from. One option that is growing in popularity is stamped concrete. But is stamped concrete worth the money? Here's a look at some of the pros and cons.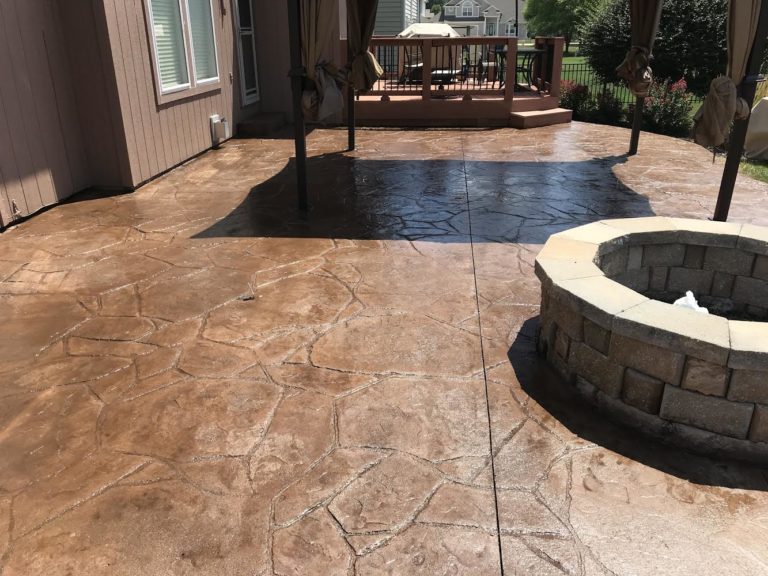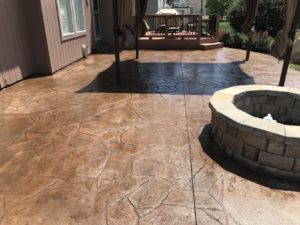 How Stamped Concrete can Increase the Value of Your Home
There are a few reasons that stamp concrete can increase the value of your home. The main reason is that it is a very durable material. It can last for many years without needing to be replaced, which is important when you consider how long a typical home lasts. Additionally, stamping concrete can be customized to match any design you want, which adds a unique touch that other materials can't provide. Finally, stamped concrete is often less expensive than other materials, making it a more affordable option.
The many Benefits of Stamped Concrete:
1. Concrete stamping is a great way to improve the look of your driveway, patio, or walkway.
2. It is also an affordable option that can add value to your home.
3. Stamping concrete is durable and long-lasting, making it a great choice for outdoor spaces.
4. It can be customized to match any design style and is available in a variety of colors and textures.
5. Stamp concrete is easy to maintain and can withstand even the harshest weather conditions.
How to Pick the Perfect Stamped Concrete Contractor
When it comes time to pick a contractor to do your stamp concrete project, there are a few key things you need to keep in mind. The most important factor is finding a contractor with experience in stamping concrete. Make sure to ask for references and pictures of previous projects to get an idea of their work.
Another important factor is the contractor's budget. Work with the contractor to come up with a realistic budget that fits your needs. Be sure to get all of the details in writing so there are no surprises later on.
Finally, be sure to check the contractor's licensing and insurance status. Verify that they are licensed in your state and have the appropriate insurance coverage in case of accidents. By following these tips, you can be sure to find the perfect contractor for your stamp concrete project.
How Much does Stamped Concrete Cost?
Stamping concrete is a great way to add some extra flare to your driveway, patio, or pool deck. But how much does it cost? The price of stamp concrete can vary depending on the size and complexity of the project, but on average, it costs between $10 and $30 per square foot. There are a few things that can affect the final price, including the design of the stamp pattern, the color of the concrete, and whether or not you need an overlay or sealant.
What Factors Affect the Price of Stamped Concrete?
There are many factors that can affect the price of concrete stamping. The size and shape of the project, the complexity of the design, and the materials used all play a role in how much it will cost. Labor costs can also vary depending on where you live. Generally, the more intricate the design, the higher the price tag will be.
The cost of stamp concrete also depends on the type of stamping pattern you choose. Some patterns are more complex and require more time to create, which means they will be more expensive. If you want to add color or texture to your concrete, that will also increase the price.
In general, stamping concrete is a relatively affordable option compared to other types of flooring. It can be a great way to add some style and personality to your home without breaking the bank.
Is Stamped Concrete Worth the Money?
When it comes to home improvement projects, stamping concrete is often a consideration. It's an attractive option that can add value to your home, but is it worth the money? Here are a few things to consider:
Stamp concrete is more expensive than traditional concrete, but there are many reasons why it might be worth the investment. First of all, concrete stamping is more durable and versatile than traditional concrete. It can be used for a variety of applications both inside and outside your home, and it will last for many years with little maintenance.
Additionally, stamping concrete can add visual interest to your home and increase its value. It's a great way to enhance your curb appeal or create an elegant entranceway.
Our Locations:
Nashua, NH
North Hampton, NH
Concord, NH