We service all of New Hampshire (NH) , Massachusetts (MA) , and Maine (ME) with Decorative Concrete, Stamped Concrete, Epoxy Floor Coatings, and Garage Flooring.  We have a large selection of colors and patterns! Give us a call for your next concrete project. We provide Free Estimates. 
How Is Stamped Concrete Installed?
Stamped concrete is a popular choice for many homeowners because it can be made to look like other materials such as brick, stone, or wood. It is also affordable and versatile. There are several steps involved in the installation of stamped concrete, but it is a relatively easy process that can be completed by a professional skilled contractor.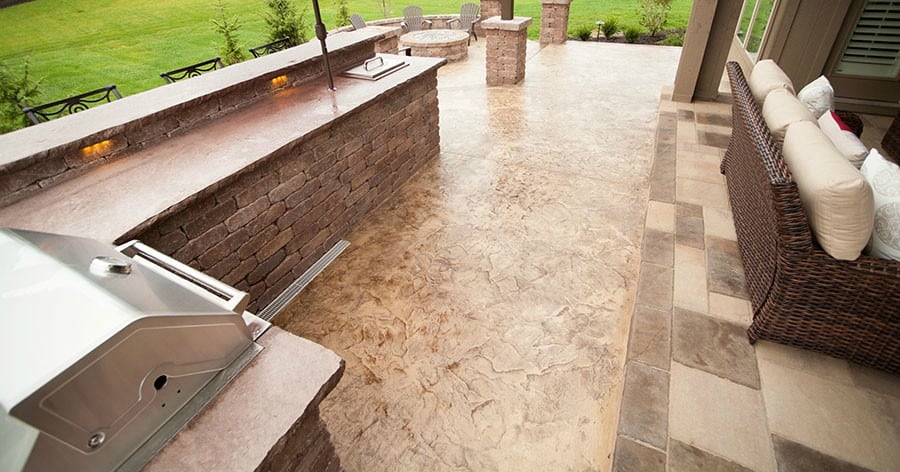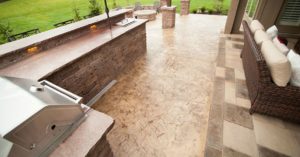 What are The Basics for the Installation of a Decorative Stamp Concrete Slab?
1. A concrete slab is first prepared by leveling the surface and adding a layer of sand or gravel.
2. The forms are installed around the perimeter of the surface using stakes to hold the forms in place.
3. The colored concrete is then poured over the area being installed inside the forms.
4. The concrete is smoothed out and then stamped with a pattern.
5. A sealant is then applied to protect the surface.
How Stamp Concrete is Different From Other Types of Concrete
Concrete is a construction material that is made of aggregate, cement, and water. It is used for a variety of purposes, such as paving roads, sidewalks, and foundations. There are many different types of concrete, including decorative concrete.
Concrete stamping is a type of concrete that is made to look like other materials, such as stone or brick. It is often used for patios, sidewalks, and pool decks. Stamping concrete can also be used to create decorative features, such as borders and medallions.
One of the main differences between decorative concrete and other types of concrete is the way it is installed. Stamping concrete is usually installed with rubber molds that are about 4 feet wide. This makes it harder and more time-consuming to install than other types of concrete, which require more precision when pouring and installing the material.
How to Add Color to Decorative Concrete
Adding color to concrete is a great way to enhance the appearance of your project. There are several methods you can use, and each has its own benefits.
In this article, we'll discuss the three most popular methods:
1. Acid Staining
2. Integral Concrete Dyeing
3. Color Hardener
Acid staining is a popular method because it results in a natural-looking finish with lots of variation. The downside is that it's not very durable and may not be suitable for outdoor projects. Concrete dyeing is a good option for outdoor projects because it's more durable than acid staining. It also comes in a wide variety of colors, so you can find the perfect match for your project. However, it's less forgiving than acid staining, so mistakes can be less noticeable.
Color hardener is used to apply with a hand brush on the freshly placed concrete to give it color, it is more time-consuming than using integral color, which is installed in the cement truck prior to pouring. Color hardener is durable and great for when you want to broadcast multiple base colors at the same time to have more variations in color.
What are the Steps involved in Stamping a Concrete Surface?
Concrete stamps are used to give concrete a textured or decorative finish. There are many different designs of stamps available, from simple brick and stone textures to more elaborate designs with simulated wood or marble effects.
The first step in stamping a concrete surface is to broadcast the release agent onto the concrete surface after it is laid out. The colored release agent will prevent the stamps from sticking to the concrete and will provide highlights to the base color that is already in the cement.
Next, The stamps are then placed into position and firmly pressed into the wet concrete surface with a tamper. The rubber mold stamps are made to line up against each other, which keeps the stamps lined up when laying out over the concrete area being stamped.
Finally, after the stamping process is done, there is a grout hand tool on a long handle that is used to touch up the grout lines and texture to make the surface look more natural. This part of the process is called doing "Touch Ups".
How to Stamp Concrete like a Pro
There is a reason concrete stamping has become so popular. It is a quick and easy way to dramatically improve the look of plain concrete. And you don't have to be a professional contractor to do a great job.
Here are some tips for how to stamp concrete like a pro:
1. Plan your design. Before you start stamping, take the time to plan out your design. This will help ensure that the finished product looks professional.
2. Prep the surface. Make sure the surface of the concrete is clean and free of any dirt or debris. Use a broom or pressure washer to remove any loose release agent material.
3. Apply the stain or sealer. If you're using a stain, make sure it is completely dry before applying the sealer. Be sure to follow the manufacturer's instructions when applying both products.
The Best Techniques for Stamp Concrete Installation
The best techniques for stamping concrete installation vary depending on the size and shape of the project, as well as the type of stamping pattern desired. In most cases, a concrete mix that is slightly stiffer than normal is used to ensure good stamping results. The stamping tools and mats should be chosen carefully to match the desired effect, and care should be taken to ensure that all of the joints between stamped sections are tight.
How to Choose the Right Color and Style for Your Concrete
When it comes to choosing a color and style for your stamped concrete, it's important to take a number of factors into account. You need to consider the overall look you want to achieve, as well as the specific needs of your project.
Here are a Few Tips on How to Choose the Right Color and Style for Your Stamped Surface:
1. Consider the environment. The color and style of your concrete should complement the surrounding environment. If you're working on a project outdoors, choose colors that will blend in with nature. For example, earth tones like browns, greens, and grays are popular choices for outdoor projects.
2. Consider your home's style. The color and style of your decorative stamp concrete should also match the style of your home. If you have a traditional home, stick with traditional stamping patterns and colors.
In conclusion, stamping concrete is a beautiful and affordable option for your home improvement project. It is easy to install for professionals, and there are many different designs and colors to choose from. Be sure to ask a professional about the best way to install decorative concrete in your area, and get started on your dream patio today!
Our Locations:
Nashua, NH
North Hampton, NH
Concord, NH