We service all of New Hampshire (NH) , Massachusetts (MA) , and Maine (ME) with Decorative Concrete, Stamped Concrete, Epoxy Floor Coatings, and Garage Flooring.  We have a large selection of colors and patterns! Give us a call for your next concrete project. We provide Free Estimates. 
What's Cheaper Stamped Concrete or Pavers?
There are many factors that come into play when deciding whether or not to install stamped concrete or pavers. Both have their own advantages and disadvantages, which can make it difficult to decide which is the best option for your project. In this article, we will compare and contrast stamped concrete and pavers, so that you can make an informed decision about which is the best option for you.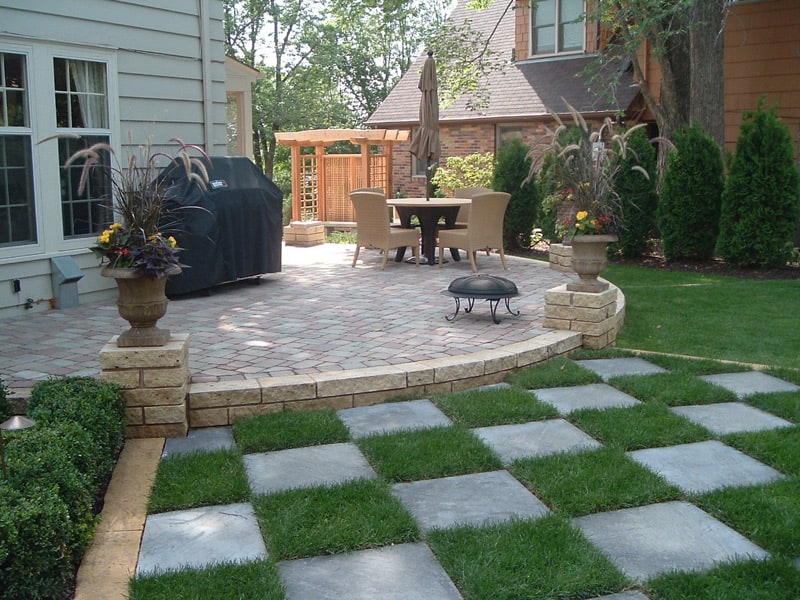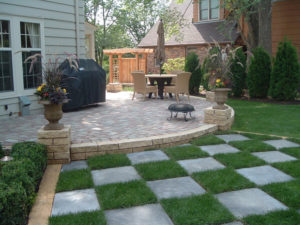 Which is cheaper, Stamped Concrete or Pavers?
When it comes to patio materials, there are a few choices that stand out above the rest: decorative concrete and pavers. Both have their own unique benefits, but which one is cheaper?
Decorative concrete is less expensive than pavers. Not only does it require less labor to install, but the materials themselves are also less costly.
So which is the better option? If you're looking for a cost-effective patio material that will last for many years, go with stamp concrete. If you want a more expensive option that will still look great, go with brick pavers.
Pros and Cons of Stamping Concrete versus Pavers
There are many factors to consider when choosing between concrete stamping and pavers for your driveway, patio, or walkway. Both have their pros and cons, which we'll outline for you here.
-Stamp concrete is less expensive than pavers. Pavers are more expensive to install.
-Stamp concrete can be stained any color you like, while pavers come in a limited range of colors.
-Stamp concrete is more durable than pavers in cold weather climates, but pavers are more durable in hot weather climates.
Brick pavers use to be one of the most popular choices for outdoor paving, but they seem to be falling apart faster than other materials. Many homeowners have noticed that the bricks are starting to crack and crumble after a few New England winters, and there doesn't seem to be an easy way to fix it.
One possible reason for this is that brick paver are not very forgiving in colder climates. If they're not perfectly aligned when they're installed, they can start to move and crack over time, especially with freeze and thaw cycles in New England. Additionally, the mortar that holds them together can also start to deteriorate, which leads to further cracking and crumbling and then weeds and grass grow threw these areas and require weekly maintenance.
While decorative concrete is one solid unit that does not require the maintenance that is involved with brick pavers. With stamping concrete the only maintenance required is to reseal the surface every 3 to 5 years.
If your brick pavers are in bad shape, your best bet may be to replace them entirely. There are a few ways to do this – you can order new bricks and lay them yourself, or you can hire a professional to do it for you.
How to Choose Between Stamp Concrete and Pavers
When it comes to driveways and walkways, there are a few different materials you can choose from stamp concrete, pavers, or asphalt. Each material has its own benefits and drawbacks, so how do you decide which is right for your home?
Decorative concrete is a popular choice because it's affordable and versatile. It can be used to create a variety of patterns and designs, and it's durable enough to withstand heavy traffic.
Pavers are another option for driveways and walkways. They're more expensive than stamped concrete, but they also can withstand heavy traffic, making them a good choice for areas that see a lot of use.
The Benefits of Concrete Stamping over Pavers
When it comes to making a choice between stamping and pavers, there are a few key benefits of stamping concrete that set it apart:
Concrete stamping is more affordable than pavers. Not only do you have to purchase the pavers, but you also have to pay for someone to install them – and that can get expensive. With stamp concrete, you simply pour the material and stamp it into your desired pattern.
Decorative concrete is also easier to maintain than pavers. If a paver becomes loose or if one of the joints needs to be filled in, it can be a difficult and costly process. With stamping concrete, any repairs that need to be made are quick and easy.
Perhaps one of the biggest benefits of stamping concrete over pavers is its durability.
Why Decorative Concrete is a Better Choice than Pavers
Pavers are a popular choice for driveways and walkways, but stamp concrete can be a better option. Pavers can shift and move over time, while stamping is more durable and will last longer. Stamping can also be designed to look like pavers, but it is more affordable and requires less maintenance.
Why Decorative Colored Concrete is Cheaper than Brick Pavers
1. Stamp concrete is cheaper than brick pavers because the installation process is simpler and it doesn't require the same level of labor work that is involved in installing.
2. Brick pavers are more expensive because they require a lot more prep work to install them properly. They also need to be set in mortar, which adds to the cost.
3. Stamp concrete does not require weekly ongoing maintenance. There is no need to worry about weeds and grass coming through the joints, which will require having a contractor re-grout the joints every 2 years and can be expensive.
4. Stamping concrete can be made to look like brick pavers, but it is usually much less expensive. This makes it a cost-effective option for many homeowners.
5. Brick pavers are often used for walkways and driveways, but stamped concrete can be used for these applications as well. It just requires a thicker layer of concrete to provide sufficient support.
Stamped concrete is a better choice over brick pavers for a number of reasons. First, stamping is less expensive than brick pavers. Second, it is easier to install than brick pavers, and there is less installation time. Third, stamping does not require the same level of maintenance as brick pavers. Finally, it can be used to create a wider variety of designs than brick pavers.
Our Locations:
Nashua, NH
North Hampton, NH
Concord, NH