We service all of New Hampshire (NH) , Massachusetts (MA) , and Maine (ME) with Decorative Concrete, Stamped Concrete, Epoxy Floor Coatings, and Garage Flooring.  We have a large selection of colors and patterns! Give us a call for your next concrete project. We provide Free Estimates. 
How To Clean Stamped Concrete Pool Deck
It's that time of year again when the pool is open and everyone is ready to enjoy some fun in the sun. But before you can jump in, the deck needs to be cleaned. Cleaning a stamped concrete pool deck can be a daunting task, but with the right tools and instructions, it can be done in no time. In this article, we will outline the steps necessary to clean a stamped pool deck and provide some helpful tips on how to make the process easier.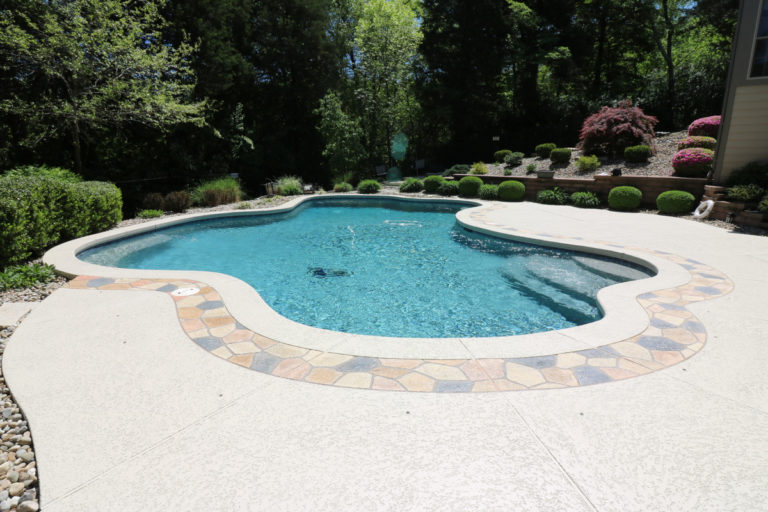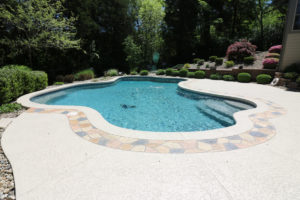 For Quick Way To Clean: Scrub with a Soft-Bristled Push Handle Broom
If you have a stamped pool deck, then you know that it can be a pain to keep clean after a long winter of collecting dirt and leaves. Especially if you have kids or pets that like to run around outside. One way to quickly clean it is to scrub it with a soft-bristled push-handle broom while using a garden hose for water. This will help remove any dirt, dust, or debris that may be on the surface. Make sure to sweep in the same direction as the stamped pattern for the best results. Then just rinse off the surface with the garden hose.
How to Clean Concrete Pool Deck Using a Pressure Washer
Pressure washing is a great way to clean pool decks. It can remove dirt, stains, and debris from the surface. However, it is important to use the right technique and equipment to get the best results.
First, you will need a pressure washer that has at least 2,000 psi. You should also use a detergent or cleaner designed for concrete surfaces. Be sure to read the instructions carefully before using the washer.
To start, test the sprayer on a small area to get a feel for how it works. Then begin spraying from the top of the deck and work your way down. Use long, sweeping motions to clean the entire surface.
Be sure to avoid getting the sprayer too close to the concrete or you may damage it. Also, take care not to splash water onto any nearby plants or flowers.
Use Chemicals: With Pressure Washer That are Safe To Use:
• Simple Green Concrete and Driveway Cleaner
• Zep Commercial Concrete & Masonry Pressure Wash & Cleaner
Spray down the pool deck with water first, then use a black tip on the pressure washer wand and spray with chemicals, then use soft bristle brush push broom with a handle to get the chemicals to release the debris and stains by softening up the dirt and stains by using a circular motion to scrub the surface. Do not leave the chemicals on for more than a few hours. After that, pressure wash everything clean.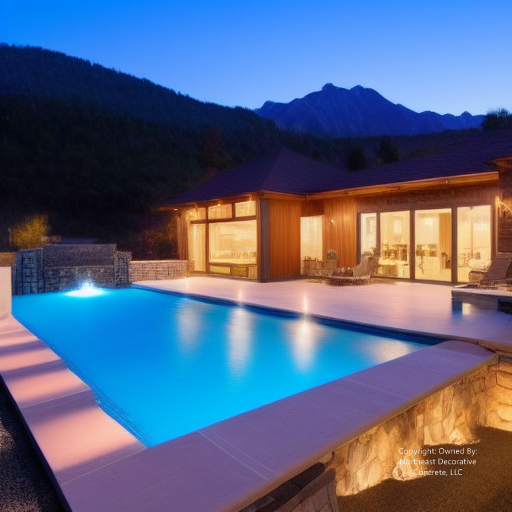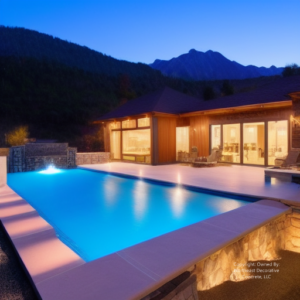 How to Remove Mold and Stains From a Pool Deck
Mold and mildew can grow on a concrete deck, making it look dirty and faded. In addition, mold can cause health problems for people who are sensitive to it. Fortunately, there are ways to remove mold and stains from a pool deck.
One way to remove mold is to use a mixture of degreaser and water. Pour the mixture onto the deck and scrub it with a brush. Be sure to wear gloves and goggles when doing this, as the degreaser can cause skin irritation and eye damage.
Another way to remove mold is to use a commercial cleaning product specifically designed for this purpose. Make sure to read the directions carefully before using any product.
To remove stains from a pool deck, first, try using a degreaser or detergent solution.
4 Tips: For Cleaning Your Pool Deck Surface
If you have a pool, then you likely have a deck surrounding it. This deck can become stained and dirty over time, making it an eyesore. However, with a few simple tips, you can clean your deck and restore its beauty.
Tip #1: Start by sweeping the deck to remove any large debris.
Tip #2: Next, mix together 1 cup of Zep cleaner with 1 gallon of water. Use this mixture to scrub the deck surface.
Tip #3: Let the mixture sit for about 10 minutes, then scrub it and rinse it off with a hose or pressure washer.
Tip #4: Finally, apply a coat of sealant to protect the deck from future staining. (Use a Slip Resistance Additive)
Follow these tips and your pool deck will be looking new in no time!
Use a Concrete Sealer To Protect the Surface: Less Maintenance Cleaning
Concrete sealers are a popular option for protecting concrete surfaces. There are many different types of sealers available, so it is important to select the right one for the specific application. A sealer will protect the surface from staining and fading, and it will also help to reduce the amount of maintenance cleaning that is required. In general, a sealer should be applied every 3 to 5 years, depending on the level of traffic and exposure to weathering.
When selecting a concrete sealer, it is important to consider the type of substrate that will be sealed. For example, a penetrating sealer will be effective on both absorbent and non-absorbent substrates, while an acrylic sealer should only be used on non-absorbent substrates. Make sure to add a slip resistance additive to the can of sealer and mix it thoroughly.
How to Add Sealer To a Pool Deck for Protection
A pool deck is an excellent place to host a party, relax after a long day at work or simply cool off on a hot day. However, if your deck is made of concrete, it's important to take steps to protect it from the harsh sun and pool chemicals. Sealing your concrete pool deck will help keep it looking new for years to come. Follow these simple steps to seal your pool deck:
1. Remove any debris from the surface of the deck with a broom or leaf blower.
2. Apply a coat of sealant to the surface of the deck with a paintbrush or roller. Be sure to apply an even coat in all directions.
3. Allow the sealant to dry completely before using the pool area.
In conclusion, stamped pool decks are a great option for homeowners. They are easy to clean and maintain, and they add a touch of elegance to any backyard. If you are considering installing a concrete-stamped pool deck, be sure to follow these tips to keep it looking its best.
Our Locations:
Nashua, NH
North Hampton, NH
Concord, NH