We service all of New Hampshire (NH) , Massachusetts (MA) , and Maine (ME) with Decorative Concrete, Stamped Concrete, Epoxy Floor Coatings, and Garage Flooring.  We have a large selection of colors and patterns! Give us a call for your next concrete project. We provide Free Estimates. 
What Is Stamped Concrete Pool Deck?
Pool decks are popular features for both in-ground and above-ground pools. They provide a place to relax and soak up the sun, as well as a space for entertaining friends and family. There are many different materials that can be used to construct a pool deck, but stamped concrete is one of the most popular options. In this article, we will explore what concrete stamping is, how it is made, and some of its benefits.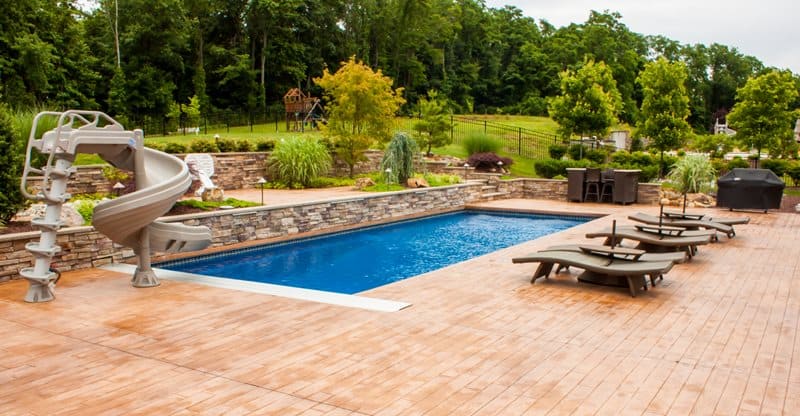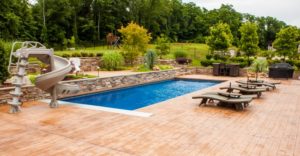 Make Your Stamped Concrete Pool Deck Stand Out:
One of the newer trends in backyard pool decks is stamping concrete. This is a great way to add some extra pizzazz to your pool deck and make it stand out from the rest. There are a variety of patterns and colors that you can choose from, so you can create a look that is truly unique to your home.
Concrete stamping is also very durable and will last for many years with little maintenance. It is also slip-resistant, which is important if you have children or pets who like to run around on the deck. Overall, stamp concrete is a great choice for any pool deck and can add a lot of character and style.
What is The Process Of Stamping a Pool Deck?
Pool decks can be stamped to look like brick, stone, or other materials. It is a popular technique for adding an extra touch of elegance to a pool deck. Professionals have the experience and equipment necessary to get the job done right.
Stamping a pool deck is a process that involves creating a pattern on the surface of the deck using stamps. The stamps are made from materials such as plastic, rubber, or metal. They are pressed into the concrete to create the desired pattern.
There are many different designs that can be used for stamping a pool deck. Professionals can help you choose a design that will complement your home and swimming pool. They will also select the appropriate stamps to create the desired effect.
The stamping process usually takes one day to complete and completing the whole job, usually takes a week.
What are The Benefits of a Stamped Pool Deck?
Adding a concrete-stamped pool deck to your backyard can provide you with a number of benefits. Some of these benefits include the following:
1. Increased property value – A stamped pool deck can add value to your home if you ever decide to sell. This is because it is a unique feature that not many other homes have.
2. Low maintenance – Unlike traditional wood decks, a stamped pool deck does not require any staining or painting. It also doesn't need to be resealed every year on a regular basis.
3. Safe and slip-resistant – A stamp pool deck is very safe and slip-resistant, which is perfect for when you are wet or wearing shoes with slick soles.
4. Variety of designs – There are many different stamping patterns and colors available, so you can find one that perfectly matches your home's style.
How Do You Form Up a Pool Deck With Concrete?
Pool decks come in all shapes and sizes, but most are made from concrete. If you're thinking about adding a deck to your pool, there are a few things you need to know before you start pouring concrete. In this article, we will show you how to form a pool deck with concrete.
The first step is to mark out the area for your deck. You will need to determine the size and shape of your deck, and then mark out the boundaries with stakes and string. Once you have marked out the area, you can begin excavation.
The next step is to build the forms for your deck. You will need 2x4s, and then use them to build a frame that will fit around your pool.
How Long Have Concrete Decks For Pools Been Around?
It is hard to say for certain, but concrete pool decks have likely been around since the early 1900s. Concrete is a durable material that can withstand weather and wear and tear, making it a good choice for pool decks. Over time, concrete has become more popular and widespread, which may be why it is often used for pool decks.
What Materials are Used to Do a Decorative Pool Deck?
When it comes to creating a decorative pool deck, there are a few products that you will need. The first is a good-quality concrete mix. You will also need some type of stamping tool or mat, and finally, you will need a sealant to protect the deck from the elements.
There are many different types of concrete mixes available, so be sure to choose one that is designed for outdoor use. The stamping tool or mat can be used to create any design you like, and there are many different patterns available. Finally, the sealant will help protect the deck from fading and staining.
In conclusion, stamped pool decks are a great way to improve the look of your backyard and increase the value of your home. They are durable, low-maintenance, and customizable, making them the perfect choice for any homeowner. If you are interested in installing a pool deck on your property, be sure to contact a professional contractor for more information.
Our Locations:
Nashua, NH
North Hampton, NH
Concord, NH