We service all of New Hampshire (NH) , Massachusetts (MA) , and Maine (ME) with Decorative Concrete, Stamped Concrete, Epoxy Floor Coatings, and Garage Flooring.  We have a large selection of colors and patterns! Give us a call for your next concrete project. We provide Free Estimates. 
Stamped Concrete Pool Deck Cost
When it comes to adding a pool deck to your backyard oasis, there are many different materials you can choose from. Wood, stone, and concrete are all popular options, but if you're looking for something that will last for years with little maintenance, stamped concrete is the way to go. Stamp concrete is a type of concrete that is textured and patterned to look like other materials, such as brick, stone, or wood.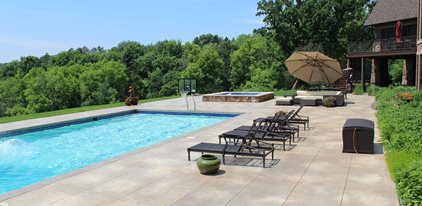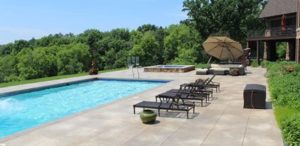 Stamped Pool Deck Cost:
With summer in full swing, many people are looking for ways to improve their backyard oasis. If you're considering adding a stamped pool deck, be sure to account for the cost.
Stamp concrete is a great way to add beauty and value to your home. It can be used to create a variety of looks, from rustic to modern. And because it's made of concrete, it's durable and long-lasting.
Prices for stamping concrete vary depending on the size and complexity of the design. However, on average, you can expect to pay per square foot for a stamped pool deck. This includes both materials and labor costs.
Keep in mind that additional features like lighting or handrails will add to the cost. So before you start planning your dream deck, be sure to factor in all the associated costs.
What's Included In The cost per Square Foot?
There are a few things that go into the cost per square foot for stamped pool deck installation. The price of the stamping material is one factor, as is the complexity of the design. The cost of installation will also vary depending on the contractor and your location. Some factors that are typically included in the cost are materials, labor, and site preparation.
How to Estimate The Cost of a Pool Deck
When it comes time to install a pool deck, one of the first things you'll need to do is figure out how much it's going to cost. There are a few factors that go into determining the final price, including the size and shape of the deck, the materials you choose, and any additional features or finishes you want.
To get a ballpark estimate, start by estimating the square footage of the deck. Multiply that number by the cost per square foot for concrete (which will vary depending on your location and other factors). Then add in any extras you may want, such as decorative finishes or built-in seating.
Keep in mind that this is just a rough estimate; for an accurate quote, it's best to get quotes from several contractors.
What Factors Affect the Price of a Stamped Pool Deck?
There are a few key factors that affect the price of pool decks. The size and shape of the deck, the complexity of the design, and the materials used all play a role in how much it will cost. Additionally, the contractor's labor costs will also affect the overall price.
One of the most important factors is the size and shape of the deck. Larger decks will be more expensive than smaller ones, and complex shapes can also add to the cost. The type of material used is another major factor. stamping concrete is generally less expensive than other materials like stone or brick, but it may require more maintenance over time. Labor costs are also an important consideration, as they can vary significantly from one contractor to another.
How to Get the Best Stamp Pool Deck Pricing?
When pricing a stamp pool deck, there are many factors to consider. The size of the deck, the thickness of the concrete, and the complexity of the design all play a role in the final cost. It's important to get quotes from multiple contractors to ensure you're getting the best price.
Be sure to ask about any additional costs that may not be included in the quote, such as materials or labor. Some contractors may also charge extra for transportation or for custom designs.
Ask about warranties and guarantees, and be sure to get everything in writing before signing any contracts. A good contractor will work with you to create a deck that fits your budget and meets your needs.
How to Choose the Best Concrete Contractor to do The Work
When it comes time to choose a concrete contractor, there are a few things you need to take into account. First and foremost, do your research. Ask family and friends for referrals, or search for local contractors online. Once you have a list of potential contractors, take the time to review their websites and read reviews from past clients.
Next, set up some interviews with the contractors on your list. This will give you a chance to ask questions about their experience, as well as get a feel for their personality. Finally, make your decision based on all of the information you've gathered. Trust your gut instinct – if something doesn't feel right, it probably isn't.
In conclusion, stamping pool decks are a great option for those looking for an affordable and durable deck surface. They are easy to maintain and can add a touch of luxury to any pool area. If you are thinking about installing a stamped pool deck, be sure to consult with a professional contractor to get an accurate estimate of the cost.
Our Locations:
Nashua, NH
North Hampton, NH
Concord, NH