[tm_pb_section admin_label="section" transparent_background="on" allow_player_pause="off" inner_shadow="off" parallax="off" parallax_method="off" custom_padding="258px||108px|" custom_padding_tablet="100px||50px|" custom_padding_last_edited="on|phone" padding_mobile="off" make_fullwidth="off" use_custom_width="off" width_unit="on" make_equal="off" use_custom_gutter="off" background_image="https://www.northeastdecorativeconcrete.com/wp-content/uploads/2017/11/pool-deck.jpg"][tm_pb_row admin_label="row" make_fullwidth="off" use_custom_width="off" use_grid_padding="on" width_unit="on" padding_mobile="off" allow_player_pause="off" parallax="off" parallax_method="off" make_equal="off" parallax_1="off" parallax_method_1="off" vertical_alligment_1="start" responsive_laptop_1="inherit" responsive_tablet_1="inherit" responsive_phone_1="inherit" order_laptop_1="1" order_tablet_1="1" order_phone_1="1" column_padding_mobile="on"][tm_pb_column type="4_4"][tm_pb_text admin_label="Text" text_orientation="left" use_border_color="off" border_color="#ffffff" border_style="solid"]

[/tm_pb_text][/tm_pb_column][/tm_pb_row][/tm_pb_section][tm_pb_section admin_label="Section" fullwidth="off" specialty="off" transparent_background="on" allow_player_pause="off" inner_shadow="off" parallax="off" parallax_method="off" padding_mobile="off" make_fullwidth="off" use_custom_width="off" width_unit="on" make_equal="off" use_custom_gutter="off" background_image="https://www.northeastdecorativeconcrete.com/wp-content/uploads/2018/01/background.jpg"][tm_pb_row admin_label="Row"][tm_pb_column type="4_4"][tm_pb_text admin_label="Text" text_orientation="left" use_border_color="off" border_color="#ffffff" border_style="solid" text_font_size="18" text_text_color="#000000" saved_tabs="all"]
We service all of New Hampshire (NH) , Massachusetts (MA) , and Maine (ME) with Decorative Concrete, Stamped Concrete, Epoxy Floor Coatings, and Garage Flooring.  We have a large selection of colors and patterns! Give us a call for your next concrete project. We provide Free Estimates. 
How Long Should Concrete Cure Before Putting A Hot Tub On It?
It is a common misconception that concrete is ready to use as soon as it is poured. In reality, concrete needs time to cure before it can support heavy loads such as a hot tub. How long this curing process takes depends on the weather and the mix of ingredients in the concrete. Generally, it is best to wait at least 28 days before putting a hot tub on cured concrete.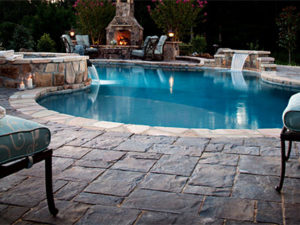 How to Cure Your Concrete in Time for a Hot Tub
Concrete is a popular material for decks and patios, but it can take a long time to cure properly. If you want to put a hot tub on your new concrete surface, you'll need to make sure it's fully cured before using the tub. Here are a few tips for curing your concrete in time for a hot tub. 1. Start by wetting the concrete surface with water. This will help the curing process and keep the surface from drying out too quickly. 2. Apply a curing agent to the concrete. There are many different types of curing agents available, so be sure to select one that is suited for your specific project. 3. Cover the concrete with a plastic sheet or tarp to keep it moist and allow it to cure properly. Don't Rush the Cure: Wait 28 Days Before Applying Hot Tub on Concrete Slab When you have a new hot tub, the last thing you want to do is damage the concrete slab it sits on. Unfortunately, many people make the mistake of rushing the cure and applying the hot tub too soon. If you wait 28 days, your slab will be fully cured and you won't have to worry about any potential damage.