We service all of New Hampshire (NH) , Massachusetts (MA) , and Maine (ME) with Decorative Concrete, Stamped Concrete, Epoxy Floor Coatings, and Garage Flooring.  We have a large selection of colors and patterns! Give us a call for your next concrete project. We provide Free Estimates. 
How Long Does A Stamped Concrete Driveway Last?
A stamped concrete driveway can be a beautiful addition to your home. But how long does it last? And what does it cost to maintain? Here is some information to help you decide if a stamped concrete driveway is the right choice for you.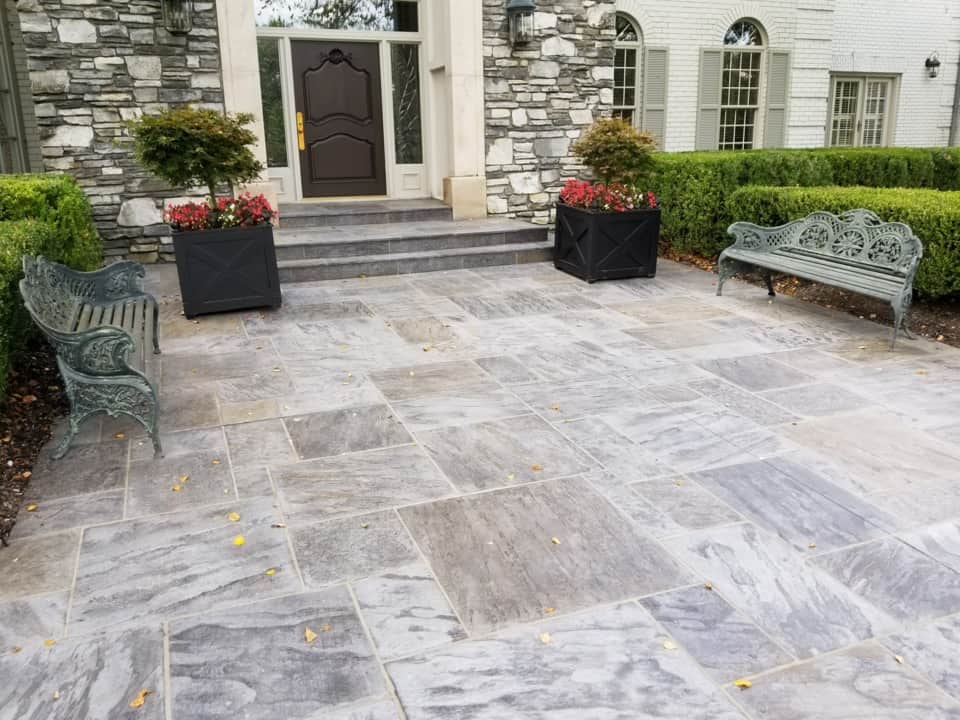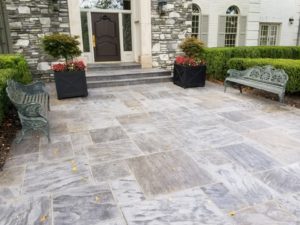 Does a Concrete Driveway Last?
A stamped driveway is a great way to add curb appeal to your home. Not only does it look good, but it also lasts a long time. A concrete stamped driveway can last anywhere from 20 to 30 years with proper care.
One of the benefits of a concrete stamped driveway is that its low maintenance. All you have to do is sweep it regularly and hose it down every once in a while. You don't have to worry about cracks or fading as you do with asphalt or gravel driveways.
Another benefit of stamping concrete is that it's durable. It can withstand heavy traffic and doesn't get damaged easily. If you have kids or pets, a stamped driveway is a good option because it's safe and easy to clean up spills and accidents.
How to Care For Your Driveway
Caring for your stamped driveway is important to keep it looking new. You will need to sweep it regularly to remove any debris or leaves. If you have a snow blower, be sure to clear the heavy snow off of it so that it does not freeze and crack the concrete. You can use a sealant every few years to help protect the concrete from staining and fading.
Are you thinking of installing a stamped driveway in your home? If so, it is important to know how to properly care for it so that it looks great for years to come. Here are the proper steps to take:
1. Keep your driveway free of leaves and other debris. This will help prevent staining and fading.
2. Clean your driveway regularly with mild detergent and water. Be sure to rinse thoroughly afterward.
3. Avoid using harsh chemicals or hot water on your driveway, as they can damage the stamping and cause fading over time.
4. Apply a sealant at least once a year to protect the surface from weathering and staining.
Driveways Can Last Forever With Proper Maintenance
Concrete driveways can last for years with proper maintenance. Sealers should be applied every few years to protect the concrete from weathering and staining. Oil and gas spills should be cleaned up as soon as possible, and salt used in the wintertime should be swept off the driveway regularly. With proper care, a concrete driveway can last for many years.
When you are looking to install a driveway, you have a few different materials to choose from. Concrete is a popular option because it can last for years with proper maintenance. One of the benefits of a cement driveway is that it can be resurfaced if it starts to show signs of wear and tear. This will extend the life of your driveway and save you from having to replace it entirely.
Driveways should be sealed on a regular basis in order to protect them from the elements. You can either do this yourself or hire a professional to do it for you. If you take care of your driveway, it will last for many years without any problems.
How to Increase The Lifespan of Your Driveway
Maintaining your driveway is the key to having it last for many years. Here are some tips on how to do that:
1. Keep it clean. Dirt, leaves, and other debris can stain your driveway and make it look old and faded. Make sure to sweep or rinse it off regularly.
2. Apply a sealant. A sealant will protect your driveway from weathering and staining. It will also help keep the surface looking new for longer.
3. Avoid using harsh chemicals or cleaners on your driveway. These can damage the sealant and cause the concrete to fade prematurely.
Benefits of Using a Concrete Sealer for Your Driveway
When it comes to driveway material, concrete is a popular choice. Not only does it look good, but it's also durable and long-lasting. However, like all surfaces, concrete can suffer from wear and tear over time. One way to help protect your driveway from these issues is by using a sealer.
Concrete sealers come in both solvent-based and water-based varieties. They work by forming a protective barrier on the surface of the concrete that helps prevent staining, fading, and cracking. In addition, sealers also help make the surface less slippery when wet, making it safer to walk or drive on.
If you're thinking of sealing your driveway, be sure to choose a product that is specifically formulated for concrete.
What Is the Best Sealer To Use For Concrete Stamped Driveways?
One of the most popular driveway finishes is stamp concrete. This involves pouring concrete and then stamping it with a pattern to give it a textured look. A sealer can be applied to protect the concrete from staining and fading. There are many different types of sealers on the market, so which one should you use?
Solvent-based sealers are generally considered to be the best type of sealer to use for concrete stamped driveways. They provide good protection against staining and fading, and they also form a tough barrier that can help to prevent moisture from penetrating the surface of the concrete. Solvent-based sealers are also relatively easy to apply, and they usually produce a high-quality finish.
If you are looking for a good quality sealer for your stamped driveway, then solvent-based sealers are definitely worth considering.
Our Locations:
Nashua, NH
North Hampton, NH
Concord, NH