We service all of New Hampshire (NH) , Massachusetts (MA) , and Maine (ME) with Decorative Concrete, Stamped Concrete, Epoxy Floor Coatings, and Garage Flooring.  We have a large selection of colors and patterns! Give us a call for your next concrete project. We provide Free Estimates. 
What Should I Put Down Under My Hot Tub?
Don't let your hot tub wobble on an uneven surface ever again! With this easy-to-install concrete slab, you can have a sturdy foundation for your relaxation station. The slab is precision-cut to fit the exact dimensions of your hot tub, and it's easy to put down for a professional concrete contractor. Plus, the textured surface prevents slipping and makes cleanup a breeze.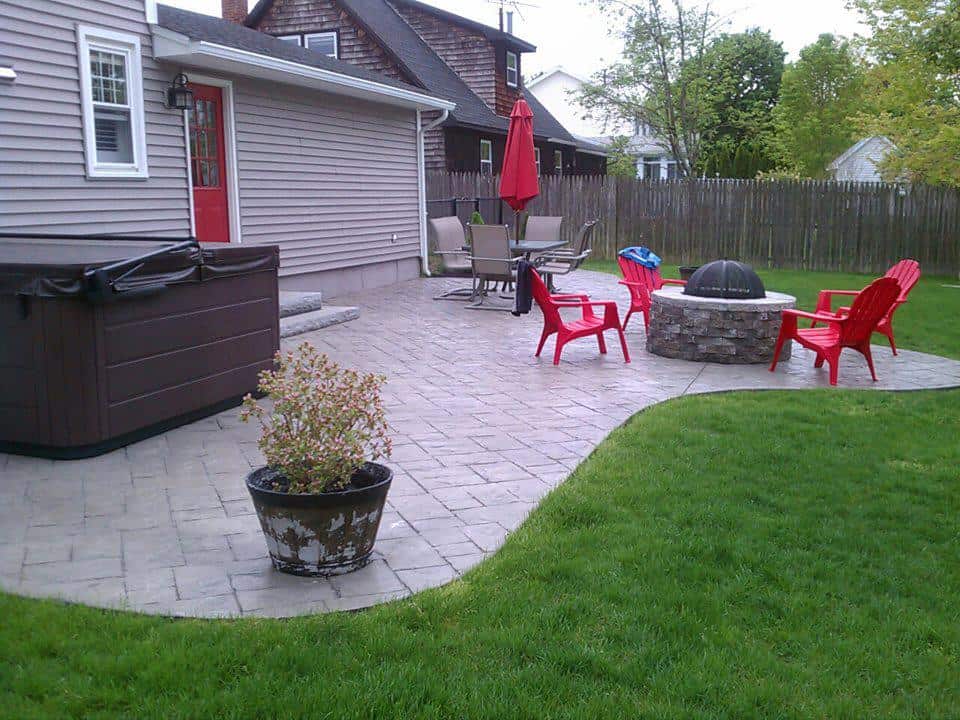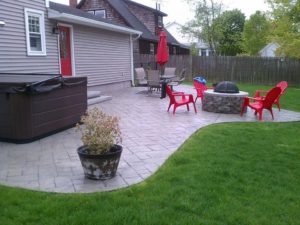 Concrete is the perfect material to support a hot tub. It's strong and durable, so you can be sure your tub will be safe and stable. Plus, concrete is a great insulator, which means your tub will stay nice and warm year-round.
If you want to install a hot tub in your backyard, you need a sturdy foundation. A concrete slab is a perfect option, and our team can help you get it done quickly and efficiently. We'll make sure the surface is level and ready for your new hot tub!
Reasons Not To Install A wooden Deck Underneath a Hot Tub
Wooden decking material installed near a hot tub or spa can wear out prematurely. The constant exposure to water and the chemicals used to disinfect the spa can cause the wood to rot and decay. In addition, the weight of people walking on the deck can cause it to sag over time. If you have a wooden deck that is supporting a hot tub or spa, you may find that you need to replace it more often than a standard deck.
Replacing a wooden deck can be an expensive project. The cost of materials and labor can add up quickly. In addition, the old deck must be removed before the new one can be installed, which can also be costly.
Concrete Slab vs Wooden Deck for a Hot Tub Pad
When it comes to choosing the best material for a hot tub pad, there are several factors to consider. One of the most important is the weight of the hot tub. Another consideration is the climate. A concrete slab is a good option for both cold and warm climates, while a wooden deck is better suited for warmer climates.
Concrete slabs are typically thicker and heavier than wooden decks, making them better suited for supporting the weight of a hot tub. They are also less likely to shift or move over time. Concrete slabs are also easier to maintain and clean than wooden decks.
Wooden decks tend to be extremely expensive than concrete slabs, they require more regular maintenance. They can also become warped or damaged in extreme weather conditions.
How to Properly Prepare for a Concrete Hot Tub Installation
1. Proper preparation is key when installing a concrete hot tub. This includes ensuring the area is level and free of debris.
2. The tub must be placed on a sturdy surface that can support the weight of the water. A concrete slab is ideal.
3. It's important to use a level to ensure the tub is perfectly level before pouring the concrete.
4. The surrounding area should be cleared of any obstructions that could get in the way while the concrete sets.
5. Be sure to follow the manufacturer's instructions for pouring the concrete to the manufacturer's specs.
6. Allow enough time for the concrete to dry completely before using the tub. typically, this will take at least 48 hours to walk on and 28 days to cure before a hot tub can be placed on the concrete slab.
The Benefits of Having a Concrete Slab Under Your Hot Tub
When it comes to installing a hot tub, there are a few things you need to consider. One of the most important is the foundation on which the hot tub will sit. Many people choose to put their tubs on wooden decks, but this can be problematic. Wood can rot over time, and if the tub isn't properly sealed, water can seep underneath and damage the deck. A better option is to have a concrete slab installed under your hot tub.
There are several benefits to having a concrete slab as your hot tub foundation. First, it's very sturdy and will support the weight of the tub without any problem. Second, it's moisture-proof, so you don't have to worry about water damage to your deck or home. Third, it's easy to clean and won't harbor any mold or mildew.
There Is Plenty Of Options To Have Different Concrete Finishes For Hot Tub Slabs
There are many different ways to finish a concrete slab for a hot tub. You can choose from a variety of colors and textures to create a unique and customized look for your spa. You can also choose between different finishes such as polished, stamped, or stained concrete.
If you want a sleek and modern look, polished concrete is a great option. It is highly durable and easy to clean, making it the perfect choice for a high-traffic area like a hot tub. If you're looking for something more rustic, stamped concrete can give your spa that old-fashioned feel. There are dozens of different stamps to choose from, so you can find the perfect one to match your décor. If you want to add some color, stained concrete is the way to go.
The Most Popular Concrete Finish For a Hot Tub Pad
There are many factors to consider when choosing the right finish for a concrete slab that will support a hot tub. The most popular finish for a hot tub pad is stamp concrete. Stamped concrete can be customized to look like natural stone, brick, or other textures. It is also durable and easy to maintain.
How to Choose The Right Contractor to Install Your Hot Tub Pad
If you're thinking about installing a hot tub pad, choosing the right contractor is key.
A good contractor will walk you through the process and make sure you select the right foundation pad for your hot tub needs. They'll also take care of all the installation work, so you can relax and enjoy your new hot tub!
Our Locations:
Nashua, NH
North Hampton, NH
Concord, NH