We service all of New Hampshire (NH) , Massachusetts (MA) , and Maine (ME) with Decorative Concrete, Stamped Concrete, Epoxy Floor Coatings, and Garage Flooring.  We have a large selection of colors and patterns! Give us a call for your next concrete project. We provide Free Estimates. 
Stamped Concrete Driveway Cost
When it comes to driveways, there are a few different options homeowners have to choose from. One of those options is stamped concrete. It is a popular choice because it can be made to look like brick, slate, or flagstone, but it also has other benefits. One of those benefits is that it is less expensive than other driveway materials such as asphalt or concrete. Another benefit of concrete stamping is that it is durable and can last for many years.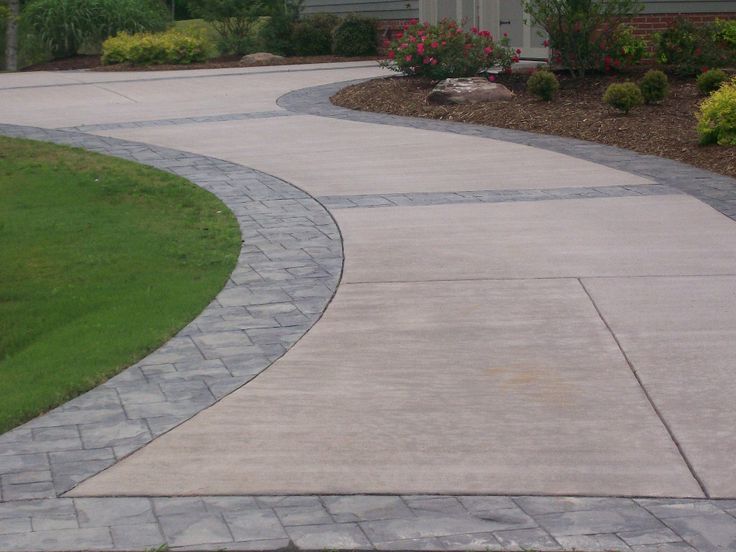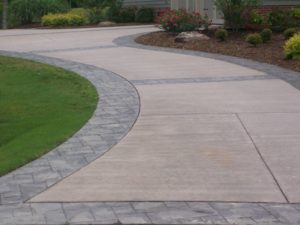 When it comes to driveway surfaces, there are a few popular options available. The cost of each option varies, so it's important to consider what will fit both your needs and your budget. If you're looking for a durable surface that will last for years with little maintenance, stamp concrete may be the right choice for you.
Stamping concrete is made to look like other materials, such as brick or stone. This gives it a high level of versatility, as it can be used to create a variety of looks. It's also one of the more affordable driveway options. However, keep in mind that concrete stamping does require occasional sealing and staining to maintain its appearance.
How Much Does a Stamped Concrete Driveway cost?
There are many factors that will affect the final price of a concrete driveway. The most important factor is the size of the driveway. Other factors that will affect the price are the type of concrete and the features that are added to it. For example, stamped or engraved concrete will be more expensive than regular concrete.
The average price for a basic driveway is per square foot. This price includes the cost of materials and labor. However, there are many options that can increase or decrease this price. For example, adding color or stamping the concrete can add an extra per square foot to the cost. Engraving can add an extra fee per square foot, and adding a border can add another additional cost per square foot.
What Factors Can Affect The Price of Stamping a Driveway?
There are many things that can affect the price of a stamped driveway. The size and shape of the driveway, the type of stamping material, and the complexity of the design all play a role in how much it will cost. The contractor's experience and labor rates also affect the final price. Additional features, such as borders or inlays, can also add to the cost.
There are many factors that can affect the price of stamped driveways. The most important factor is the type of material that is being used. The price for concrete can range on the higher side per square foot, while asphalt typically ranges from less per square foot. The complexity of the stamping design can also affect the price, with more intricate designs costing more. Another factor that can impact the price is the size of the driveway; a smaller driveway will cost less than a larger one. Labor costs also play a role, and may be higher if the installation is particularly complex.
How To Save Money on a Stamped Driveway!
If you are looking to install a stamped driveway, there are ways to save money on the job. One way is to do some of the work yourself. You can rent or purchase the stamps and tools needed to create the stamped pattern yourself. This can help reduce the cost of the job by up to 50%.
Another way to save money is by using less expensive materials. For example, you can use a concrete mix with a lower PSI rating than what is recommended. This will result in a driveway that is not as strong or durable, but it will be cheaper to install.
Finally, you can negotiate a lower price with your contractor. Many contractors are willing to work with their clients to find an agreeable price. By being flexible and willing to do some of the work yourself, you can save money on your stamped concrete driveway.
What are The Benefits of Driveways That are Stamped?
There are many benefits to stamped driveways. Some of these benefits include increased curb appeal, decreased noise levels, and easier maintenance.
One of the biggest benefits of stamped driveways is that they increase curb appeal. A driveway that is stamped with a decorative pattern or design can really make your home stand out from the rest. Not only does it make your home look nicer, but it can also increase its value.
Another benefit of stamped driveways is that they decrease noise levels. This is because a stamped driveway absorbs more sound than a regular concrete driveway. This can be especially beneficial if you live in a busy area or if you have children who play in the yard.
Finally, one of the best benefits of stamped driveways is that they are easy to maintain.
How to Choose a Contractor for Stamping Your Driveway
When it comes time to choose a contractor for stamping your driveway, there are a few things you need to take into account. The most important factor is the quality of the contractor's work. Ask for referrals from friends and family, and check online reviews to get an idea of what past clients have thought of the contractor's work.
Once you've narrowed down your list of candidates, take the time to meet with each one in person. Ask them about their experience with stamping driveways, and be sure to get a sense of their overall professionalism. Once you've chosen a contractor, be sure to get a written contract that outlines the specific details of the project, including the materials that will be used and the timeline for completion.
Our Locations:
Nashua, NH
North Hampton, NH
Concord, NH