We service all of New Hampshire (NH) , Massachusetts (MA) , and Maine (ME) with Decorative Concrete, Stamped Concrete, Epoxy Floor Coatings, and Garage Flooring.  We have a large selection of colors and patterns! Give us a call for your next concrete project. We provide Free Estimates. 
Stamped Concrete Walkway Ideas
There are many different ways to create a stamped concrete walkway. The most popular designs involve using a concrete stamp to create a design in wet concrete. Once the concrete has dried, it will have the appearance of a brick or stone walkway. Other methods involve using stencils or creating custom designs with acid stains. Whichever method you choose, there are many different options for patterns and colors.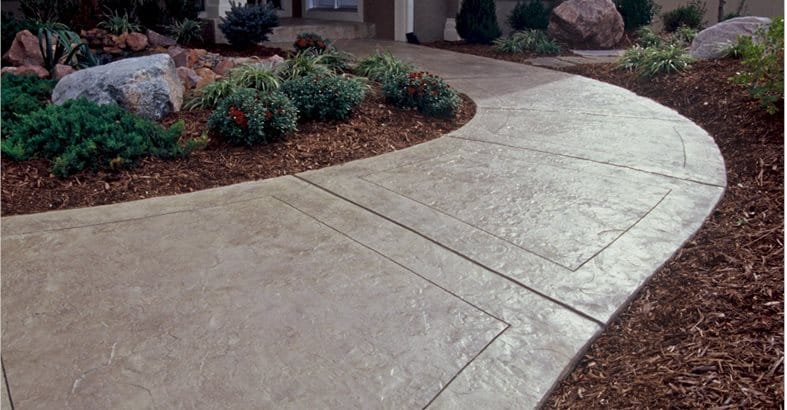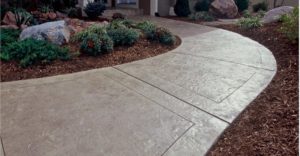 7 Ideas: for Stamped Concrete Walkways
1. There are many different ways to design and create a stamped walkway.
2. One option is to use a single color for the entire walkway.
3. Another option is to use multiple colors to create a more interesting design.
4. You can also use different patterns or designs to add interest.
5. If you want, you can even add text or logos to the walkway.
6. Be sure to choose a design that will be both attractive and durable.
7. The contractor you hire will be able to help you choose the right design and materials for your project.
How To Choose The Right Design For Your Walkway
When it comes to decorative concrete, there are a seemingly endless number of options to choose from. This can make it difficult to decide on the right design for your walkway. But don't worry, we're here to help!
The first step is to think about what you want your walkway to look like. Do you want something simple to understated, or something more elaborate and eye-catching? Once you know what you're looking for, it'll be easier to narrow down your choices.
Another thing to consider is the function of your walkway. If it's mainly for aesthetic purposes, then you can go with whatever design you like.
How To Choose The Right Color For Your Walkway
When choosing colors for your stamped walkway, it is important to consider the style of your home and landscape, as well as the surrounding environment. You'll also want to think about how you want the walkway to function. For example, if you're looking for a low-maintenance option, a solid color may be the best choice. If you're looking to create a more eye-catching design, consider using multiple colors or patterns.
No matter what style you choose, make sure the colors complement your home and landscape. It's also important to choose colors that will stand up to wear and tear. Darker colors may be less likely to show dirt and scuff marks, while lighter colors may show wear more easily.
When selecting colors, it's also important to take into account the natural surroundings.
Adding a Border to The Walkway:
Adding a border to the stamped walkway is a great way to add some extra flair and personality to your landscape. It can also be used to help define different areas of your yard, such as a garden or patio area. There are many different types of borders that can be used, so it's important to choose one that will complement the style of your home and landscape.
If you're looking for a simple, understated border, a row of bricks or stones can be a great option. For something more decorative, consider adding a wrought iron fence or even some colorful plants. Whatever type of border you choose, make sure it's easy to maintain and fits in with the overall style of your home.
Different Types of Stamp Walkways
There are a few different types of stamped walkways that can be installed in your yard. The first type is called a stenciled walkway. This type of walkway is created by placing rolls of pre-designed thick plastic vinyl that has a design cut into it. The second type is called a textured walkway. This type of walkway is created by pressing a textured stamp into the wet concrete. The third type of walkway is called a scored and stained walkway. This type of walkway is created by scoring the top layer of wet concrete with a grooved tool and then staining it with one or more colors.
How Stamp Walkways are Installed
There are a few different methods that can be used when installing stamp walkways. The most common technique is to use a form. This frame is made out of wood, metal, or plastic and it is used to give the concrete its shape. Once the concrete has been poured, the form can be removed after the stamping process is done.
Another method that can be used is to pour the concrete directly over the top of a concrete surface, this is called an overlay. This will give the concrete a more random look.
Finally, a third method that can be used is to use a release agent. This agent is applied to the surface before the concrete is poured. It will help to prevent the stamping tools from sticking to the concrete.
5 Tips: On Designing Your Stamped Walkway
When designing your stamped walkway, there are a few things to keep in mind. Here are 5 tips to help you create a beautiful and functional walkway:
1. Plan Ahead: The first step in designing your stamped walkway is to plan ahead. Draw out a sketch of what you want your walkway to look like and take into account the shape of your yard and the surrounding landscaping.
2. Choose Your Colors: Once you have a plan in place, choose your colors. You'll want to select colors that will complement your home and landscape.
3. Add Texture: Texture is an important element of any stamp concrete design and can be added by using different stamping patterns or adding aggregate (small stones or pebbles).
4. Think About Drainage: When designing your walkway, make sure to think about drainage.
5. You also need to make sure that the walkway is wide enough to accommodate traffic, and that the height is appropriate for your needs.
Finally, be sure to have a qualified contractor install your walkway for optimal results.
Our Locations:
Nashua, NH
North Hampton, NH
Concord, NH