We service all of New Hampshire (NH) , Massachusetts (MA) , and Maine (ME) with Decorative Concrete, Stamped Concrete, Epoxy Floor Coatings, and Garage Flooring.  We have a large selection of colors and patterns! Give us a call for your next concrete project. We provide Free Estimates. 
Stamped Concrete Patterns For Walkways
Walkways are a great way to add appeal to your home, and stamped concrete patterns can give your walkway an extra touch of elegance. Concrete stamping is a process that uses a mold to create a pattern in wet concrete. There are many different patterns to choose from, and you can even create your own design.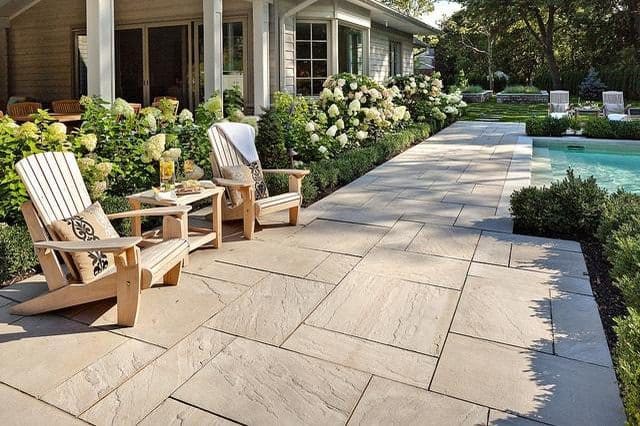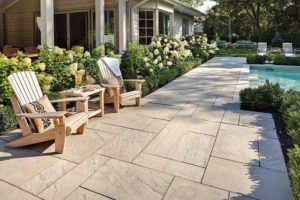 What are The Different Stamped Patterns for Walkways?
There are a few different stamped patterns that can be used to create beautiful walkways. The most popular type of pattern is a simple repeated design, such as a brick or cobblestone pattern. This type of pattern is often used to create a natural look for a walkway. Another popular option is to use a stamp with a more intricate design, such as a seamless texture pattern. These designs can add interest and elegance to a walkway.
5: Eye-Catching Walkway Patterns For Your Home
When it comes to your home's exterior, the options are endless when it comes to stamp concrete. There are so many different patterns and colors to choose from, you can create a look that is truly unique to your home.
Here are 5 of our Favorite Stamped Walkway Patterns:
1. Herringbone is a classic pattern that always looks elegant. It can be used as a border or in larger areas for a more dramatic look.
2. Basketweave is another popular pattern that can be used in both small and large areas. It adds texture and interest to any surface.
3. For a modern look, try using a large ashlar slate pattern. This bold pattern will make a big statement on your home's exterior.
4. For a more traditional style, use a seamless texture pattern. It adds subtle texture to any surface.
5. If you are looking for something a little more intricate and unique, try using a random stone pattern.
What are The Benefits of Using Stamp Patterns for Walkways?
There are many benefits to using stamped patterns for walkways. The most obvious benefit is that it looks great! Decorative concrete can be made to look like brick, stone, or any other type of material. This can add a lot of curb appeal to your home.
Another benefit is that stamping concrete is very durable. It can withstand heavy traffic and will not fade or chip over time. This makes it a great choice for a walkway that will see a lot of use.
Finally, stamp concrete is also very affordable. It costs less than most other types of materials, such as brick or stone. This makes it a budget-friendly option for updating your home's walkway.
How to Choose the Right Stamping Pattern for Your Walkway
When you are choosing a stamped walkway pattern, it is important to think about the look you want to achieve. Different patterns can create different effects, so it is important to choose the right one for your home.
Some of the most popular patterns include:
1. Random stone – This looks like a cobblestone walkway and is perfect for achieving a rustic look.
2. Herringbone – This pattern creates a classic look that is perfect for traditional homes.
3. Basket weave – This intricate pattern is perfect for adding interest to a plain walkway.
4. Flagstone – This versatile pattern can be used to create either a rustic or formal look, depending on the colors you choose.
5. Brick – A traditional red brick walkway can add elegance to any home.
3: Ideas For Installing A Stunning Stamped Patterned Walkway
A stamped walkway can be a stunning addition to your home. There are many different designs and colors that you can choose from, so you can create a unique look that matches your style.
1. Before you begin, you'll need to decide on the design and color of your walkway. You can choose from a variety of patterns and colors to create a unique look.
2. Once you've chosen a design, you'll need to mark out the area where the walkway will be installed. Use a chalk line or spray paint to mark the boundaries of the walkway.
3. Next, you'll need to prepare the surface for installation. The surface should be level and free of debris. If necessary, use a rake or shovel to level the surface before installing the concrete.
3: Tips: On Choosing a Pattern For a Walkway
-When it comes time to choose a pattern for a stamped walkway, there are three factors you'll want to keep in mind: the style of your home, the materials you're using, and your own personal taste.
-If you have a traditional home, you'll want to choose a traditional stamped pattern. This might include designs like brick or flagstone. If your home is more modern, you might want to choose a geometric pattern or something with clean lines.
-The type of material you're using will also affect your choice of pattern. If you're using concrete, you can use almost any type of stamping pattern.
Finally, it's important to choose a pattern that speaks to your personal taste.
In conclusion, stamped patterns for walkways are a great way to add some personality and character to your outdoor space. They are also a great way to enhance your home's curb appeal. If you are thinking about installing a stamped pattern for your walkway, be sure to consult with a professional before making a decision.
Our Locations:
Nashua, NH
North Hampton, NH
Concord, NH