We service all of New Hampshire (NH) , Massachusetts (MA) , and Maine (ME) with Decorative Concrete, Stamped Concrete, Epoxy Floor Coatings, and Garage Flooring.  We have a large selection of colors and patterns! Give us a call for your next concrete project. We provide Free Estimates. 
Stamped Concrete Walkway With Border
Looking for a new way to update your home's walkway? Consider stamped concrete! This material can be used to create a variety of different looks, from a simple border to a more intricate design. Best of all, it's affordable and easy to maintain. Here are a few tips for getting started: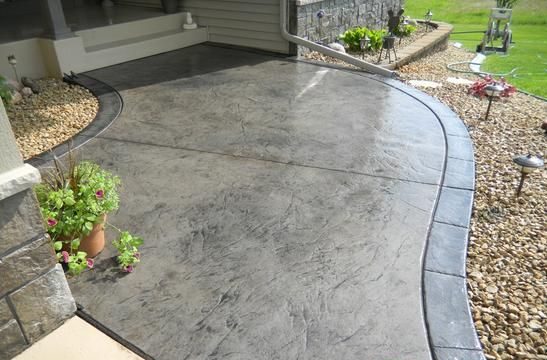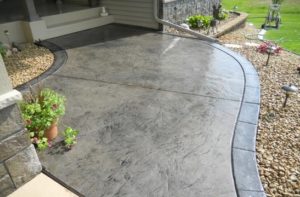 1. Decide on a design. There are many different options to choose from, so take your time and find something that will fit your home's style. Remember, you don't have to use a border with a design that is the same all around. If your walkway is wide enough to accommodate two separate designs, go for it!
2. Choose the color and texture. You can choose from many different colors and textures.
Create a beautiful, durable walkway for your home with our Stamped walkway with a border. Our concrete walkways can be stamped with a variety of patterns and colors to match your home's style and are topped with a protective sealant to keep it looking new for years. Plus, our easy-to-install walkway border makes it simple to create a finished look.
What Are The Benefits Of Adding a Border To a Walkway?
There are many benefits of adding a border to a stamped walkway. One of the biggest benefits is that it can help keep the walkway looking neat and tidy. A border can also add some extra color and dimension to the walkway. Additionally, it can help protect the edges of the stamped surface from being damaged.
There are many benefits to adding a border to a stamped walkway. One of the main benefits is that it helps to define the edges of the walkway. This can be especially helpful if you have a large or curved walkway. It can also help to keep the edges in place and make them less likely to chip. Another benefit of adding a border is that it can add extra color and interest to your walkway. A border can be made from a variety of colors, such as sandstone, grey, or even red. Finally, a border can help to protect your walkway from erosion.
5 Tips: on Designing Borders for Your Stamped Walkway
When designing borders for your stamped walkway, there are a few things to keep in mind. Here are five tips to help you get started:
1. Plan your design ahead of time. This will help ensure that you have the right supplies on hand and that the finished product looks cohesive.
2. Use a tape measure to plan the size and shape of your border. This will help you avoid having any awkward spaces or gaps in between textures.
3. Use a level to keep your borders straight and even. This will create a polished look for your walkway.
4. Select textures and colors that contrast the walkway for best results. This will help create a cohesive look and make it easier to install your border correctly.
5. Make sure a coat of sealer is put on the border after it is installed to protect the surface.
How a Walkway With Border Is Installed
Installing a concrete walkway with a border is not as hard as it may seem. The first step is to mark the area where the walkway will be installed. This can be done by using stakes and string. Once the area is marked, remove any sod or plants in the area.
The next step is to prepare the ground. This can be done by using a shovel to break up the ground and then using a rake to smooth it out. Once the ground is prepared, it is time to install the forms for the walkway. The forms can be made out of wood or metal and should be about 2 inches taller than the finished walkway.
Once the forms are in place, it is time to pour the concrete. The concrete should be poured in layers, with each layer being about 2 inches thick.
How to Add Personality to a Stamped Walkway
A typical walkway is a necessary but often overlooked part of a landscape. It's important to make sure your walkway is functional and well-maintained, but you can also add personality to it with a few simple steps.
One way to add personality to your walkway is by choosing the right materials. Consider using concrete instead of asphalt. You can also use a different color or textured borders to create interest.
Another way to add personality is by adding features such as curves, arches, or bridges. These features will not only make your walkway more interesting but also more functional, providing a place for people and animals to cross over.
Finally, you can enhance the appearance of your walkway by adding plants or flowers. Choose plants that are both attractive and durable enough to withstand traffic from people and animals.
Our stamped walkway with a border is the perfect way to improve your home's curb appeal. Our experienced professionals will work with you to create a design that perfectly complements your home and style. Our walkways are durable and long-lasting, and our border adds a touch of elegance that will make your home stand out from the rest.
Our Locations:
Nashua, NH
North Hampton, NH
Concord, NH