Thinking of installing a concrete deck in Mass? Read this article to learn all you need to know about colored textured patio installations in Mass, from the materials used to the cost and benefits.
Create a Stunning Stamped Concrete Patio in Massachusetts
Are you considering upgrading your New England backyard living space with a new outdoor decking surface offer? Colored textured concrete finishes are becoming increasingly popular among homeowners for their durability and low-maintenance needs. But before you commit to a stamped concrete patio Massachusetts services or installation, you should know a few things. This article will review the materials used for concrete services, the installation process, and the cost and benefits of pigmented textured concrete.
What Materials Are Used For Stamped Contractors In Mass?
The materials used are essential when installing with dye and texture. The most common materials used for a concrete mix for a quality beautiful textured finish are concrete, sand, and gravel. The concrete is mixed with water to create a thick mixture spread out and imprinted with a pattern. The sand and gravel contain 60 to 80 percent of the materials used to give the concrete mix extra durability and strength.
Materials To complete Decorative Finishes:
1. Special plastic forms to create unique radiuses.
2. Steel rebar, wire mesh, and fiber mesh for reinforcement.
3. Color hardener or integral pigments placed in or on the concrete surface for shades of hue.
4. Release agent creates various hue shades while preventing the stamps from sticking to the finish.
5. Rubber Molds, referred to as concrete stamps.
6. Decorative concrete sealer with slip resistance additives.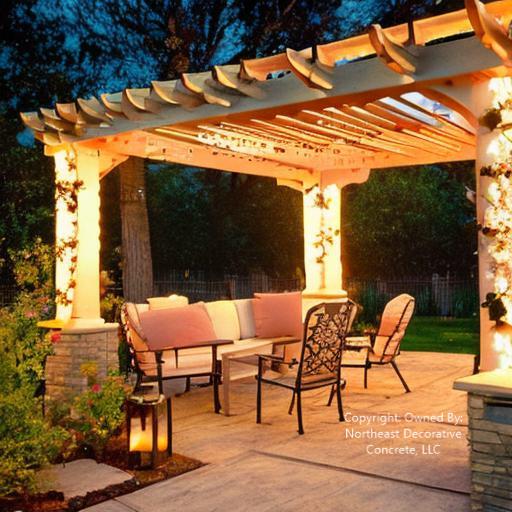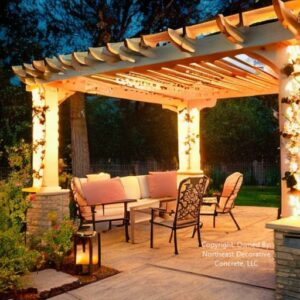 Requirements For Stamped Concrete Patio Designs In Massachusetts
If you are in Mass, the Board of Building Regulations and Standards (BBRS) oversees the state building code. This code includes regulations relating to concrete jobs, such as the minimum compressive strength and air entrainment requirements, as well as a need for a vapor retarder for concrete floor slabs for properties. Regarding permits, it varies and depends on factors like the height and width of the concrete work you choose. Therefore, it is best to check with your local building department to see if a customer permit is needed for a concrete finish.
If you plan to install a concrete finish in Mass, there are specific requirements to be aware of. No building permit is usually necessary for concrete finishes less than 30 inches above the ground. However, an excavation permit may be required, and it is crucial to contact dig safe to ensure there are no underground utility pipes or cables in the area. If the concrete finish is more than 30 inches above ground or walls or a roof will be added, a building permit may be necessary.
According to the Massachusetts State Building Code, concrete should have a minimum specified compressive strength of 5,000 psi. In addition, it should comply with ACI 302 and ACI 304 excellent standards for concrete floor and slab construction and ICRI guidelines for selecting and specifying concrete.
It is important to note that these are general guidelines and that specific requirements may vary depending on local land zoning regulations and building codes. Therefore, it is recommended to check with the local building authority for the rules that apply to the specific project.
How Is Textured Concrete Decks & Walkways & Steps Installed In Mass?
The installation process for a textured finish is relatively straightforward. First, the area for the decorative concrete patio is marked off, and the soil is dug out and leveled. Then, the concrete mixture is spread over the area and imprinted with a textured pattern. Once the concrete has set, it's time to saw cut and clean the completed finish so it can be sealed. Finally, the terrace is ready for use.
Proper way to install a terrace, walkway, pool surrounding finish, and concrete driveway In Mass:
1. Clear the area of debris and vegetation
2. Excavate to the desired depth
3. Install 3/4 inch gravel crushed stone
4. Level and compact the soil and crushed stone
5. Install edge restraints and proper drainage.
6. Install the concrete forms
7. Install reinforcing rebar or mesh
8. Pour and spread the concrete
9. Float and edge the concrete
10. Apply the release agent
11. Stamp the concrete
12. Install control joints
13. Seal the concrete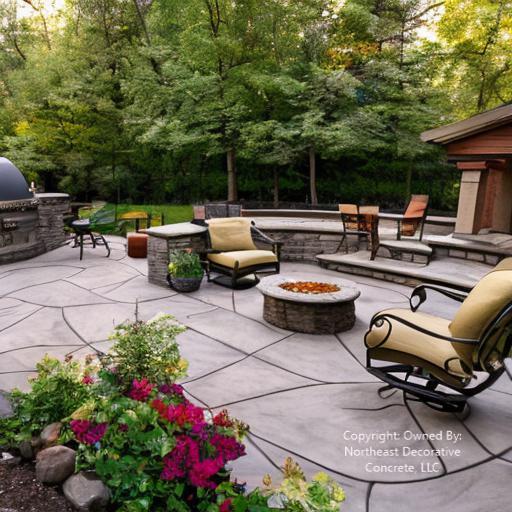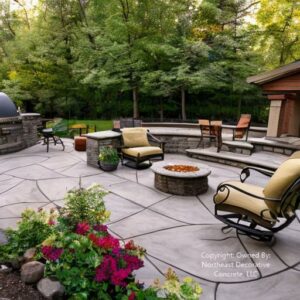 The Cost Of Decorative Concrete Patio Services In Mass
The cost of installing textured stained deck finishes can vary depending on the size of the concrete structure and the materials used. The cost of installing a terrace that is textured and pigmented is between $16 and $20 per square foot on average, and can the price can go up with borders and multiple designs. This cost includes the cost of materials, labor, and sealing.
Here is a detailed list of what you will expect to pay for a decorative concrete deck finish in mass:
Traditional Uncolored Concrete
$10 to $16 sq. ft.
One Design
$16 to $20 per square foot.
Multiple Designs
$18 sq. ft. to $22 sq. ft.
Applying a Border
$18 to $22 per square foot.
The Benefits Of Installing Colored Concrete Terrace Projects In Mass
There are several benefits to installing a textured concrete terrace. Stained terraces are incredibly durable and require little maintenance. They are also slip-resistant and can withstand extreme temperatures. Textured finishes also provide unique looks to any backyard and can increase the value of your home.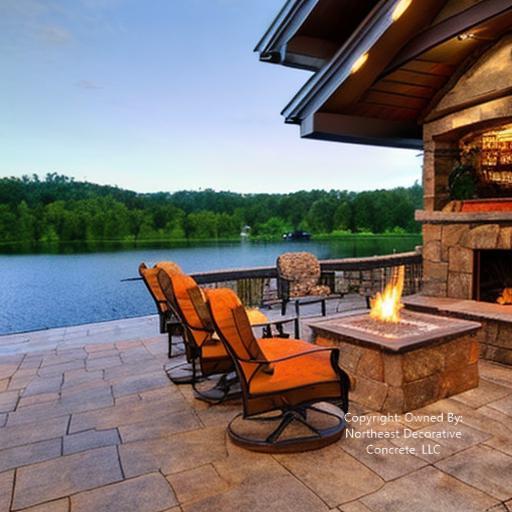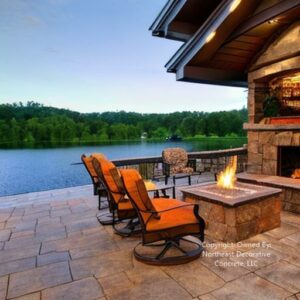 FAQs:
Q. How Long Does It Take to Install a Textured Terrace in Mass?
A. The installation process for a pigmented terrace typically takes between 3 and 5 days.
Q. Is a Colored Textured Finish More Expensive Than a Regular Concrete Finish In Mass?
A. Installing a pigmented finish is usually more expensive than a regular concrete terrace. The price is typically between $16 and $20 per square foot for a dye textured finish.
Q. Is a Textured Concrete Finish in Mass Slip-Resistant?
A. Yes, textured terraces are slip-resistant when wet. The sand and gravel provided to the concrete mixture gives it extra grip and stability, and a slip-resistant additive is applied to the sealer top clear coat, especially around pool deck surroundings and businesses.
Q: How Much Is Colored Concrete In Mass?
A: The cost of dye concrete decks depends on the project's size and the design's complexity. The average cost of is around $18 per square foot, but prices can range anywhere from $16 to $22 per square foot, depending on the project.
Q: Is a Stamped Concrete Finish Cheaper Than Pavers In Mass?
A: The cost of a textured terrace varies depending on the size and complexity of the project and the type of materials used. Generally, pigmented concrete is less expensive than pavers, but there are some cases where pavers may be less expensive. It's important to compare price quotes from several contractors to get the best deal for your project.
Q: What are The Disadvantages Of Stamped Concrete In Mass?
A:
1. Expensive – Textured concrete can cost up to 50% more than traditional concrete, depending on the complexity of the design and the type of dye and stamping patterns used.
2. Uneven Texture – The texture of pigmented concrete can be uneven if not correctly installed, making it difficult to walk on, especially in areas with a lot of foot traffic.
3. Maintenance – Tinted concrete requires regular maintenance to look its best. This includes resealing the concrete every 3 to 5 years to prevent fading and cracking.
4. Limited Design Options – Stamping patterns are limited, so creating a unique look can be difficult. But in 2023, rubber mold manufacturers have come a long way and there are limitless possibilities with patterned designs.
Q: Is Stamped Concrete Decking a Good Investment In Mass?
A: Yes, a terrace is a good investment. It is a durable, low-maintenance finish that is relatively inexpensive compared to other decking materials such as natural stone or brick. It also adds aesthetic appeal and value to your home.
Conclusion:
Pigmented terraces are becoming increasingly popular due to their durability and low easy to maintain needs. The main materials used for a textured finish mix are concrete, sand, and gravel. The installation process for a textured terrace usually takes between 3 and 5 days. Installing a terrace in Mass is typically between $16 and $20 per square foot. The benefits of installing a dye textured finish include its durability, slip resistance, and unique look. Thank you for taking the time to read our articles on our website and contact us today, If you are looking for a free estimate for a residential concrete patio area or sidewalk in NH or Ma.  We are highly recommended in New Hampshire and the New England area.
Our Locations:
Nashua, NH
North Hampton, NH
Concord, NH