Make your backyard a paradise! with the help of Northeast Decorative Concrete, LLC  patio contractor Services,  for Residential Homeowners in NH & MA. Contact us now for a no-obligation quote!
Residential Concrete Patio Contractors (NH&MA)
Installing a concrete patio in your yard can be a great way to add style and value to your home. But it's essential to choose the right residential contractors to ensure the job is done right. You need experienced professionals who know what they're doing and how to do it right. In this article, we'll cover what to look for when choosing residential contractors, as well as some of the area's local best concrete patio contractors.
What Are Concrete Professionals?
Residential concrete patio contractors are concrete construction companies that are professionals who specialize in installing patios in residential homes. They are experienced in the installation process and can ensure that the job is done right the first time. They can also help you choose the best materials for your surface and give you advice on how to maintain it over time.
What To Look For When Choosing Residential Patio Installers
When choosing residential concrete patio contractors for your home in New Hampshire or Massachusetts, it's important to do some research. You ensure that the contractors you choose are experienced and have a good reputation. Here are some things to look for when selecting residential decorative concrete contractors:
Experience: Make sure the residential contractors you choose have plenty of experience in the field. Ask to see samples of their previous work and read reviews from past clients.
Insurance: Make sure the residential contractors you choose are insured. This will protect you incase of any accidents or damage to your property.
Cost: Get quotes from several different concrete project contractors, so you can compare prices and find the best deal.
Quality Materials: Ask questions about the materials the contractors use and make sure they use high-quality materials for your patio.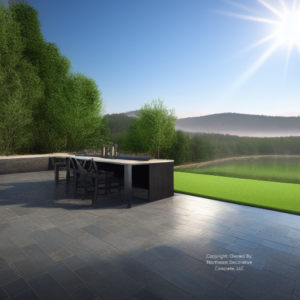 Creative and Functional Patio Ideas for Your Outdoor Space
Add a fire pit or fireplace for warmth and ambiance.
Incorporate a built-in grill or outdoor kitchen for easy entertaining.
Use stamped concrete or stenciled concrete to create unique designs and patterns.
Install a pergola or other type of shade structure to provide relief from the sun.
Consider adding a water feature, like a fountain or small pond, for a peaceful atmosphere.
Use container gardens to add pops of color and greenery to your patio.
Incorporate comfortable outdoor furniture for lounging and dining.
Use outdoor lighting to create a cozy and inviting atmosphere at night.
Add outdoor rugs, decorative pillows, and other decors to personalize your patio.
Looking to Create an Outdoor Living Space With Spending Less
Concrete surfaces are a good option for New Hampshire and Massachusetts homeowners looking to create an outdoor oasis without spending a lot of money. Best concrete surfaces are a long-lasting and affordable option that can be built to suit your home's style and budget.
If you're planning on having people over during the warmer months but still want something more interesting than just sitting on the grass under an umbrella, consider building yourself a concrete deck that blends in with its surroundings—you may even find yourself getting compliments from friends about how nice it looks!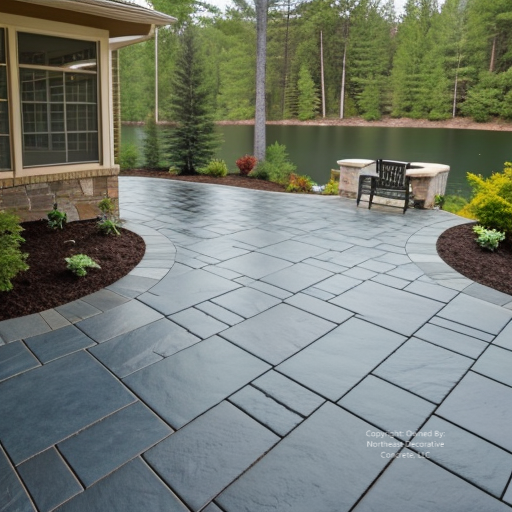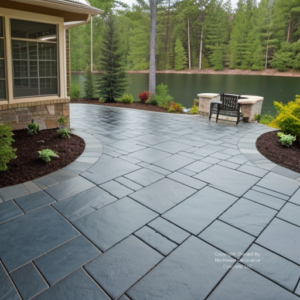 FAQs:
Q. How Much does it Cost to Hire Residential Patio Installers?
A. The cost of hiring the best patio contractors varies depending on the size and scope of the job. It's best to get quotes from several different contractors so you can compare prices and get the best deal.
Q. How Much Time is Needed to Install a Concrete Patio?
A. Installing a concrete deck, new driveway, and pool deck can take anywhere from several days to over a week, depending on the size and complexity of the job. Generally, it takes a few days to complete the installation with proper drainage.
Q. What is The Proper Way to Maintain my Concrete Patio?
A. It's important to properly maintain your existing concrete surface to keep it looking its best. Make sure to seal it every 3 to 5 years to protect it from wear and tear. You should also periodically clean it to remove any dirt, debris, or stains.
Q. Is a Concrete Patio a Good Idea?
A. Yes, a patio made out of concrete is a good idea. It is durable, easy to maintain, and can be customized to fit your style. Plus, concrete repair decks are more affordable than other options such as wood or stone.
Q. Who is the Biggest Concrete Company?
Statista reports that Baker Concrete Construction will be the largest cement company in the US come 2023, boasting a revenue of 1.18 billion US dollars. Other big names in the American concrete sector include Lithko Contracting LLC ($1.35 billion), Structural Group ($1.2 billion), Largo Concrete Inc ($1 billion), Suntec Concrete ($945 million), Kent Companies ($890 million), TAS Concrete Construction LLC ($800 million), Holcim ($715 million), Anhui Conch Cement Company Limited ($700 million), and China National Building Materials (CNBM) with a revenue of $650 million. With such impressive figures, the concrete industry looks set to dominate the US market for years to come.
Q. Who is the Biggest Ready Mix Company?
CRH – known as Oldcastle – is the top ready-mix concrete provider in the U.S. This global giant produces ready-mix concrete, aggregates, and cement and cementitious products. Its reach extends from coast to coast and beyond, into Canada and other countries. Its success is evident; in just two years, its revenue rose by an impressive 0.77 billion dollars.
Other major ready mix concrete companies in the U.S. include Cemex, HeidelbergCement, LafargeHolcim, Martin Marietta Materials, Structural Group, Suntec Concrete Inc., Kent Cos., Buzzi Unicem USA and Votorantim Cimentos. Together, they form an impressive industry with a remarkable impact.
Installing a stamped concrete patio in your yard can be a great way to add style and value to your home. But it's important to choose the right residential contractors to make sure the job is done right. Do your research and look for experienced professionals who have a good reputation and use quality materials. Get several estimates so you can find a contractor for your project at the right price.
With the right residential construction services contractors, you can be sure that your backyard patio slab will be installed correctly and last for many years.
Remodeling concrete installation projects, such as concrete driveways, walkways, and patio surfaces are a great option for customers looking to create an outdoor living space without spending a lot of money. If you need help choosing the right patio builder that does quality work for your home or want more information on how to install one, contact us today! Residential and Commercial Concrete Slab Services! for less. For a Free Estimate! Get a Quote, Call Now! Local Concrete Work with Best Prices! Specializing in Commercial and Residential Installations for homes or businesses. If you're looking for resurface flatwork , flagstone craftsmanship for new concrete designs and quality construction, look no further. Give Us a Call! Locally Owned Concrete Services!
Our Locations:
Nashua, NH
North Hampton, NH
Concord, NH