Looking for concrete rubber design mat rentals in Mass? Read our guide to learn more about the renting process, and the best places to find the right concrete rubber molds for your project.
Concrete Stamp Rental Massachusetts – A Comprehensive Guide
Are you planning on doing some stamped concrete patio work in Mass? If so, you may wonder where to rent concrete stamps in the state. Concrete rubber mold systems can be used to create beautiful and unique designs on concrete surfaces and walkways. They come in various shapes and sizes and can be helpful to create intricate patterns that will surely add a special touch to your job. In this article, we'll discuss the process of leasing concrete rubber molds in Mass and provide some tips to help you find the right ones for your project.
Decorative concrete is a great way to give a concrete slab a unique new look. In Mass, there are plenty of options for leasing concrete molds – Perry Concrete Forming Supply for around $300/day, and White cap in Boston has a wide selection of texturing tools and rentals.
Installing decorative concrete products is a delicate process since the coloring and timing must be completed before the concrete hardens. The concrete is first treated with two layers of color hardener, followed by a release agent. The rubber molds is then pressed into the freshly placed concrete, and the surface is cleaned with a hose, brush, or power washer. The decorative designs should be resealed every 3-5 years to keep the exterior looking great and protect it from weathering.
Aside from decorative finishes, there are options for leasing concrete masonry equipment services. United Rentals website provides an entire fleet of commercial concrete construction equipment products to lease in the US, such as buckets, buggies, mixers, screeds, trowels, saws, and core drills. In addition, White cap's website offers concrete supplies and steel ply concrete wall form leases for 7-28-day periods in any size package, and decorative mat leases per day with great customer service.
What Are Concrete Rubber Mold Products?
Concrete designs are rubber molds that help to create patterns in freshly poured concrete. They come in various shapes and sizes, and they can be beneficial to creating intricate patterns and designs. Concrete finishes can add a unique touch to your job and can be helpful in creating various effects, such as a wood grain, brick, stone, or even a floral pattern.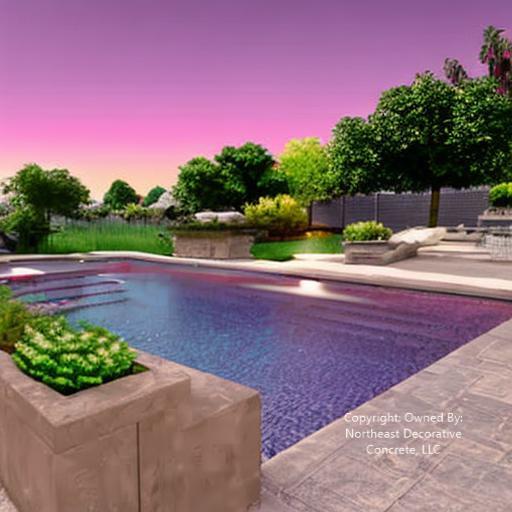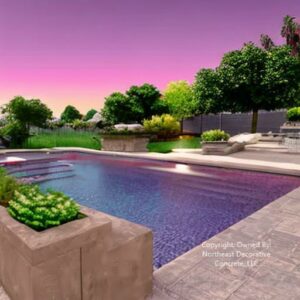 Where Can I Rent Decorative Concrete Stamps in Massachusetts?
Fortunately, there are several places where you can lease concrete molds in Mass. Some popular areas to lease concrete design mats include home improvement stores, tool building stores, and concrete contractors.
5 Top Places To Lease Concrete Rubber Mats For Projects In Mass:
White Cap 
Boston, MA
1 (617) 960-4244
Stampcrete Of Middlesex
Dracut, MA
1 (978) 453-9800
Massachusetts Contractor Supply
Hudson, MA
1 (978) 413-2578
Perry Concrete Forming Supply
Attleboro, MA
1 (781) 826-1126
Sealant Depot Inc.
Cinnaminson, NJ
1 (856) 829-7325
Contacting a concrete contractor is a good idea if you're looking for a more specialized selection of concrete designs. These professionals usually have a wide selection of concrete molds available to lease, and they can help you find the right ones for your tasks. They can also provide advice and assistance with the leasing process.
How Much Does It Cost To Lease Concrete Color Stamps In Mass?
The cost of leasing concrete molds in Mass will vary depending on the design size and the lease period's length. Generally speaking, the prices are reasonable. The cost ranges from $300 a day for an average set of textured molds. If you need a more extensive collection, expect to pay around $500 daily.
Tips for Leasing Concrete Rubber Rental Mats and Concrete Forms
When leasing concrete designs, forms, and accessories, you should keep a few things in mind. Here are some tips to help you find suitable concrete patterns for your task and how to use them:
Make sure your job site is ready to pour before you lease them

. Remember that you will pay for a daily lease; ensure the concrete deliver truck is ordered and the job site is prepared to pour.

Consider the size of the job.

The size of the task will determine the type of concrete mats you need. You'll need larger concrete mats for large task, while smaller task can usually be done with smaller mats.

Choose the correct pattern.

A wide variety of patterns are available, so choosing the right one for your job site is essential. Also, consider the job site's overall design to ensure the pattern you choose will fit in with the rest of the design.

Get the right amount.

Make sure you have enough design molds for the size of your task. Having too many is better than not enough, so it's a good idea to err on caution and take a few extra mats.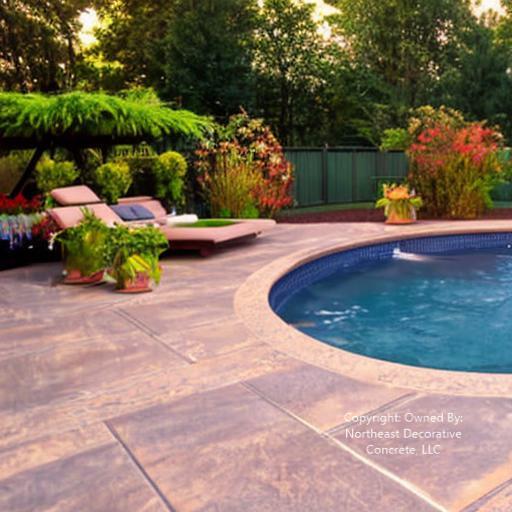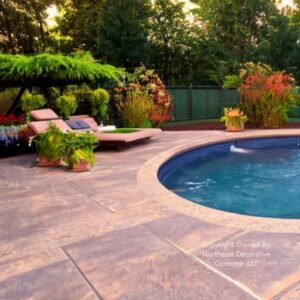 FAQs:
Q: Can I Buy Concrete Mats Instead Of Leasing Them?
A: Yes, you can buy concrete mats instead of leasing them. However, leasing the molds is usually more cost-effective since you won't have to worry about storing or maintaining them after the job is completed.
Q: Can I Texture My Own Concrete?
A: Yes. You can texture your concrete if you have the right instruments and experience. Having a concrete rubber mold kit, including a base mat, texture mat, roller, release powder, and sealer, is essential. In addition, it would help if you were sure to mix the concrete correctly and pour it onto a level surface. If you are inexperienced, hiring a professional residential concrete patio installer in NH or MA to complete the job is recommended.
Q: How Long After Pouring Concrete Can You Texture It?
A: You can usually texture concrete one to two hours after pouring it. Do a thumb test to ensure the concrete is crusted enough to support the rubber instruments. Before texturing, remove any residual release agent and apply a curing compound. This can take one to three days, depending on the weather. After you finish texturing, wait at least 24 hours before pressure washing the surface to remove any excess release agent.
Q: What Can I Use To Texture Concrete?
A: There are various devices you can have to help design concrete, including rubber mats, texture skins, and flex mats. Rubber mats can create multiple patterns, including brick, stone, wood, slate, and cobblestone. Texture skins create various designs and textures, such as flagstone, brick, and tile. Flex mats can create intricate patterns in concrete, such as an ashlar slate pattern. Additionally, you can also have hand instruments to create custom designs.
Q: Should I Texture My Concrete?
A: Whether or not to design your concrete is ultimately up to you. Decorative concrete can add character and beauty to your outdoor space, and it is a more affordable option than natural stone or brick. It is also easier to maintain than other materials. However, decorative designer concrete can be challenging to repair and may crack over time if not properly maintained or installed. Ultimately, the choice is yours and depends on your budget and preferences.
Conclusion
Concrete designer mats can be a great way to add a unique touch to your job site. If you're looking for concrete designs in Mass, you'll be happy to know that there are several places where you can lease them. Home improvement stores, tool building stores, and professional patterned concrete contractors in MA are all excellent places to look for concrete designer textured services. Just remember to consider the job size, choose the correct pattern, and lease the right amount of rubber devices for your task. With the proper concrete mats, you'll be sure to create a beautiful and unique design for your job.
Our Locations:
Nashua, NH
North Hampton, NH
Concord, NH