Get the Look of Wood Plank Flooring with Stamped Concrete. If you're looking to add the natural beauty of wood flooring to your home, but don't want to deal with the upkeep, stamping concrete is a great alternative. Our crew can create a realistic wood-grain pattern that will last for years
Get the Look of Wood Plank Flooring with Stamped Concrete
If you are looking for the look of wood flooring but don't want to spend the money or time installing it, you can try stamped concrete. It's a popular option because it's durable, easy to clean, and has a natural look that can be enhanced with certain colors and patterns.
Concrete floors stamped like wood can look amazingly like real wood planks! It's a great way to add value and appeal to your home. Not only is it beautiful, but it's also functional; you can use it as a patio, walkway, or driveway.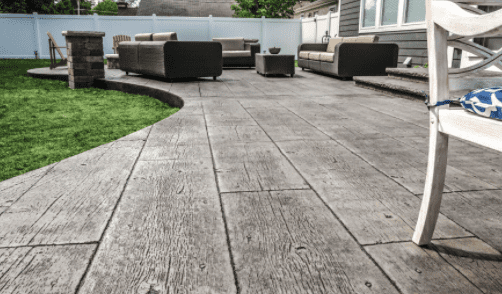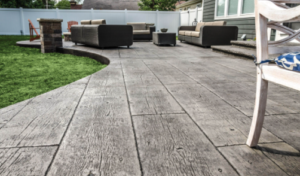 Here's How to Get the Look of Wood Flooring With Stamping Concrete
Looking to add the look of wood flooring to your home but don't want to break the bank? A stamping concrete contractor can help. With a few simple steps, you can have the look and feel of real oak or maple flooring without having to spend a fortune.
When it comes to floors, many homeowners want the look and feel of wood but are hesitant to install a real flooring product. This is where stamp concrete contractors can come in handy. By using a stamp which is a rubber mold, they can create the look of wood flooring without having to actually install any flooring products.
This is an excellent option for homeowners who are on a tight budget or who want to avoid the hassle and mess that comes with fixing a floor. Stamping can be created in any style or design, so there's no limit to what you could achieve. Plus, if you ever decide you want to update your flooring later on, all you need to do is replace the stamping with new designs with an overlay.
Maintenance: Concrete Vs Wood
Concrete and wood flooring are two of the most common types of outdoor flooring for homes. They both have their own set of maintenance requirements, but which is more important depends on the specific flooring. Here's a look at what each requires:
1) Colored Textured Concrete needs to be resealed every 3 to 5 years. (Cost Effective)
2) Wood needs yearly painting, staining, and replacing. (Very Expensive and Time Consuming)
Both materials require periodic cleaning with a hose if they become dirty. On average outdoor wood flooring needs to be completely replaced every 10 years. Concrete stamping will last at least 25 to 50 Years before needing to be replaced.
Let's Face It: Real Wood Flooring Outside Does Not Last in New England
The outdoor flooring of homes in New England is made from real wood. The outdoor floors often weather beautifully, but that is not always the case when these floors are exposed to the elements. Extreme weather conditions, like high winds, snow, and rain, can cause the real wood flooring outside to rot and warp. This often results in water damage and a loss of structural integrity that could eventually lead to total floor failure.
Typically, outdoor wood flooring in New England only lasts 10 years before needing to be replaced. The main reasons for this are the harsh weather and the constant winter freeze-thaw seasons on the floors.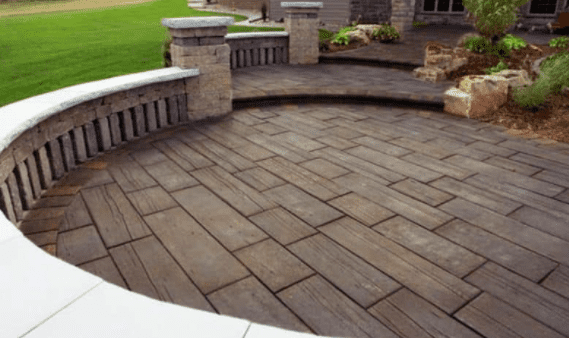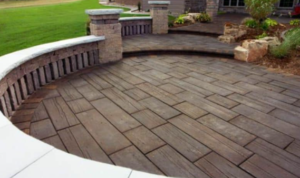 Get the Rustic Look of Wood Flooring With Concrete
If you're looking for a rustic look for your wood flooring, concrete stamping may be the perfect solution. This method creates a textured surface that can resemble wood, while also providing a durable surface. Here's how it works: you first pour a layer of concrete onto the floor, then use a stamp to create the desired pattern. You can even add veins and cracks to give your floor a more authentic look.
3 Benefits: Of Installing Stamp Concrete to Look Like Wood
If you're looking for a floor that's both beautiful and durable, consider stamp concrete wood flooring. This material can be made to look like wood floors, and it comes with a range of benefits:
1. Stamp concrete is affordable and can be more budget-friendly than other flooring materials.
2. It's easy to maintain – a quick sweep or mop will keep it looking new.
3. It's durable and can withstand heavy traffic without showing wear and tear.
If you're looking for a flooring option that offers the warmth and beauty of wood, but without the added expense and maintenance required, stamp concrete is a great option.
The Many Advantages of Choosing Concrete Over Wood
There are many advantages to choosing concrete over wood in terms of durability, sustainability, and cost. Wood is a natural resource that is slowly being depleted. It takes more than 10 years for a tree to grow to be 1 foot in diameter and 30 years for it to reach 6 feet in diameter.
The harvesting process also destroys the environment. Concrete, on the other hand, can last for hundreds of years with proper maintenance. It can also be recycled multiple times without causing any harm to the environment. Concrete is also much more sustainable than wood because it does not require replanting or harvesting.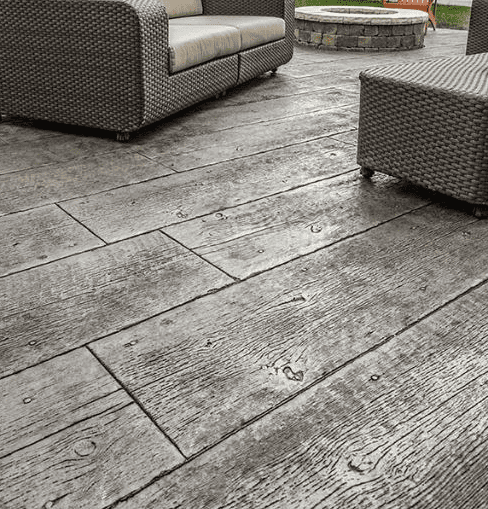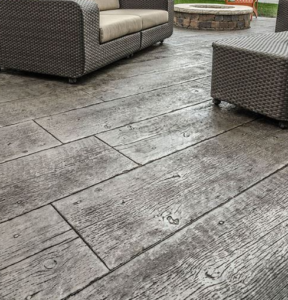 Wood Vs. Concrete: Which Is Better?
The cost of materials used in a project can be an important factor when deciding whether to use wood or concrete. Here are some key costs to consider:
-Wood is generally more expensive than concrete, but it may not be the best option for every application. For example, wood may not be durable enough for high-traffic areas.
-Concrete can be less expensive than wood, it's also more durable and resistant to moisture and corrosion. It also has a longer lifespan and is easier to maintain.
-It's important to consider other factors when making a decision about which material to use, such as climate and design goals.
Adding the beauty of wood to your home doesn't have to involve chopping down any trees. With stamping concrete that looks like wood planks, you can enjoy all the elegance and natural texture of wooden flooring without sacrificing any of your hard-earned green points. Our stamped concrete to look like wood planks is made to look like authentic wood planking, with all the character and rustic appeal that entails.
Our Locations:
Nashua, NH
North Hampton, NH
Concord, NH