We service all of New Hampshire (NH) , Massachusetts (MA) , and Maine (ME) with Decorative Concrete, Stamped Concrete, Epoxy Floor Coatings, and Garage Flooring.  We have a large selection of colors and patterns! Give us a call for your next concrete project. We provide Free Estimates. 
Why Do People Coat Their Garage Floors?
Garage floors can be a pain to keep clean. There are so many different ways to clean them, and it seems like no matter what you do they always end up dirty. One way to help keep your garage floor clean is to coat it with a sealant or epoxy. But, why do people do this? What are the benefits of doing so?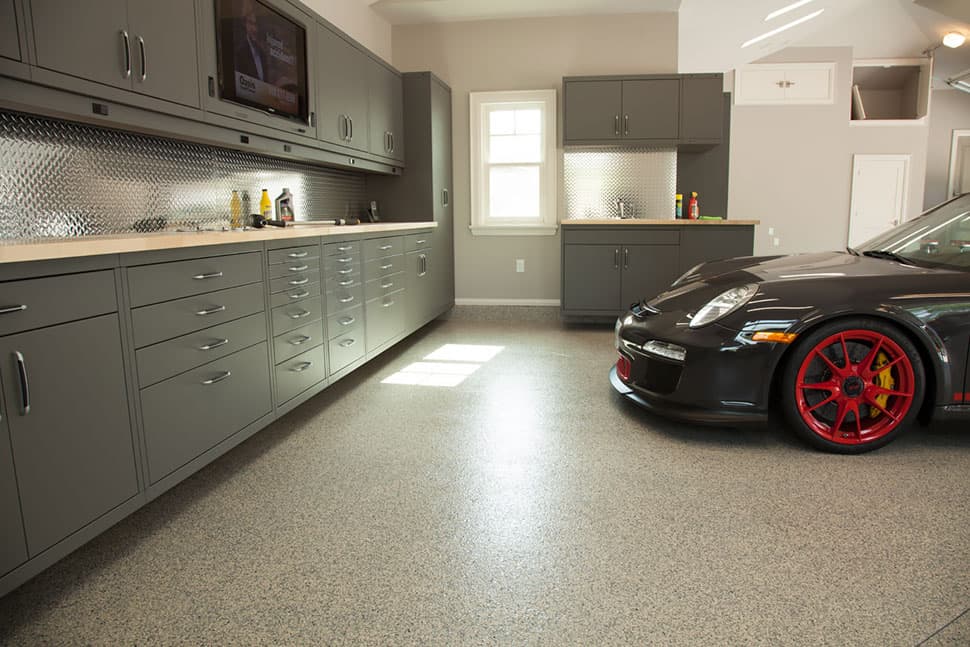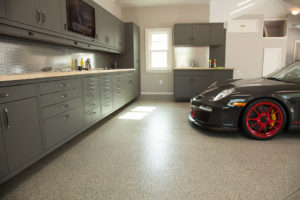 The Benefits of Coating Your Garage Floor
Garage floors are often neglected when it comes to the floor coating. This is a mistake because garage floors can benefit from floor coatings in a number of ways.
The first benefit of coating your garage floor is that it will make the surface more durable. A coat of epoxy or polyurethane will protect the concrete from staining and damage. This means that you will not have to worry about spills and messes as much, and you can keep your garage looking clean and tidy.
Another benefit of floor coating is that it can improve the appearance of your garage. A coat of epoxy or polyurethane will give your garage a glossy finish that will make it look nicer. If you are going to be using your garage as a workshop, this can be especially helpful, as it will help create a more professional atmosphere.
Why Do Homeowners Coat Their Garage Floors?
There are a number of reasons that homeowners may choose to coat their garage floors. One reason is that a coat of sealant or epoxy paint can protect the floor from spills and stains. A coat of epoxy paint or sealant can also make it easier to clean the garage floor if it becomes dirty. Additionally, a painted or sealed garage floor can improve the appearance of the garage.
What Is The Most Popular Coating For Garage Floors?
The most popular coating for garage floors is an epoxy coating. Epoxy coatings are strong and durable, and they can withstand heavy traffic. They also resist staining and fading, so your garage floor will look good for years. Additionally, epoxy coatings are easy to clean and maintain.
Garage floors come in a variety of colors, but what are the most popular colors? In this article, we will explore the three most popular colors for coating garage floors.
1. The first color is black. Black is a trendy color because it is timeless and versatile. It can be paired with almost any other color, and it will always look classy.
2. The second color is white. White is also a trendy color because it is versatile and timeless. It can be paired with almost any other color and always look clean and fresh.
3. The third color is gray. Gray is becoming increasingly popular because it provides a sleek, modern look that many people are drawn to.
How are Garage Floors With Epoxy Estimated?
Garage floors with epoxy are estimated by a professional. The estimator will look at the size of the garage, the condition of the concrete, and how much work needs to be done. They will also consider how many coats of epoxy need to be applied. The price for a garage floor with epoxy usually ranges per square foot.
How to Keep Your Garage Floor From Staining
One of the main concerns people have when they convert their garage into a living space is how to keep the garage floor from staining. There are a few things you can do to help prevent this from happening:
1. Use a sealant or coating on the garage floor before using it as a living space. This will help to protect it from any spills or leaks that may occur.
2. Clean up any spills or leaks as soon as they happen. If you let them sit, they will only make the floor more difficult to clean and could potentially cause damage.
3. Install a drain in the garage so that any water or liquid can be easily drained away instead of sitting on the floor.
4. Place mats or rugs at entrances and exits so that people don't track anything onto the floor.
The Different Types of Garage Floor Coatings
There are a few different types of garage floor coatings on the market. Epoxy is one, and it comes in both a kit form and a premixed form. You can also buy an epoxy additive to put into paint or concrete to create a coating.
Another type of garage floor coating is acrylic latex, which is self-sealing and doesn't require a primer. It's available in both matte and gloss finishes. Polyurethane is durable, water-resistant, and has a high resistance to oil and gasoline spills. It's also non-toxic so it's safe for pets and children.
How to Choose The Right Garage Flooring for Your Needs
Garage floor coatings can be a great way to improve the look and function of your garage. There are many different types of coatings available, so it is important to select the one that is best suited for your needs. Here are a few tips on how to choose the right garage floor coating:
1. Decide what you want the coating to do. Some coatings are designed to protect the floor from chemicals or oil, while others are meant for aesthetic purposes only.
2. Consider the climate in which you live. If you live in a cold climate, you will need a coating that can withstand freezing temperatures.
3. Choose a coating that is easy to maintain. Some coatings require regular waxing or polishing, while others can be cleaned with a simple sweep and mop.
4. Consider your budget.
Our Locations:
Nashua, NH
North Hampton, NH
Concord, NH